Silicon Valley, USA — At Flash Memory Summit 2023 Booth 619, BIWIN Storage Technology Co., Ltd. will show its wide-range of embedded memory and industrial solutions designed to meet the increased demand for memory and storage needs.
Flash Memory Summit is a big event for the memory and storage industry, bringing the latest technologies, industry leaders together under one roof. FMS provides the opportunity for people to view the latest products and solutions--- and to exchanges their insights with others in the industry.
FMS23 will cover SSDs, DRAM, DNA data storage, UCIe chiplet interconnects, Compute Express Link (CXL), wearables, automotive, AI/ML, data centers, and entertainment applications, along with important industry announcements.
In Booth 619 at FMS 2023, BIWIN's innovative storage solutions will cover 2.5-inch SSDs, M.2 SSDs, BGA SSDs, Micro SD cards, embedded memory chips, and DRAM modules.
Most importantly, visitors can ask about our decades of experience in embedded and industrial solutions for the world's leading companies. BIWIN features its own IC packaging and testing services which allows customers to customize their own solutions.
Several of the popular INDUSTRIAL SOLUTIONS on the BIWIN stand will be: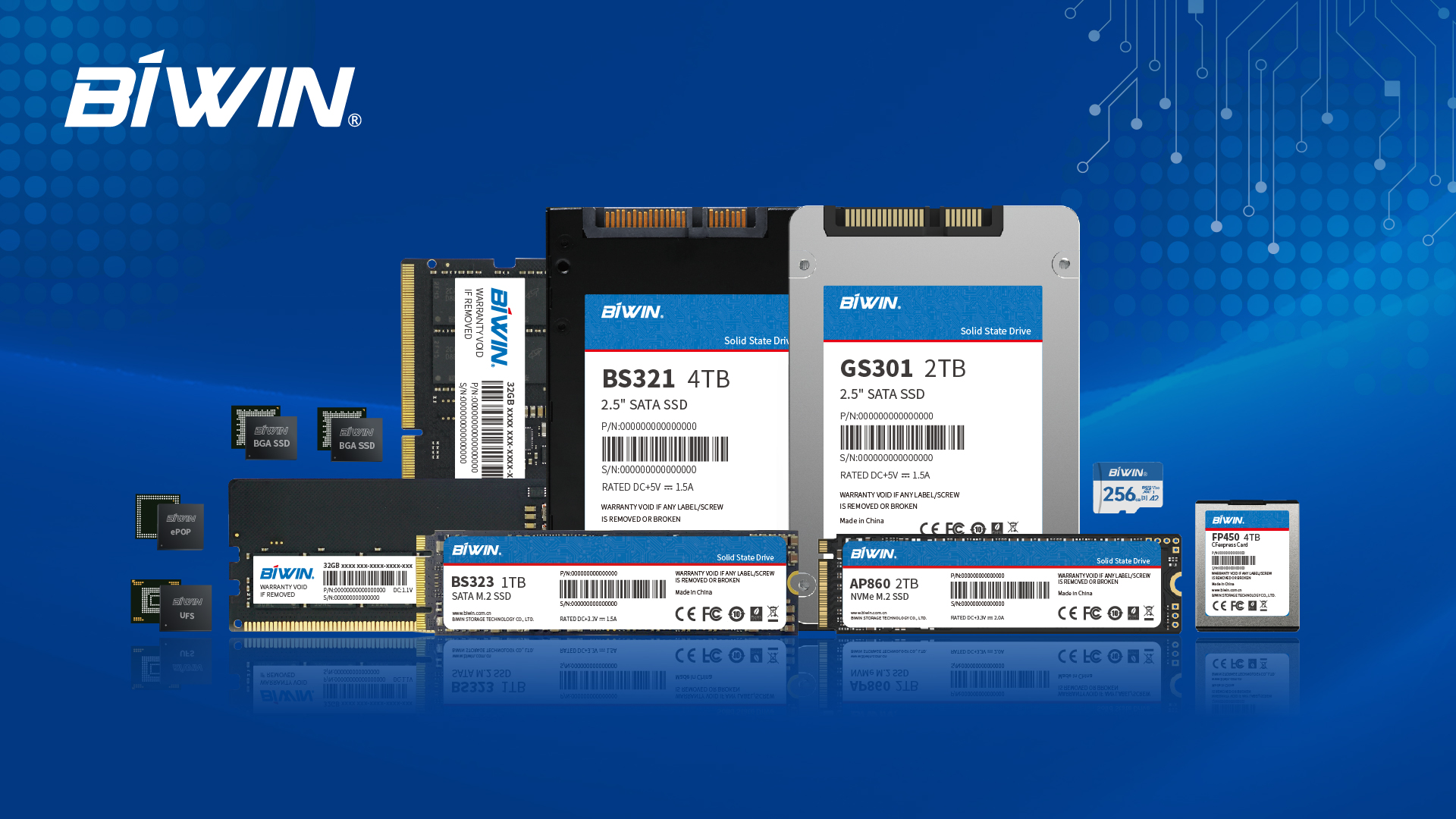 PCIe Gen4 SSD with up to 4 TB
AP860: Powered by BIWIN's self-developed firmware, AP860 delivers up to 7100 MB/s sequential read and up to 6600 MB/s sequential write using the PCIe Gen4×4 interface and NVMe 1.4. With a capacity up to 4 TB, it offers random read / write speed up to 1070K IOPS / 980K IOPS, bringing improved responsiveness and smooth user experience. AP860 also adopts a cost-saving DRAM-less solution and supports HMB to achieve ultimate performance.
Wide-temperature 2.5" SSD
GS301: BIWIN GS301 achieves full sequential read speeds of up to 540 MB/s, dramatically improving system responsiveness and avoiding stability issues. Wide-temperature controller, quality NANDs and 30 µ" gold finger PCB ensure the GS301's stable operation in operating temperature range from -40℃ to 85℃.
BGA SSD
EP400: With up to 1 TB capacity, the PCIe Gen4 BGA SSD EP400 comes with the high-speed PCIe 4.0 x 2 to deliver up to 3550 MB/s read and 3410 MB/s write-- with mini dimensions of 11.5 mm (L) x 13 mm (W).
Wide-temperature Micro SD Card
TF200I: This BIWIN card features delivers read / write speeds up to 160 MB/s / 120 MB/s, supporting 4K RAW video recording. It also complies with A2 standard for high app performance and improves the operation of your devices. Built with quality 3D TLC NAND flash, this BIWIN Micro SD card offers 3,000 P/E cycles. It comes with at least 32 GB of storage, going all the way up to 256 GB.
Some of the popular EMBEDDED MEMORY CHIPS on the BIWIN stand will be:
With a wide range of embedded storage solutions for different industries, BIWIN visitors will find a solution that matches their industry, and their product needs.
BIWIN ePOP144 (available in different capacities) combines MMC and Mobile LPDDR in a single package. With leading wafer packaging technologies, including wafer grinding, lamination and lead bonding, BIWIN integrates RAM and ROM in a single device that improves performance while saving energy. This combo also saves valuable space on the printed circuit board (PCB); and it shortens the product development period for customers. BIWIN ePOP products are small in size, low in power consumption, low in cost and easy to develop, making them ideal solutions for smart wearables, IoT devices, and portable and handheld devices (such as smartphones, tablets, PMP, PDAs and other media devices).
BIWIN UFS3.1 is available in 64 GB, 128 GB, 256 GB, and 512GB capacities, offering read and write speeds of up to 2100 MB/s and 1200 MB/s. It packs high-capacity and incredible speeds into a slim form factor, ideal for mobile devices.
Here comes The DDR5 Revolution
BIWIN DDR5 U-DIMM is a low power consumption, high-performance memory module that fully conforms to JEDEC's 288-pin DDR5. This series of products use 1.1 V operating voltage and can face ambient temperature ranges from 0℃ to 85℃. With 8 GB to 32 GB of DIMM capacities, the data transfer rate is up to 5600 MT/s. The DRAM ICs used in this series of products are strictly screened to ensure stable operation and strong compatibility, making the products the best choice for industrial control, security and protection, desktop PCs and more.
BIWIN DDR5 SO-DIMM is a low-power, high-performance product that fully conforms to JEDEC's 262pin DDR5 small size memory module. This series of products use a working voltage of 1.1 V and their applicable operating temperature range is from 0℃ to 85℃. With a capacity range of 8 GB - 32 GB with up to 5600 MT/s data transfer speed, DDR5 SO-DIMM fits computer and gaming laptops, NUCs, thin client, security and more.