BIWIN Storage's Vice President and General Manager of Embedded Business Division, Mr. Yang Liu, is at the forefront of innovation, "As 5G communication, big data, and AIoT gain ground, the demands on smartphones are evolving. The surge in data-intensive 5G workloads, spanning gaming, multi-camera support, AR/VR, and high-resolution displays, requires rapid data processing. Leveraging its expertise in storage solutions development and advanced packaging and testing, BIWIN Storage has introduced uMCP integrated storage chips based on LPDDR5 and LPDDR4X. These products combine high performance, large capacity, and compact size to meet the ever-growing requirements of smartphones in terms of performance and capacity."

Leveraging LPDDR5 technology, BIWIN's uMCP product integrates LPDDR5 and UFS 3.1, delivering impressive sequential read and write speeds of up to 2100 MB/s and 1800 MB/s, respectively. With a high-frequency rate of 6400 Mbps and a capacity of up to 8 GB + 256 GB, this chip maintains a compact size, measuring as small as 11.5 x 13.0 x 1.0 mm. Compared to separate UFS 3.1 and LPDDR5 configurations, this integrated solution saves a significant 55% of motherboard space, facilitating more flexible designs for smartphone systems.


High-performance uMCP Enables Smartphones with Effective Operation and Long Lifespan

Compared to the previous uMCP based on LPDDR4X, BIWIN's new uMCP built on LPDDR5 achieves a 100% boost in read speeds, reaching 2100 MB/s. Additionally, this LPDDR5 uMCP supports multiple Bank Groups and employs WCK signal design, resulting in a 50% increase in data transfer rates, now reaching 6400 Mbps. Leveraging dynamic voltage and frequency scaling (DVFS) functionality, LPDDR5's VDD2H has been reduced from 1.1 V to 1.05 V, and VDDQ from 0.6 V to 0.5 V, leading to a 30% reduction in power consumption. With its outstanding performance, BIWIN LPDDR5 uMCP product capably handles extensive data, efficiently supporting multitasking, high-definition video decoding, game loading, large file transfers, and more smartphone applications.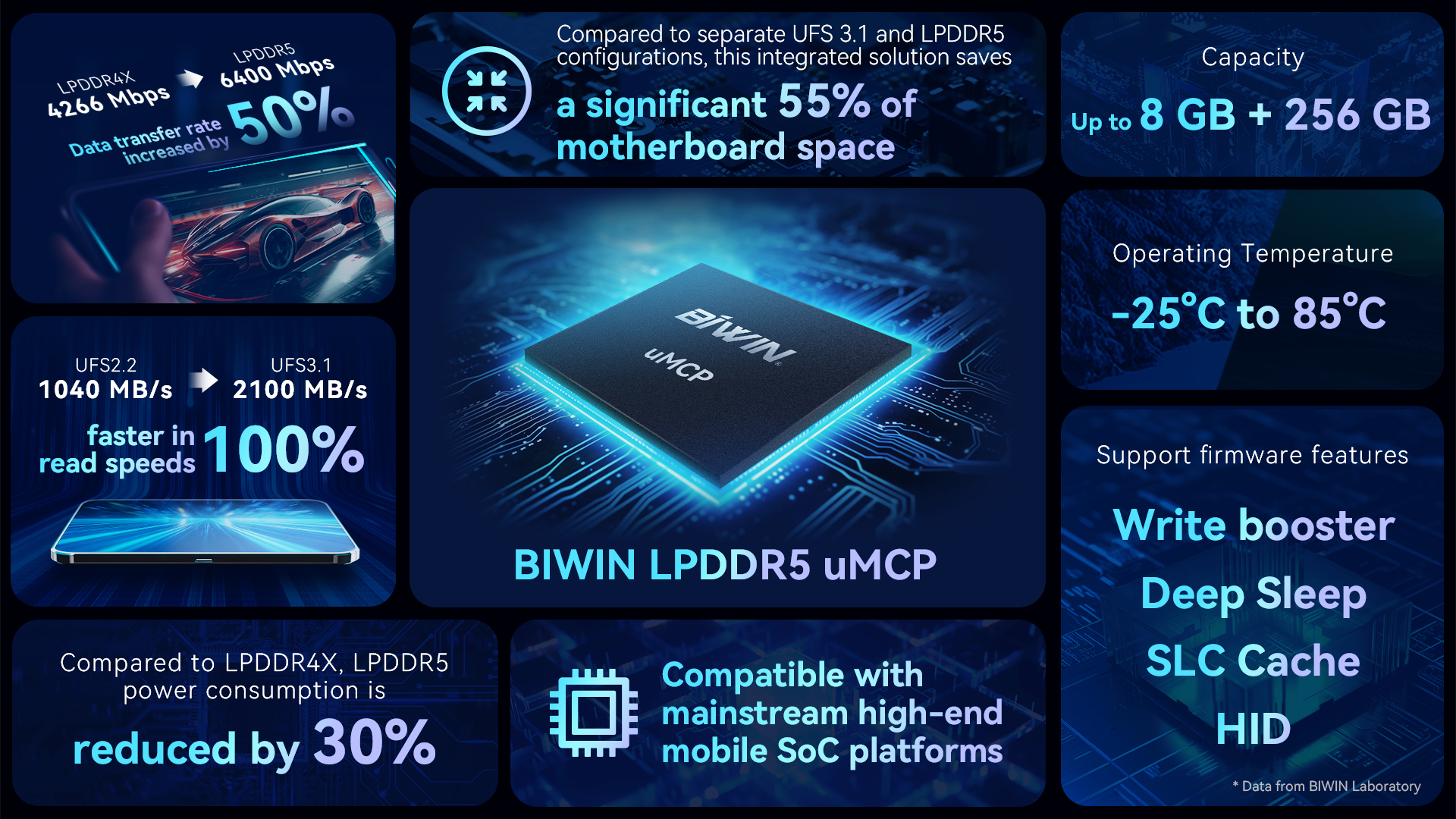 High Capacity Enables Effortless Storage of Massive Data

In real-life scenarios, smartphones tend to experience performance issues over extended usage, particularly when capturing high-resolution photos or opening large video files, leading to more pronounced lags, which necessitates larger mobile storage space. BIWIN LPDDR5 uMCP addresses this challenge by offering an expansive storage capacity of 8 GB + 256 GB (with plans for a future release of 12 GB + 512 GB), allowing for the seamless storage and processing of the substantial data generated by AIoT, high-speed communication, 8K videos, high-frame-rate gaming, and more. Furthermore, this product provides more space of SLC cache, reducing the occurrence of performance slowdowns due to insufficient cache during prolonged usage.
Space-saving Design Allows Enhanced Battery Capacity and More Flexible System Design

Leveraging advanced packaging technologies such as multi-die stacking and ultra-thin die, BIWIN uMCP combines LPDDR5 and UFS 3.1 into a single multi-chip stacked package, resulting in a 55% reduction in motherboard space. This not only simplifies the circuit design of the smartphone's motherboard but also creates more space for improving battery capacity and optimizing the layout of other motherboard components. This facilitates a more flexible system design for smartphones and provides terminal manufacturers with opportunities to optimize their bill of materials (BOM) and shorten the delivery cycle.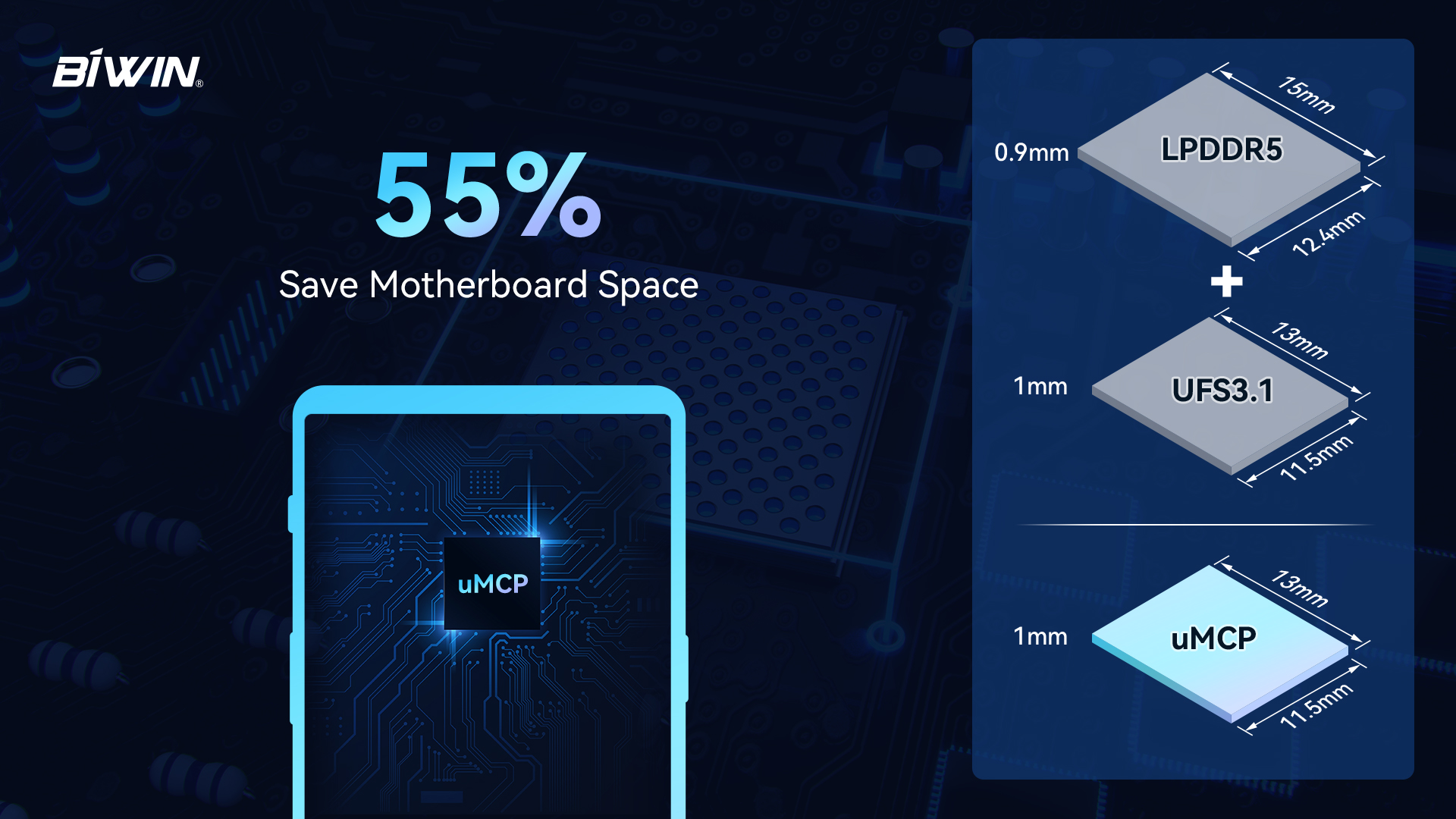 The proliferation of short videos, the release of larger mobile games, and the widespread adoption of 4K/8K ultra-high-definition videos are driving mobile storage toward higher performance, greater capacity, and lower power consumption. Drawing upon the integrated advantages of research and development and packaging and testing, BIWIN continues to innovate in the direction of higher-capacity, higher-bandwidth, lower-latency, and lower-power memory in applications such as smartphones, wearables, and tablets. This results in the introduction of competitive storage solutions that empower intelligent terminal devices to operate efficiently and reliably.

In addition to LPDDR5/LPDDR4X uMCP and integrated storage solutions like eMCP, BIWIN also offers standalone storage solutions such as eMMC 5.1, UFS 2.2/3.1, LPDDR4X/5 to fully meet the storage requirements of intelligent terminal devices.