The PC OEM market has always been a crucial battlefield for memory manufacturers. In 2021, regarding consumer SSDs, the PC OEM market boasted the largest shipments, accounting for about 62%. In Q1 of 2022, Intel's next-generation Alder Lake processor shipments did not live up to the expectation, which also plagued the outcome of PCIe 4.0 SSDs. Many PC OEMs opted to raise funds for PCIe 3.0 SSDs. Based on that, BIWIN rolls out the AP423 Series PCIe SSD to meet the requirements of the PC OEM market.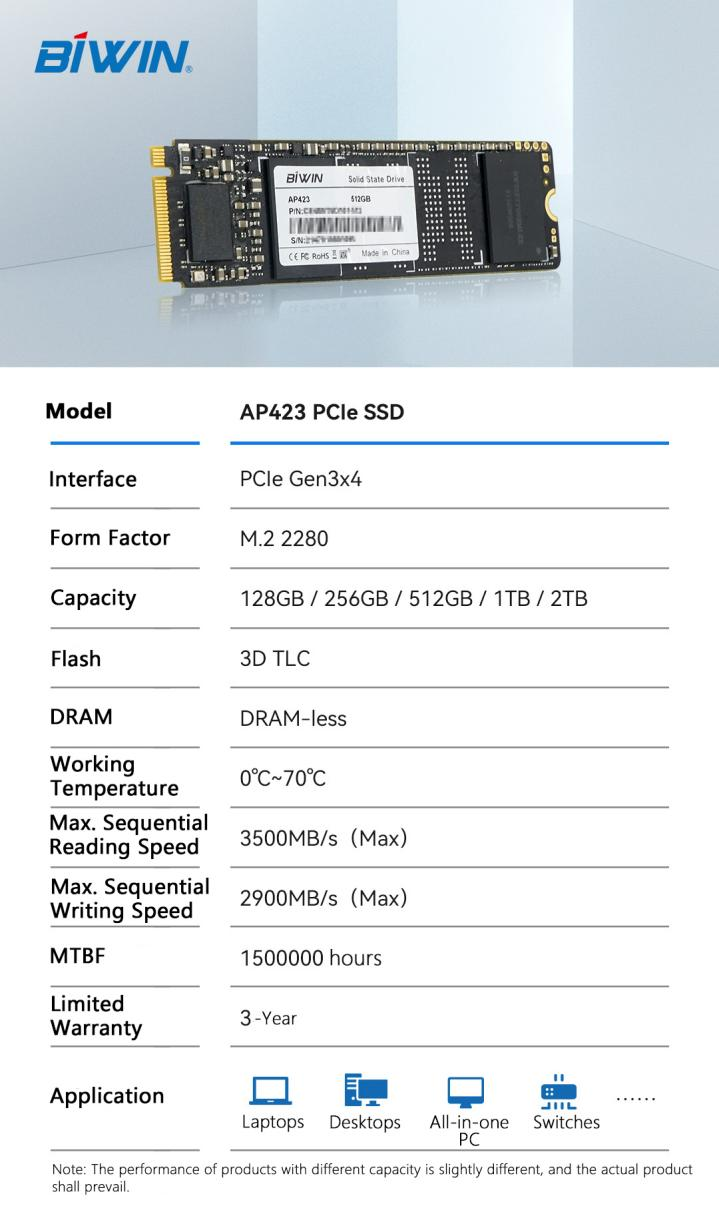 Technology Highlights
This product adopts the M.2 2280 configuration, supporting the PCIe 3.0 x 4 interface and the NVMe 1.4 protocol. It is available in the maximum capacity of 2TB with the maximum read and write speeds reaching 3.5GB/s and 2.9GB/s, respectively. Coupled with DRAM-less, a low power consumption design, it sports bountiful functions such as HMB, data inspection, and power management.
HMB (Host Memory Buffer)
Such a product supports the HMB function, which utilizes the host memory to optimize the performance of the DRAM-less architecture. It pushes the limits of performance and latency to obtain an industry-leading performance.
Data Inspection
This product sports an active data inspection design, intelligently controlling the frequency of data inspection according to the actual situation of flash memory block P/E times, ambient temperature, etc. Meanwhile, the timely rewriting refreshes the data in compliance with the data error inspection. In this way, it can ensure its data retention.
Reinforced Flash Interruption Protection
The flash interruption during power-on is a scenario that easily incurs SSD's failure. Such a product sports safe power-on protection and undergoes the rigorous flash test with millisecond-level steps, coping well with various scenarios.
Optimized Low Power Consumption
This product's main controller is engineered with the advanced intelligent power management unit. And it features the precise control and optimization of the firmware under various power management modes. All of these contribute to its ultra-low power consumption in both operating and idle modes.
Application Case
In a localization project, PC OEMs put forward requirements not only for SSD performance but also for the main controller, DDR, and NAND ICs. On their minds, only the scheme with DRAM is up to the performance par. The R&D team of BIWIN restores the emphasis on concrete applications. The AP423 Series developed by our self-developed firmware stands out even without the DRAM scheme to meet the performance requirement. We also bless you with the stability of product supply and quality consistency through BOM (Bill of Materials) targeting, automated production, and full life cycle management to maximize your benefits. Among them, our automated production and testing system provide an important guarantee for the mass production of this project.
BIWIN realizes full automation from loading, program burning at each stage, burn-in test, visual recognition of warpage to unloading. As such, we significantly reduce the links of personnel contacting products to ensure product consistency. In the whole automatic production, the data of each process is automatically recorded, and the MES (Manufacturing Execution System) is connected to realize the traceability of the entire production test process. On top of that, we keep making headway on the platforms of production, testing, and technology to improve the level of automated production.
This production platform can be quickly adapted via shared basic modules. We have already developed automated equipment that can support the mass production of specific products.
The test platform is based on our self-developed test cases, burn-in temperature adaptive control, performance, current detection, and other full coverage tests. In this way, we sport improved test coverage and guarantee the quality of each SSD before the shipment.
The technology platform focuses on accumulating basic modules (software and hardware) at all levels. These modules include MES interface, mechanical automation control, automatic firmware programming, automatic burn-in, use case expansion, power consumption test, power supply biasing, temperature control, fault prediction, etc.
The End
Facing up to the diversification and fragmentation of storage in the digital age, we consummate our product line with full-dimensional coverage. This includes industrial control storage, Xinchuang (Information Technology Application Innovation Industry) storage, embedded storage, and consumer storage, which keeps helping customers obtain business success. During the transition times of SSD from PCIe 3.0 to PCIe 4.0, we roll out the AP423 series products to penetrate into the PC OEM, a special market opportunity. With the increasingly demanding requirements for Intel's new generation of processors, we will soon launch next-generation PCIe 4.0 SSD products for PC OEMs, which can meet their needs towards performance, stability, and compatibility.