Progress in MDVR field is driven by technological advances of the Internet. With the emergence of smart transportation and the implementation of a pool of policies associated with Mobile Digital Video Recorders, the market has witnessed sustainable growth. Car video surveillance needs to record and store data continuously, which puts forward higher requirements for storage devices in terms of large capacity, data security, stable and continuous read and write, and power failure protection.
BIWIN launched its new BS321 4TB SATA SSD recently. Featuring the SATA 6Gb/s interface, this BS321 adopts YMTC Xtacking 2.0 Gen3 3D TLC NAND chip and CXMT DDR4 DRAM to deliver top-notch performance. Integrated with MAXIO's MAS0901 and BIWIN's own firmware, it hits sequential read, write speeds up to 550MB/s and 470MB/s respectively.
Supporting the "firmware algorithm + tantalum capacitor" dual power failure protection, this BIWIN BS321 is mainly for car monitoring, video recording, PC, industrial control machine, edge computing and other fields.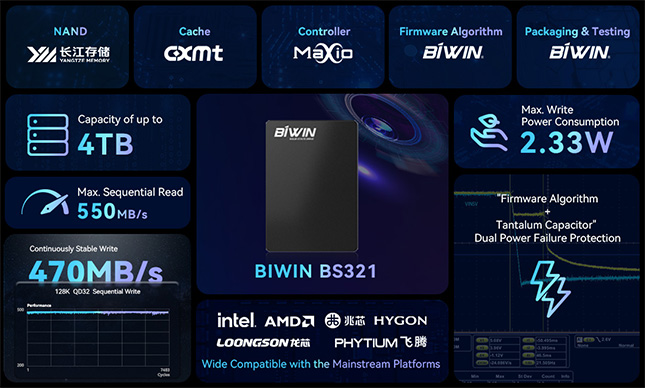 Features:
1. YMTC NAND+CXMT DDR4 DRAM+MAXIOMAS0901+self-developed firmware, packaging and testing
State-of-the-art NAND, DRAM and controller chip, coupled with BIWNI's own hardware, firmware and advanced packaging and testing contributes to BS321's unparalleled performance featuring beefed-up capacity, stable write, high reliability, proven security and low power consumption, etc.
2. Providing write speeds up to 470MB/sand large capacities
In response to the demand for continuous data writing without slowing down in car monitoring and other applications, BIWIN BS321 has optimized its firmware in garbage collection mechanism and other aspects, reducing timing and effectively ensuring data stability. Hitting 470MB/s writes in the FIO test, the BIWIN BS321 also provides capacity ranging from 128GB~4TB, giving customers more choices in performance and capacity options.
3. "Firmware algorithm + tantalum capacitor" dualpower failure protection
BIWIN BS321 adopts "firmware algorithm + tantalum capacitor" dual power failure protection mechanism: Equipped with a built-in power detection chip, the BS321 is able to monitor the power supply in real time. Once abnormalities are found, the module will be immediately activated, and the tantalum capacitor is used to hold up the power rail when system power is lost, providing sufficient time to flush its caches and ensuring firmware and data security. Rigorously tested for power compatibility, dynamic response of power conversion, and voltage stability, this BS321 is available over a wider range of supply voltage changes that higher than a traditional 5V(±10%).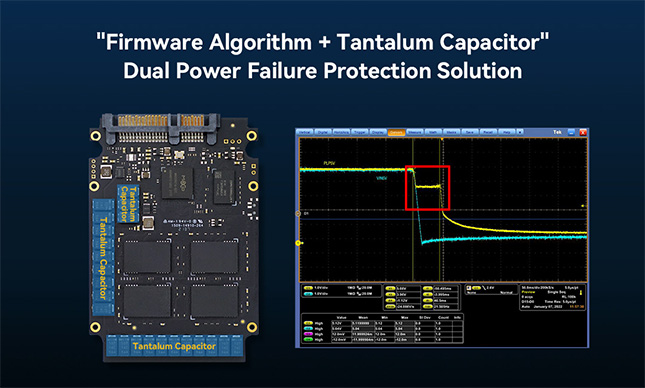 In terms of power consumption, the maximum power consumption of BIWIN BS321 is only 2.33W, which is ideal for applications such as car surveillance and video recording that requires long-term continuous data writing since energy-efficient products significantly cut costs. At the same time, the product has undergone strict screening, testing and it works faultlessly in -25℃to 75℃ with the help of an excellent controller. Also, this BS321 is compatible with mainstream platforms including Intel and AMD, mainstream PC and laptops, and domestic platforms covering Loongson, Zhaoxin, Phytium and Hygon.
Summary and Prospect
The excellent performance of BIWIN BS321 is powered by the company's ability to bridge the upstream and downstream parts of the industry chain, its partial integrated manufacturing from R&D to packaging and testing, which gives the company a competitive advantage over bulk supply, customized development and product consistency assurance. BIWIN's mission is to provide customers with proven storage solutions, setting the cornerstone for the IoE era. To bring this idea into production, BIWIN works to offer customers with products meeting their needs for diverse applications. BIWIN is committed to provide storage products with customized capacity, bandwidth, latency, lifespan, dimension and cost performance, etc, helping our customers grow a successful business.
For more information, please visit: https://en.biwin.com.cn/