A memory chip's performance improvement mainly depends on the controller chip and the optimization of its firmware algorithm. Two major factors affect memory chip's capacity: the storage density of a single die (such as the leap from 2D NAND to 3D NAND) and core packaging techniques covering ultra-thin die and die-stacking. Among embedded memory chips targeting at "high performance, small size, and low power consumption", eMCP/ePOP chips show the manufacturer's core R&D capabilities and advantages in packaging and testing. BIWIN, a company integrates R&D, packaging and testing, and brand operation as well, has been committed to providing high-efficient integrated storage solutions to make smart terminal applications including smartphones and smart wearables small in size and excel in performance.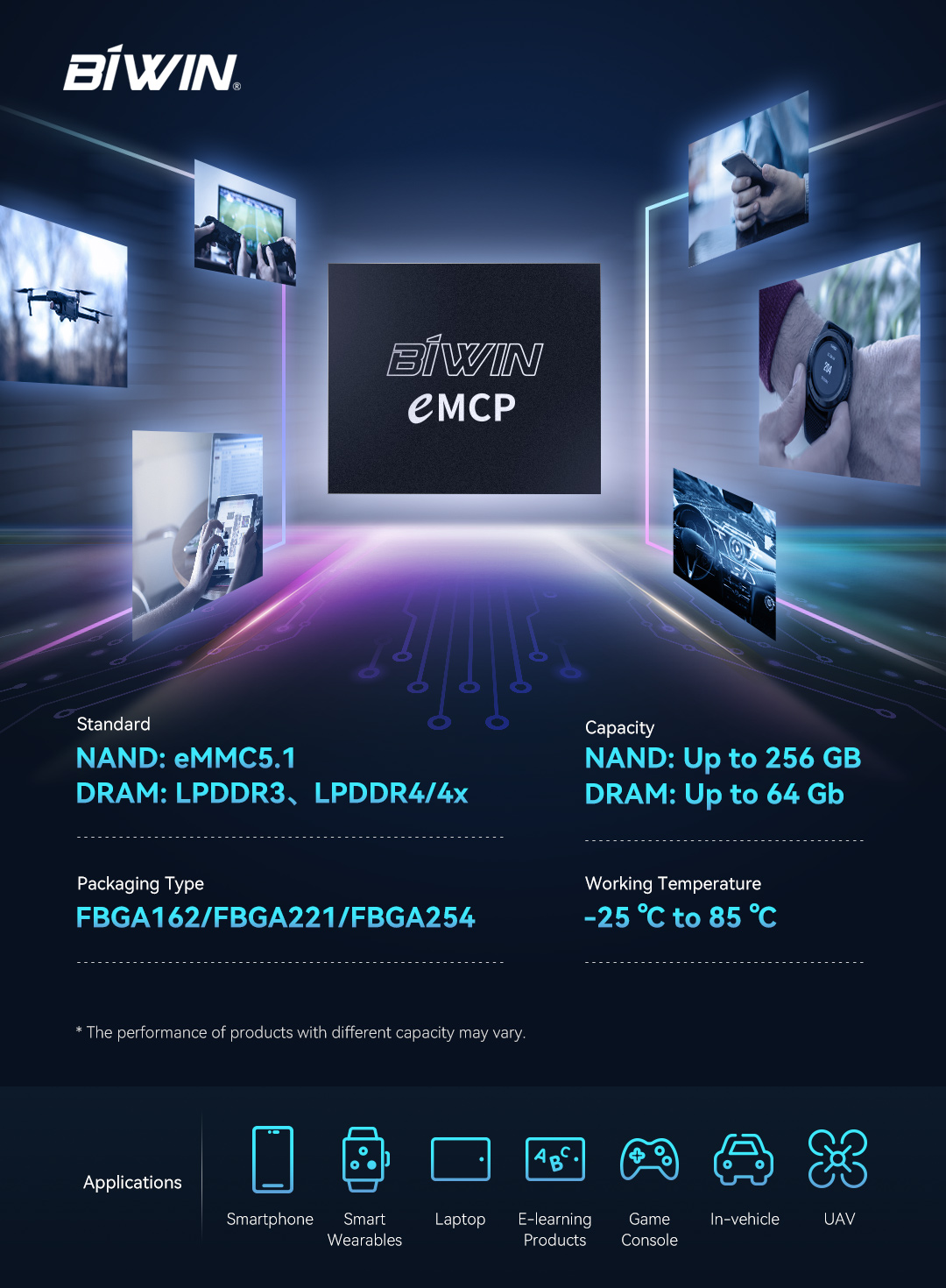 Small size, high performance, and cost-performance all come in one
Capacity of up to 256GB(NAND), 64GB(DRAM)
BIWIN eMCP integrates high-performance controller and NAND Flash chips, boosts the connectivity among NAND Flash, DRAM and SoC, and improves the overall performance of the chip. It also provides a capacity up to 256GB+64Gb, so as to achieve higher performance and larger capacity in a small size with the cost under control.
Taking BIWIN eMCP MG series as an example, it adopts advanced SiP technology-- FBGA254 and ultra-thin Die stacking. When the integrated packaging of eMMC and LPDDR is completed, the chip measures only 11.5 mm in width, 13 mm in length, and 0.90 mm in thickness, which greatly saves 40%-60% PCB space. This technology aims to make smart devices including smartphones, handheld game consoles, wearables, and tablets thinner and lighter. MG series hits 300 MB/s sequential reads and 150 MB/s sequential writes, and the LPDDR frequency is up to 2133 MHz with 2.8mW idle power consumption.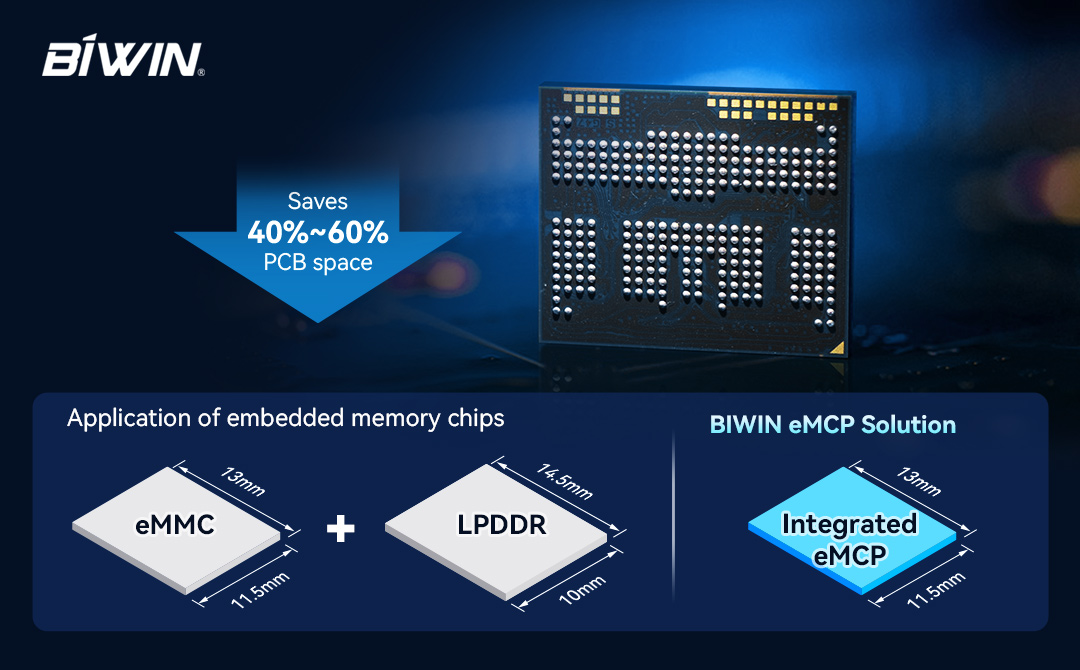 Rigorous Test + Multiple Platform Verification
Helps our customer to build competitive edges
BIWIN has a 3D packaging technology engineering laboratory, and it also sets up a memory innovation laboratory coping with design simulation, system verification, signal analysis, reliability test, etc. Those laboratories conduct test on eMMC, DRAM, chip performance, ensuring the great reliability, consistency, and high endurance of the product.
In terms of platform verification, BIWIN has established business tie with mainstream SOC platform manufacturers both at home and abroad. BIWIN''s major products have enter the qualified list of SoC chip and system supplier including Qualcomm, MediaTek, Unisoc, and Rockchip, providing convenience for end-product manufactures and ODM seeking high-quality memory chips.
Focus on what customers want from smart terminals
Reliable partner of famous smartphones and smart wearables supplier
BIWIN combines its multi-wafer stacking technology with advanced testers to meet the high demand for quality control and reliability. It adopts state-of-the-art technology and independently developed a series of devices for large-scale testing, giving its customers competitive pricing edges. In the design-in phase, BIWIN offers real-time FAE technical support for its clients, ensuring its products can be applied in end products and can enter the mass production stage. At present, BIWIN eMCP and ePOP products have been on the supplying list of well-known smart wearables brands both at home and abroad.
The BIWIN ePOP chip E100 series has won many awards in the industry, and it won the won the World Electronics Achievement Award "Memory of the Year" and was chosen to be the "Top Embedded Memory Chips in China 2021". BIWIN eMCP and eMMC, UFS, BGA SSD, LPDDR, MCP, SPI NAND and other memory chips can be applied in common or customized products, playing a vital role in offering rich storage solutions. And BIWIN always aims to provide its customer smart competitive storage products.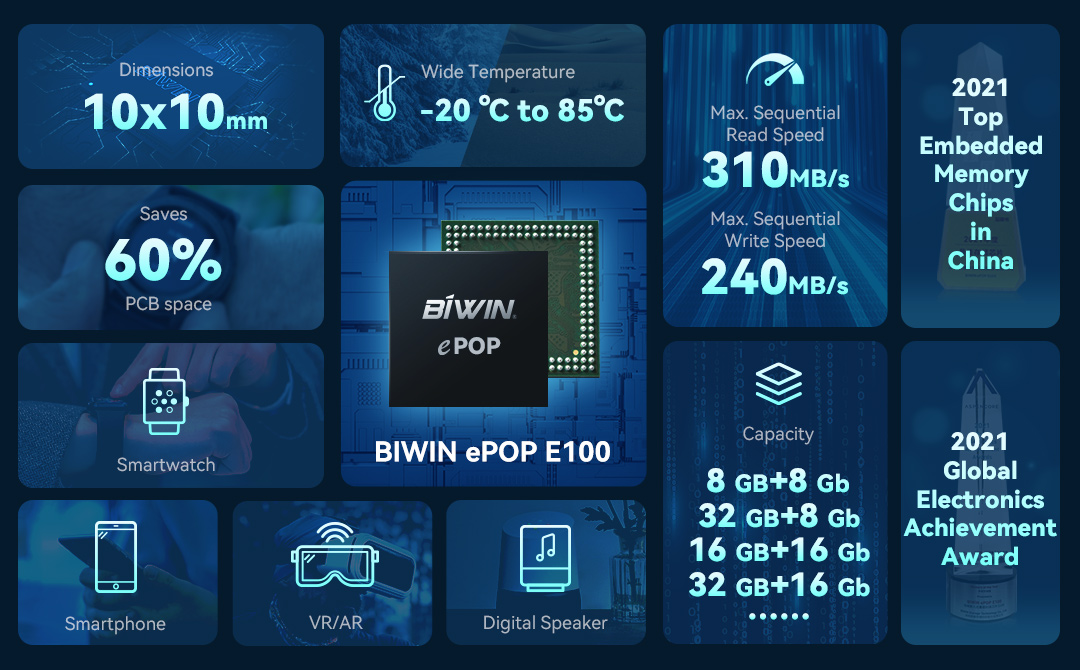 In the era of the Internet of Thing, smart terminals are going smart, integrated, and energy-efficient. Adopting the innovation-driven strategy, BIWIN continues to give play to the advantages of the industrial chain brought by its partial integration, improve its technical skills, and provide energy-efficient integrated storage solutions for the Internet of Things, smart wearables, embedded applications and other fields.
INNOVATIVE SOLUTIONS FOR STORAGE
BIWIN Storage Technology Company Limited ("BIWIN") produces high-quality flash storage and memory-- and is known in consumer, corporate and industrial segments for its independent development capabilities in hardware, software, firmware, and storage algorithms.
For more information, please visit www.biwin.com.cn
Contact Us: marketing@biwin.com.cn
Product line: embedded memory chip, USB storage module, memory card, solid-state drive, package testing