Backed by UHD (Ultra High Definition) technology and AI (Artificial Intelligence), smart TVs provide a smarter and personalized experience, which can be applied to scenarios such as video calls, AI fitness, and real-time learning. Users have higher expectation for screen size and entertainment experience, posing a challenge to the speed performance, reliability, and lifespan of the memory.
What high-end smart TVs want from the memory?
Smooth Video Playback: Smart TVsare seen as an easier way to enjoy the entertainment you like since Android and video players stepped into the world of bigger screens. Long-time operation may lead to running slow and freezing, which requires excellent reading and writing performance from the memory to run your TV at full speed.
High Reliability: To overcome issues including power failure, cold open, and reset, memories are required to give quick response, and provide stable and reliable performance.
Long Lifespan: Most smart TVs offer a 5-year warranty, which requires more than 3000 P/E cycles to be extremely durable.
BIWIN eMMC Memory Solutions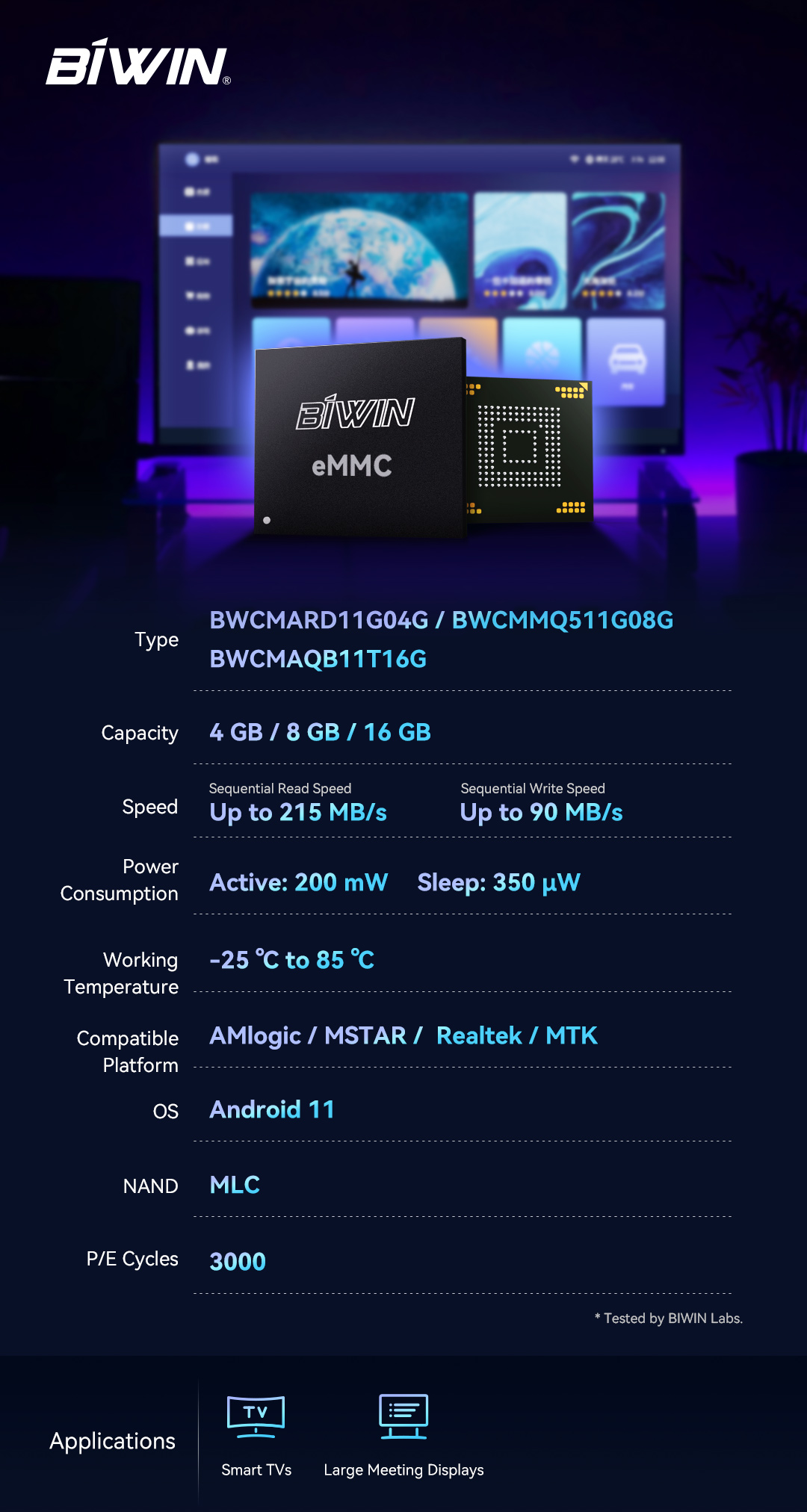 Self-developed firmware and rigorous tests to ensure high performance, low power consumption, and great reliability
Crafted with BIWIN self-developed firmware, this eMMC memory chip hits sequential read and write speed at 215 MB/s and 90 MB/s respectively with a low power consumption of 200 mW. Also, BIWIN developed firmware is well optimized to overcome cold open and reset, bringing smooth reboot and hassle-free entertainment experience.
In addition, BIWIN eMMC chips have undergone rigorous tests to overcome the power loss issue.
177 test cases and more than 5000 tests show how stable and reliable BIWIN eMMC chips are.
High-quality MLC NAND
BIWIN eMMC adopts state-of-the-art MLC NAND. Compared with TLC with a three-bit data unit, MLC store two or more bits of data per cell. It takes less time to read and write while enjoying a longer lifespan.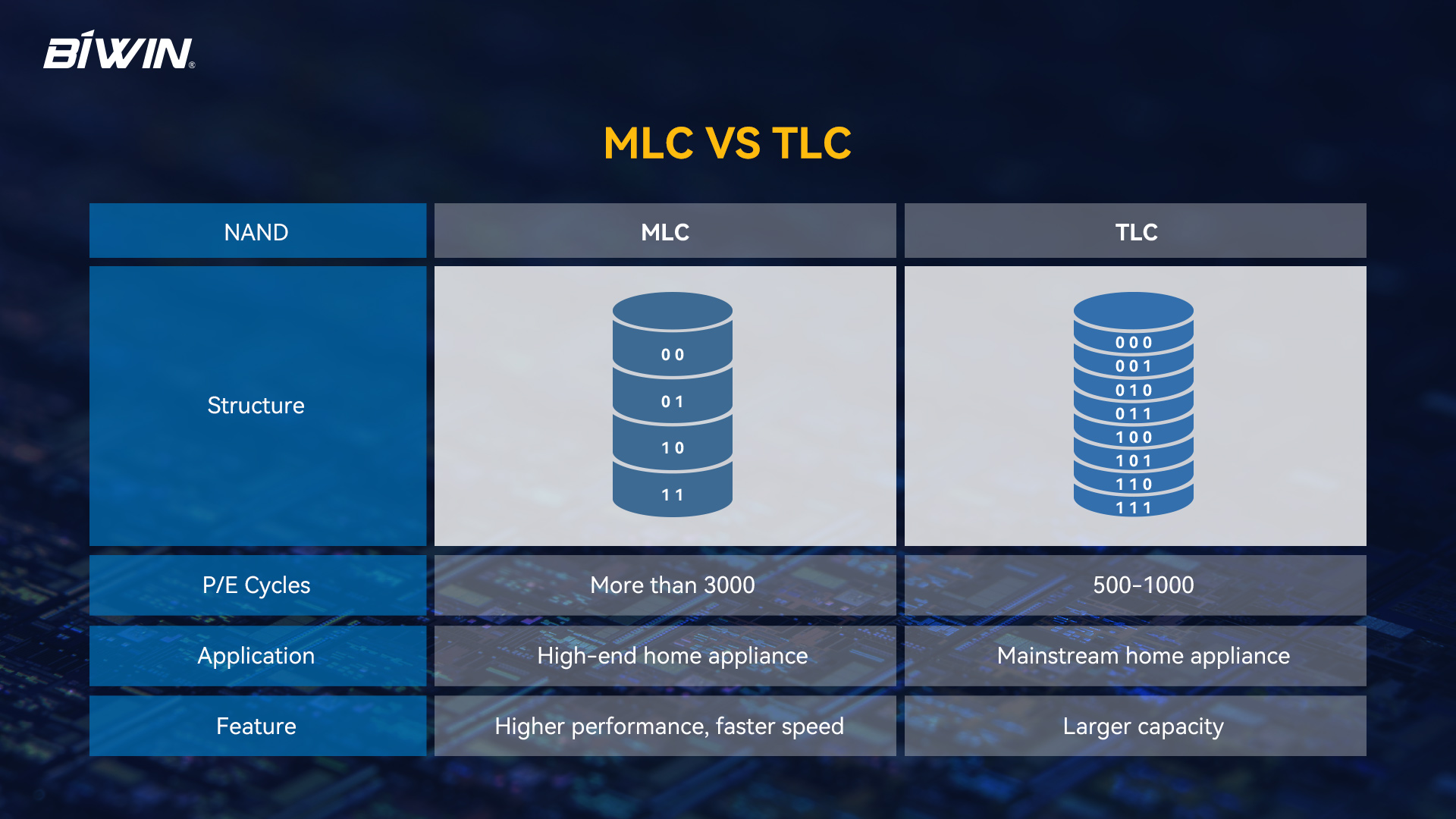 MLC VS TLC
MLC NAND with less flash memory units ensures stable writing performance and longer lifespan.
Providing 3000 P/E cycles, high durable MLC NAND is ideal for smart TVs, large meeting displays, and other terminals.
Wide compatibility, large capacity, mainstream SoC platforms support
We are free to enjoy UHD content on the big-screen with Android smart TVs today. BIWIN eMMC memory chips provides 4 GB, 8 GB, and 16 GB capacities to meet smart TVs' increasing demand for storage. In addition, BIWIN eMMC chips work well with mainstream SoC platforms including Morningstar, Amlogic, MediaTek, and Realtek. Smart TV manufacturers can rely on BIWIN eMMC chips to program data.
As smart TVs are going to fit to your lifestyle through AI fitness, big screen games, and real-time learning, BIWIN eMMC chips offer proven storage solutions to make your life even smarter. BIWIN works to storage medium screening and the R&D of self-developed firmware to bring quality products featuring excellent performance, high reliability, and long lifespan. BIWIN will stay true to its partial integration to bring customers awesome entertainment with its products.