The continuous upgrading of terminals such as PCs and servers puts forward higher requirements for low latency, low power consumption, high speed, and large bandwidth in data storage. The introduction of DDR5 memory modules featuring higher performance and improved stability and reliability may be a better storage solution. Recently, BIWIN has launched high-quality DDR5 UDIMM and SODIMM memory modules to meet market challenges.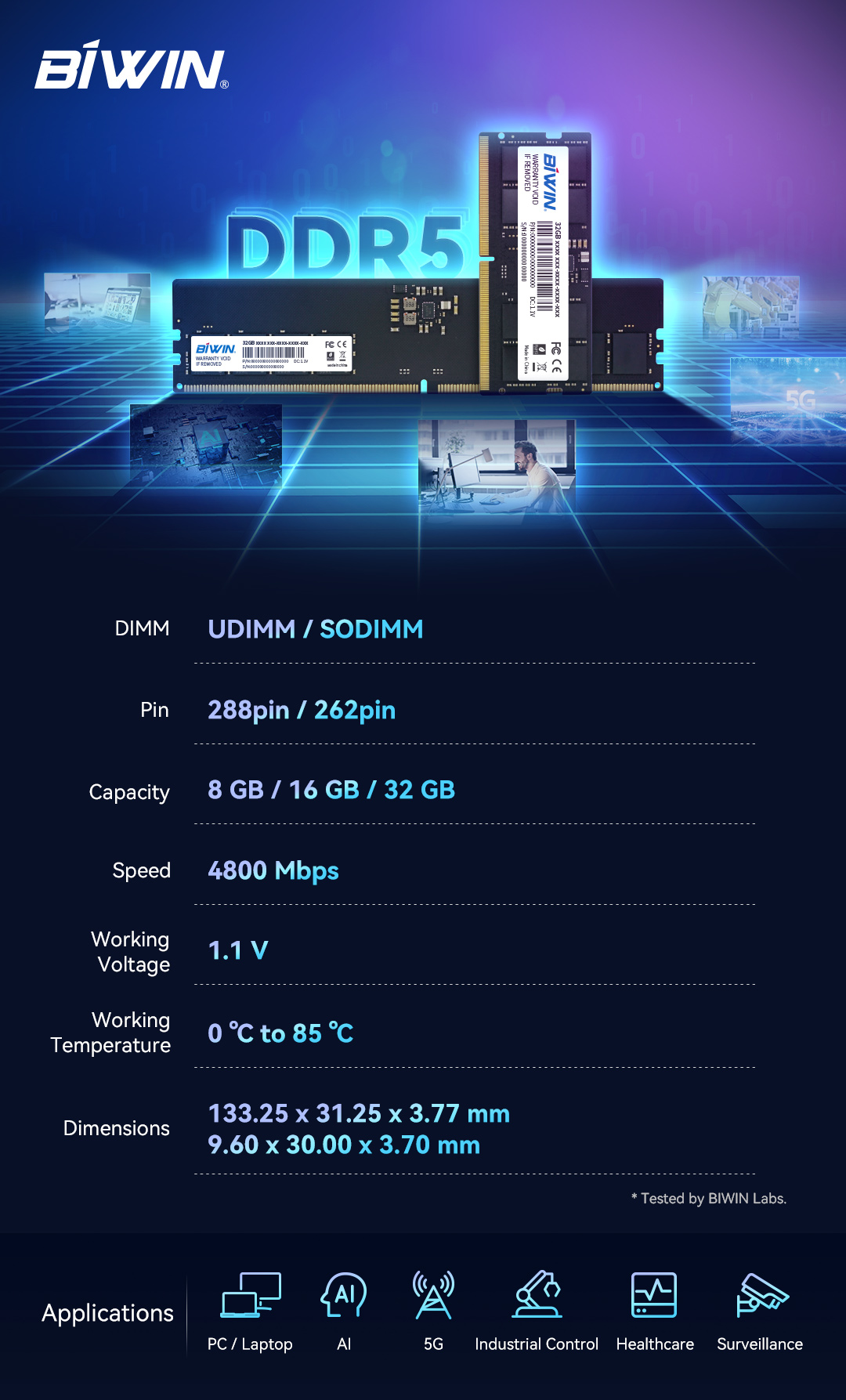 Significantly improved data transmission, and easier multitasking
Boosted by doubling the banks and the burst length and featuring two independent 32-bit subchannels, BIWIN DDR5 UDIMM and SODIMM hits speeds up to 4800Mbps, enabling faster processing, improved signal integrity, and easier multitasking.
PMIC for lower power consumption
The working voltage of BIWIN DDR5 module is reduced from 1.2 V of DDR4 to 1.1 V. BIWIN DDR5 modules adopt the PMIC (Power Management ICs) to effectively adjust the power system, ensuring signal integrity as well as lower power consumption.
Double data processing bandwidth, larger capacity.
BIWIN DDR5 doubles the Bank Group and enhanced storage density of single chips, offering a capacity ranging from 8 GB to 32 GB.
On-Die ECC and thermal throttling for high stability and reliability
BIWIN DDR5 memory modules adopts two uni-directional data-strobes: Write clock(WCK) for Writes and an optional Read clock(RDQS) for Reads to reduce integrity interference. And the thermal throttling is applied to overcome heat issues and data loss.
BIWIN will continue to build a full-stack product line and bring its customers quality products. Moving forward, BIWIN will stay true to its partial integration, adding new DDR5 RDIMM modules to its current offering(DDR5 UDIMM, DDR5 SODIMM) to embrace the era of DDR5.