Ruggedly built to survive challenging environmental conditions, BIWIN newly launched Micro SD card is ideal for surveillance, in-vehicle entertainment systems, industrial automation and more.
Stability: When paired with traditional memory cards, in-vehicle entertainment systems and cameras may have the potential risk of data loss, playback freezing, and other problems. Industrial automation puts high requirement on hours of operation, which demands excellent sequential read / write performance and great stability of memory cards.
Reliability: When it comes to surveillance (for example, the traffic monitoring system), the device needs to be highly durable even in extreme weathers. Memory products survive frequent vibration, shock to ensure stable operation in extreme conditions by using highly reliable storage solutions.
Endurance: The repeated reading and writing of the memory may damage the storage unit. SD cards tend to develop bad blocks as they age, which reduces the service life of the memory. Industrial products have a longer life cycle than consumer products, which raises the bar for endurance.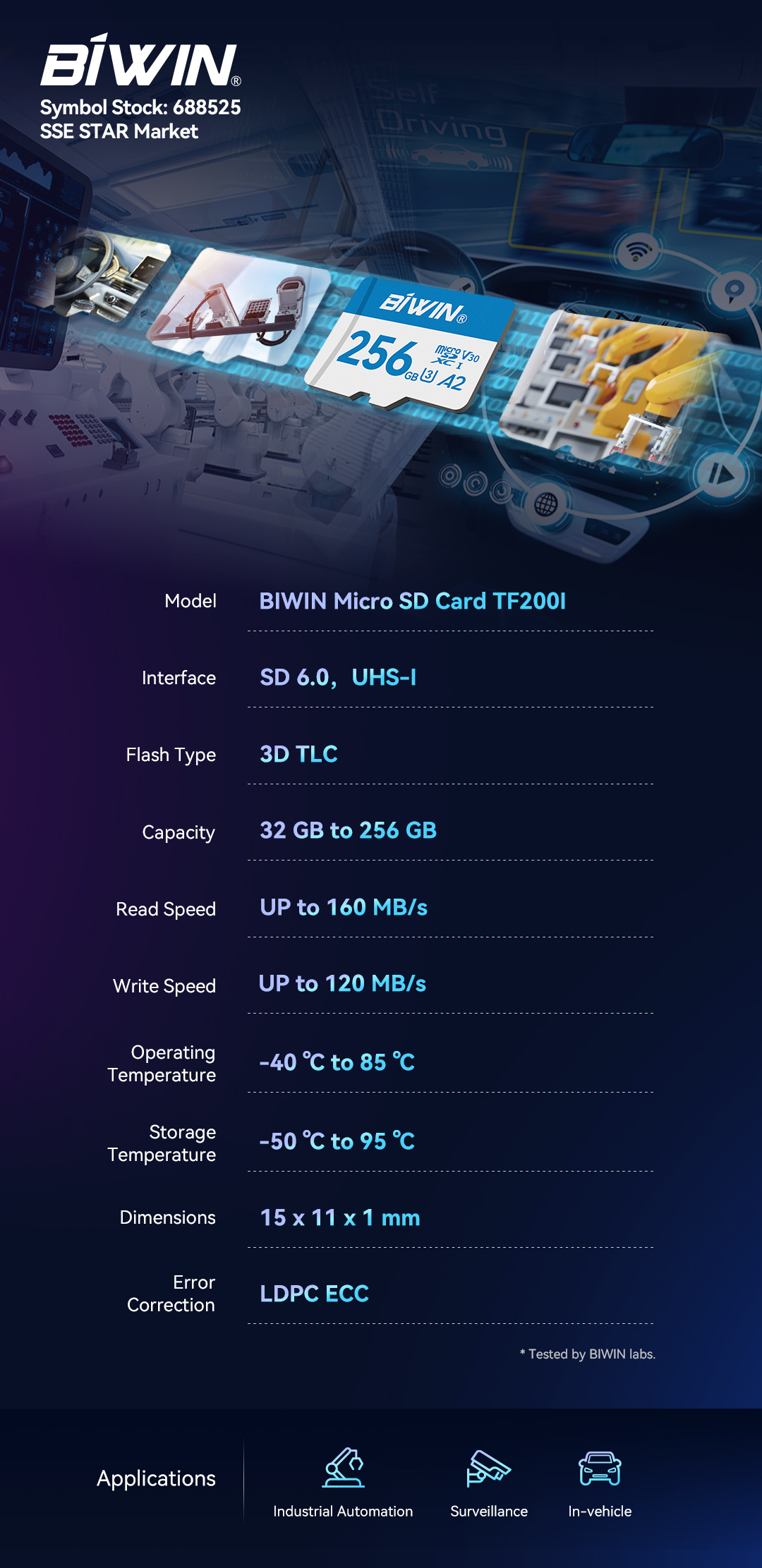 Stability: Seamless 4K Video Transfer without Dropping Frame
BIWIN TF200I features UHS Speed Class 3 (U3) and Video Speed Class 30 (V30), enabling gapless continuous shooting. Delivering unparalleled read / write speeds up to 160 MB/s / 120 MB/s, this TF200I supports 4K Raw video recording. It also complies with A2 standard for high app performance and improves the operation of your devices.
Backed by Garbage Collection and Bad Block Management, BIWIN TF200I can effectively reduce the amount of garbage collection and minimize the write latency in terms of firmware algorithms. The Bad Block Management helps to skip or replace the bad blocks, dramatically improving NAND flash drive reliability and endurance.
Reliability: Supports S.M.A.R.T. to Work in Extended Temperatures
BIWIN Micro SD card works out even in extreme temperatures ranging from -40℃ to 85℃. It is rigorously tested to withstand water, dust, vibration, magnetism, shock, and X-ray. BIWIN TF200I supports LDPC (Low-Density Parity Check) to correct error codes for improved data integrity. And it also features S.M.A.R.T. (Self-Monitoring, Analysis, and Reporting Technology) to ensure the health of the SD card and report it to the users.
Durability: High-quality NAND for Extended Lifespan
Built with quality 3D TLC NAND flash, BIWIN Micro SD card offers 3,000 P/E cycles. It comes with at least 32 GB of storage, going all the way up to 256 GB. Wear Leveling is adopted to evenly distribute writing on all blocks of the Micro SD card, extending the lifetime of the memory.
BIWIN Micro SD card offers high level of stability, reliability and endurance. It works across mainstream terminal devices including industrial PC, industrial automation, surveillance, dash cam, and more. Moving forward, BIWIN will leverage its advantages in R&D, firmware algorithm, and advanced IC packaging and testing to extend its business landscape, bringing customers excellent storage solutions.
Additional Information
The Application Performance Class is primarily a standard for micro SD cards. It is a measure of the performance grade required to comfortably launch and run applications on devices.
A1 memory card delivers sequential transfer speed of at least 10 MB/s and minimum random read / write performance of 1,500 / 500 IOPS.
A2 memory card delivers sequential transfer speed of at least 10 MB/s and minimum random read / write performance of 4,000 / 2,000 IOPS.