BIWIN Was Awarded as "An Excellent Chinese Brand Enterprise in 2022 Electronic Components Industry"
In late April, 2023, the "2022 Huaqiang Electronics Network Excellent Supplier & Electronic Components Industry Outstanding Chinese Brand Award Ceremony" hosted by Huaqiang Electronics Network was successfully held in Shenzhen. The event lasted for 5 months, with over a thousand electronic industry enterprises participating in the nomination, expert evaluates enterprises in their qualification, visibility, annual turnover, advantages, application areas, market prospects and industry performance and other dimensions. BIWIN won the "2022 Excellent Chinese Electronic Component Brand Enterprise" award for its excellent market performance, superb quality, and customer service.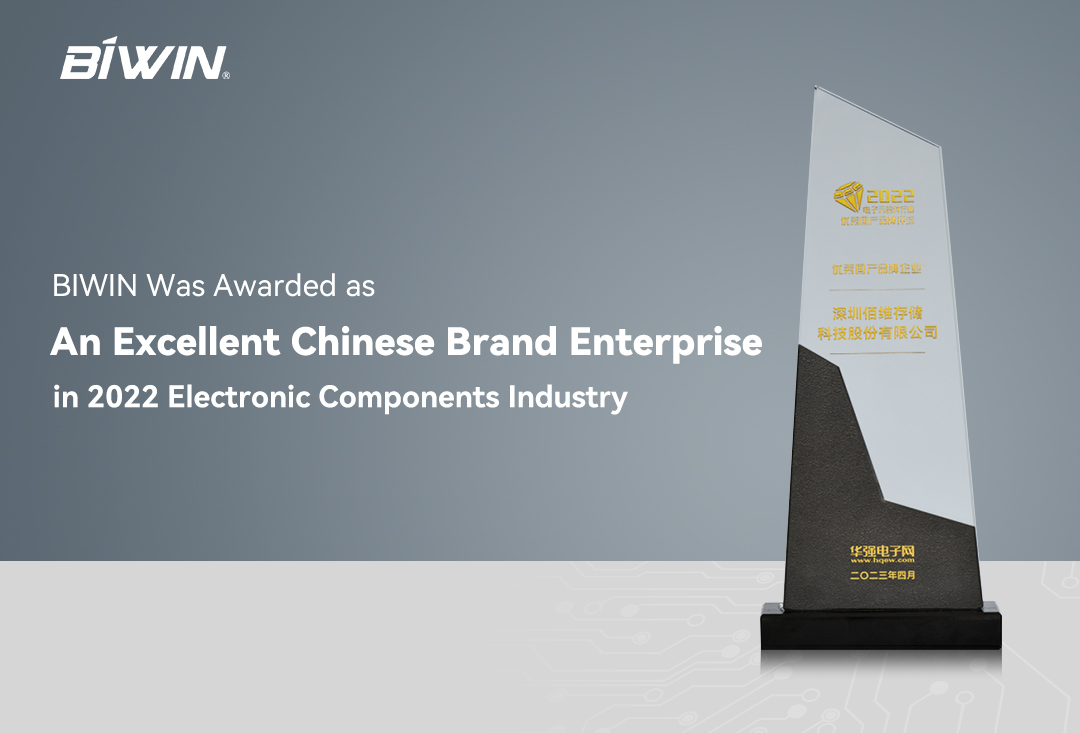 The year of 2022 witnessed a downward trend in the semiconductor industry: global inflation, high inventory of enterprises in all links of the industry chain, and shrinking end markets had great impact on the whole industry. Facing stressed market, BIWIN continues to optimize its business structure, deepen cooperation with industry-leading clients, reach new clients and keep its operation sound.
There is a growing demand for massive data storage in an ever-connected world. To offer products with high capacity, large bandwidth, low latency, low power consumption, enhanced security, and small size, BIWIN has been innovating in the application of mobile smart terminal, PC, industry terminal, data center, smart car, and mobile storage, and making new products, service and solutions with solid quality. BIWIN is getting recognized by the market with its products entering the supply chain system of many industry-leading clients. Focusing on storage solutions, BIWIN has integrated R&D, IC packaging and testing, and actively involved in IC design, advanced packaging and testing, and chip test equipment to deliver quality product and service to our clients.
This award is a recognition of our efforts, and also a motivation for BIWIN to keep moving forward to grow into a more excellent Chinese brand enterprise in the electronic components industry. Upholding the mission of "From Chip to Client, with End-to-End Flash Storage Solutions, setting the Cornerstone for the IoE Era", BIWIN is committed to growing into a world-leading semiconductor manufacturer. Forging ahead, BIWIN will focus on high-quality storage solutions, bringing added value for our customers by always standing by their side.