BIWIN Brings UFS 3.1 Flash Memory Hitting Read Speeds up to 2100 MB/s for Flagship Smartphones
Smartphones have become an essential part of our everyday lives. As 5G, innovative sensors, and AI are gathering momentum, the storage market puts higher requirements on smartphones in terms of high-resolution videos and images, apps, and real-time communications. BIWIN brings proven storage solutions for your smartphones, enabling improved responsiveness and smooth user experience.
Mobile user experience is based on three main factors: SoC, RAM, and flash memory, with memory performance and capacity having a growing impact on user experience.
To meet the needs of flagship smartphones, BIWIN UFS 3.1 offers write speeds up to 1800 MB/s (4x faster than the previous generation of Universal Flash Storage) and read speeds up to 2100 MB/s. With a capacity up to 256 GB (the 512 GB and 1 TB versions are coming soon), BIWIN UFS 3.1 comes in a dimension of 11.5 x 13.0 x 1.0 mm. In addition, BIWIN UFS 2.2 is compatible with mainstream SoC platforms including MediaTek and Spreadtrum. And BIWIN is the first storage solution provider in China to pass MediaTek certification. BIWIN provides UFS 3.1 + LPDDR4X/5 storage solutions, with the LPDDR5 running at speeds up to 6400 Mbps and boasting a capacity up to 64 Gb.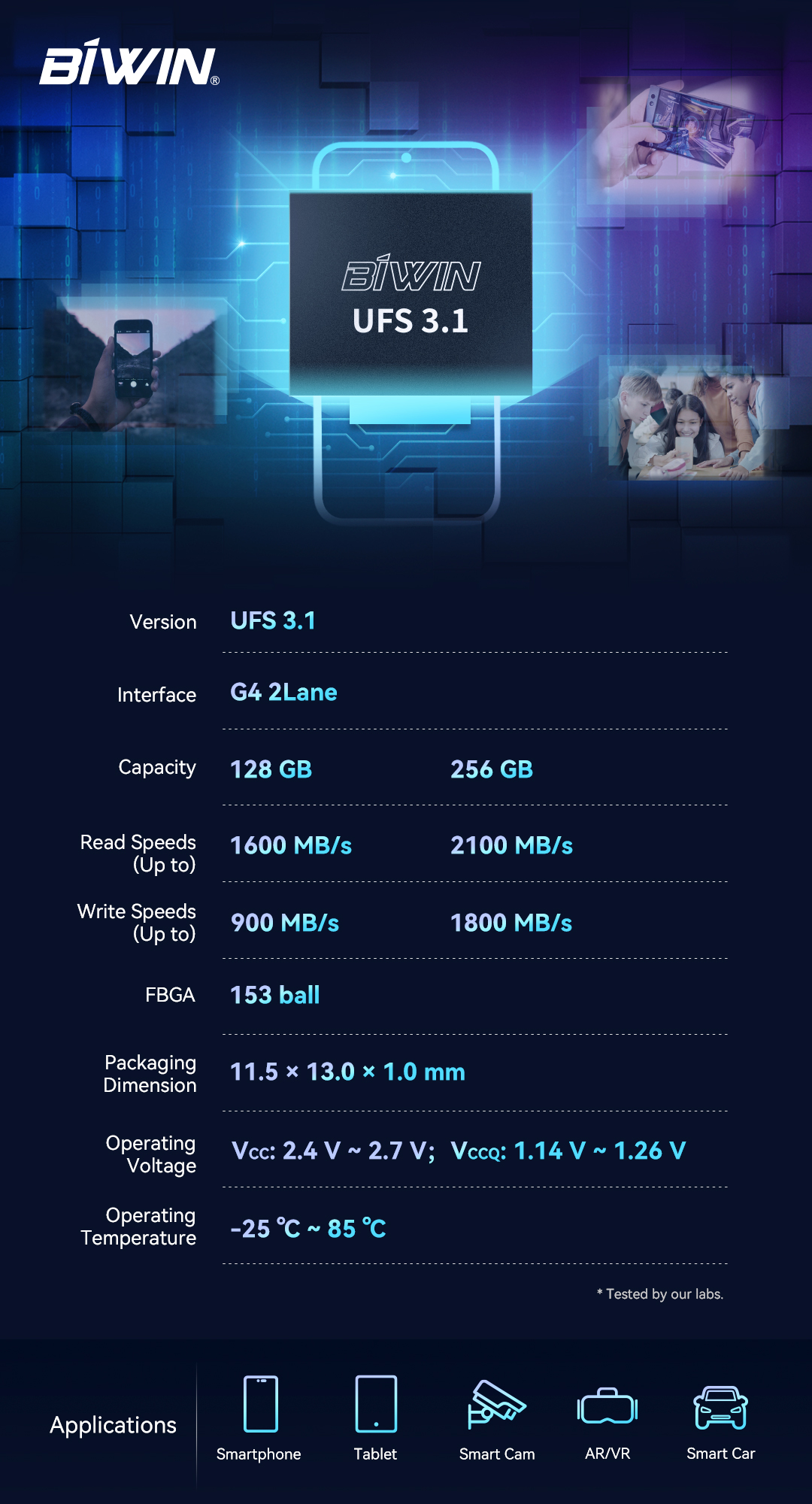 Firmware algorithm is the very core of the memory's high performance and low power consumption. Bolstered by JEDEC standards, BIWIN UFS 3.1 supports Write Booster, Deep Sleep, Performance Throttling Notification, and Host Performance Booster to ensure faster speed and less power consumption. BIWIN UFS 3.1 is engineered to offer better user experience in HD video decoding, program installation and startup, continuous shooting, image loading, large file copy, game loading and more.
BIWIN storage products have entered the supply chain system of mainstream smart terminal manufacturers. In the future, we will continue to deepen the integration of R&D, packaging and testing, giving full play to our advantages in embedded storage in order to help customers increase the competitiveness of their terminal products.
For more information, please contact sales@biwin.com.cn.