BIWIN Brings Embedded Storage Solutions to CCBN 2023
BIWIN was invited to attend the CCBN 2023 held at the Beijing Shougang Exhibition Center from 19-21 April 2023. BIWIN will bring its cutting-edge embedded storage solutions in Hall 1, Stand 1111 to meet the needs of demanding applications in smart TVs, smart wearables, smartphones, tablets and IoT.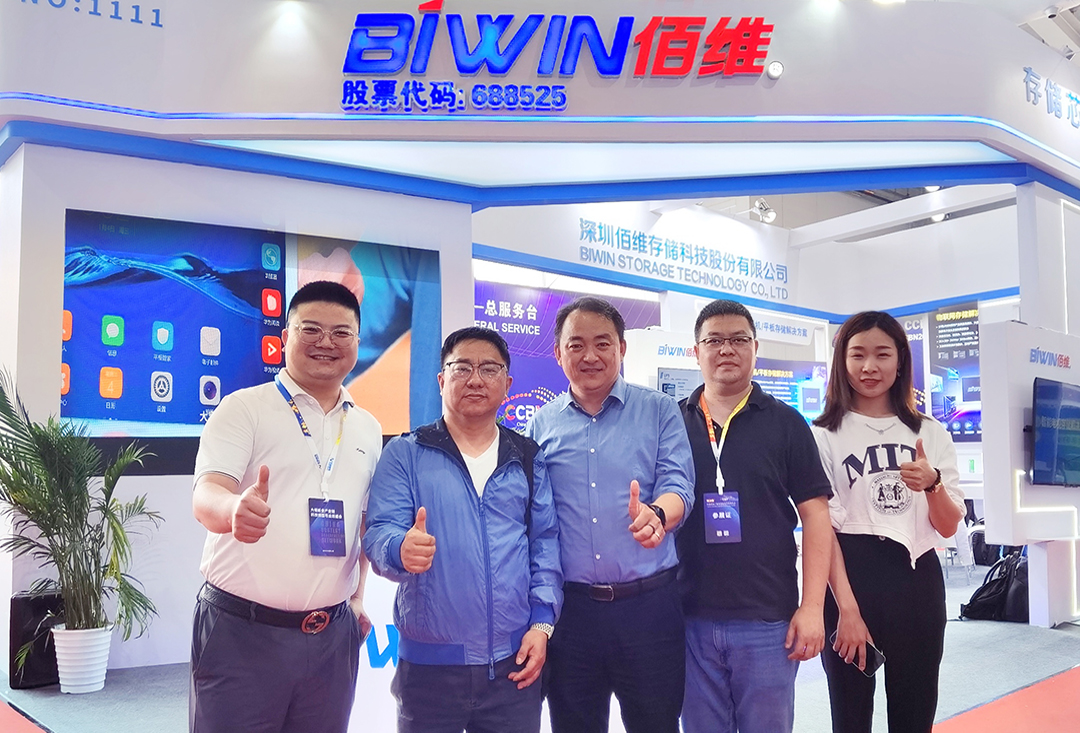 Several of the popular solutions on the BIWIN stand in CCBN 2023 included:
In this year's conference, Baowei is showcasing embedded storage products such as eMMC, UFS, LPDDR, DDR, ePOP/eMCP, as well as storage solutions for smart TVs, smart wearables, cell phones/tablets, and IoT. Typical representative products are:
BIWIN eMMC: High stability and long lifespan, ideal for smart TVs
Crafted with MLC NAND, BIWIN eMMC memory chip is engineered to meet your demands for high-end smart TVs. It hits sequential read and write speed at 215 MB/s and 90 MB/s respectively with a low power consumption of 200 mW. Powered by our self-developed firmware, BIWIN eMMC memory chips boast high performance, reliability, and long lifespan, bringing fast boot and smooth operation. To avoid frequent power failure, BIWIN adopts test software platforms, core test algorithms, and supporting test equipment to ensure high reliability of eMMC memory chips.
BIWIN LPDDR5: High efficiency and more options for your device upgrading
Compared with LPDDR4/4X, BIWIN LPDDR5 supports multi-bank architecture to enable multi-channel data transmission, further increasing the data rates from 4266 Mbps to 6400 Mbps, and boosting the bandwidth from 34 GB/s to 51 GB/s. Available in 16 Gb, 32 Gb, and 64 Gb capacities, it adopts dynamic voltage scaling to reduce power consumption by 30%. Featuring strong performance, lower power consumption, great reliability, and larger capacity, BIWIN LPDDR5 is ideal for smartphones, tablets, and automobiles.
BIWIN ePOP E100: High performance and low power consumption for smart wearables
By virtue of its integration of R&D, packaging and testing, BIWIN brings E100 with a size of 10 x 10 mm, hitting up to 310 MB/s sequential read and 240 MB/s sequential write. Mounted directly on top of the CPU, BIWIN E100 integrates eMMC and LPDDR, freeing up 60% PCB space and shortening the transmission distance between signals. It is a solid storage solution showing a good mix of high performance and low power consumption. It is suitable for smart wearables for its small size, low power consumption, and high reliability, providing manufacturers more flexible solutions and speeding up product's time-to-market.
BIWIN UFS 3.1: Impressive read speed and high capacity for flagship smartphones
To meet the needs of flagship smartphones, BIWIN UFS 3.1 offers write speeds up to 1200 MB/s and capacity up to 512 GB. Bolstered by JEDEC standards, BIWIN UFS 3.1 supports Write Booster, Deep Sleep, Performance Throttling Notification, and Host Performance Booster to ensure faster speed and less power consumption, significantly shortening the loading time for improved working efficiency.