You know what? In recent years, wearable devices, as a major category of intelligent terminals, have never lost their popularity. In fact, they originated from casinos. According to Edward O. Thorp, professor of mathematics at the Massachusetts institute of technology, mentioned in the 2nd edition of his gambling tutorial book "Beat the Dealer", he first came up with an idea about wearable computers in 1955. He hung small cameras, walkie-talkies and other machines on his body or put them in his pocket to get information from his peers. He also completed the development of the equipment in cooperation with another developer from 1960 to 1961 and successfully raised the winning rate of roulette by 44%.
Wearable devices started in the 1960s and gained considerable exploration and development in the 1980s and 1990s.It was not until the last decade that the development of wearable devices began to enter the fast lane. The "family members" expanded rapidly. From the world's first wrist calculator Pulsar to the world-famous Nike+iPod, to Google Glass with full sense of science and technology in the future, as well as various smart watches, smart bracelets, smart head displays, ear strap devices, smart shoes, smart clothing, etc., from consumer electronics to industrial applications, human imagination has given wearable devices endless application space.
Market status of wearable devices
According to IDC's prediction, the total shipment volume of wearable devices in 2019 is expected to exceed 200 million units, and the user's holding will see a greater growth with the blessing of 5G.A recent Gartner survey found that nearly one-third of consumer users have abandoned their wearing devices after using them for a period of time.
In the face of such a positive and negative survey, what is the inspiration to our domestic wearable manufacturers? First of all, the smart wear market belongs to the potential market in the future and has broad prospects. Secondly, due to the problems of bulky products, poor endurance and homogenization of products, the abandonment rate of wearable devices is directly high.
Faced with such contradictions, we cannot help asking: on the premise of unchanged product performance and function, how can we rely on product design to solve the pain points of bulky and poor endurance of smart wearable products and further enhance the differential competitiveness of wearable devices? For example, to reduce the size of the main chip in the equipment and provide more flexible appearance design? Or use a lower power main chip to optimize the endurance of wearable products?
Perhaps this miniaturized memory chip of BIWIN can answer the above questions: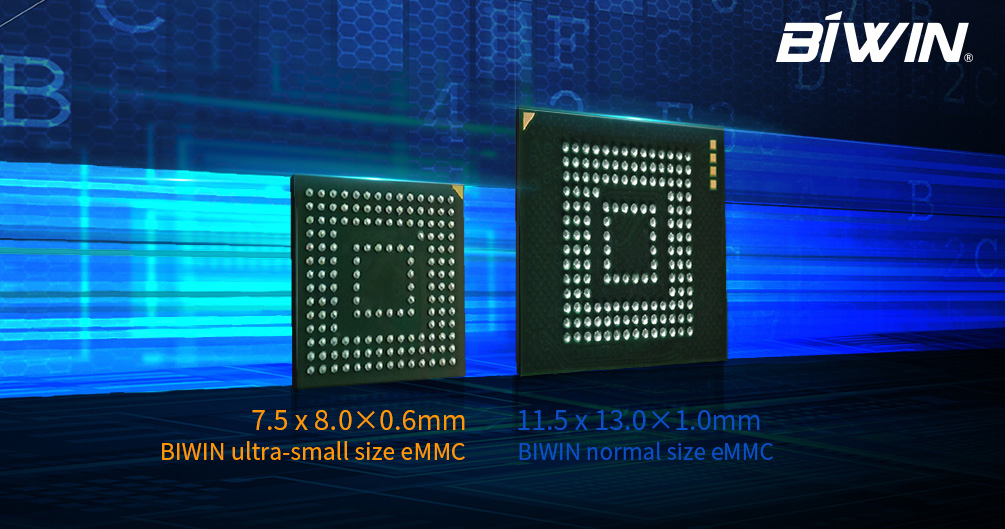 Biwin ultra-small ultra-thin eMMC,Leading the New Possibility of Wearable Storage
Size is one of the key factors limiting the appearance and function of wearable devices. From the point of view of hardware design, BIWIN, a leading storage solution provider, has introduced an ultra-small and ultra-thin eMMC with a size of 7.5mm×8.0mm×0.6mm, which is 70% smaller than the standard eMMC. BIWIN is especially suitable for wearable devices with high requirements on size, power consumption, reliability and durability, and provides a technical scheme for equipment manufacturers to fall to the ground quickly.
Biwin ultra-thin, ultra-small size eMMC has significant advantages:
1,Highly integrated flash memory, controller and MMC interface, conforming to JEDEC specification;
2,Small size, only 7.5mm×8.0mm×0.6mm, volume reduced by 70% compared with standard specifications;
3,Strong performance, maximum sequential read speed 308 MB/s;
4,Support dynamic power management, energy saving, electricity saving, lower power consumption.
In response to customer needs,Biwin Continuously Plows Deep into Subdivided Storage Market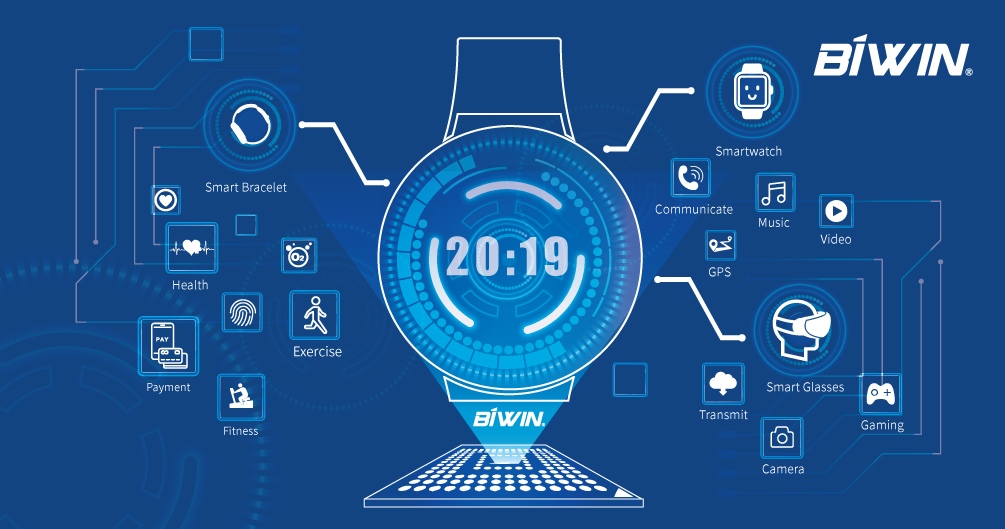 This is not the first time that the special size products of Biwin will shine brilliantly. Relying on its own leading packaging and testing technology, Biwin has successively introduced ePOP chips with an area of 60% less than that of the traditional scheme, eMMC with a size of 8.0mm×8.0mm×0.9mm, etc., which have repeatedly broken through the size limit of memory chips and expanded the application boundary of NAND memory. The products are widely used in all kinds of terminal equipment and have won good reputation among customers.
Special-sized products are created according to the customized needs of customers, highlighting the "killer" of expanding the territory of Biwin. In addition to providing storage products that meet the standardized and large-scale needs of end customers, the special size products can also deeply customize storage solutions for each segment of the industry market. Biwin has been focusing on the development and application of storage core technology products for 10 years, with leading storage algorithm and firmware development capabilities, outstanding hardware design capabilities, comprehensive testing capabilities and advanced packaging and manufacturing capabilities with SiP as the core, providing customers with one-stop IC services from product selection to production and manufacturing. Faced with the customer's customized storage needs, the Biwin team has been working hard to develop batches of storage products that exceed customer expectations and have reliable performance.