Taipei, JUNE 3rd,2023-- BIWIN STORAGE TECHNOLOGY (SSE STAR Market 688525) demonstrated to clients and friends the latest in memory and storage technology at a premier suite on the 25th floor of the Grand Hyatt Taipei during Computex 2023.
BIWIN, along with a number of companies including chip industry leader ARM, chose the Grand Hyatt which has historically been an important venue during Computex (with hospitality suites on several floors).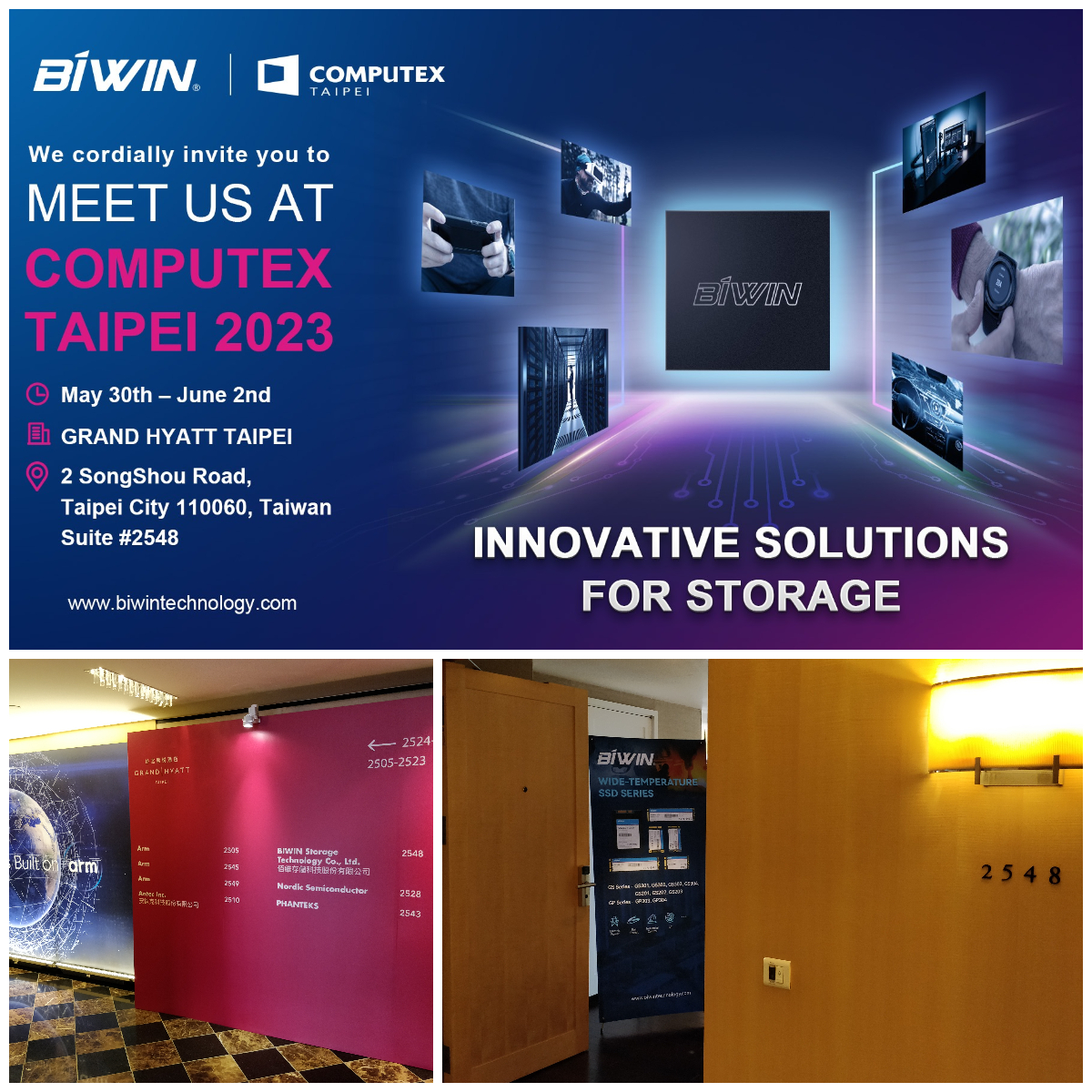 With plenty of excitement around chips, embedded computers, and servers on the show floor at Computex 2023, the four-day show drew 47,594 professionals from 150 countries. The top 10 countries/region of visitors were Japan, the United States, Korea, China, Thailand, Hong Kong, Vietnam, India, the Philippines, and Indonesia.
More than 20 staffs were on hand at the BIWIN suite to greet their customers from Latin America, Europe, India, No. America, and other geographies.
The suite featured four technology zones including two for BIWIN-made consumer brands, one for gaming, and one for BIWIN's embedded and industrial series.
Visitors could see innovative products in embedded memory-- chips such as eMMC, UFS, LPDDR, eMCP, BGA SSD, and DDR5. Embedded chips are popular in consumer electronics, wearables, digital signage/kiosks, smartphones, IoT devices and other industries.
BIWIN industrial series serve a broad range of industry from typical Industry 4.0 devices to applications requiring SSDs which can operate reliably despite extreme temperature.
BIWIN also stressed its IC packaging and testing services, with videos displaying the unique capabilities at the new BIWIN Huizhou Science & Technology campus.
Press were treated to a performance demo of some of BIWIN-made consumer SSDs, now rated some of the world' best performing drives.
New at Computex this year: the buzz around AI. Generative AI is the modern big bang, computing needs will explode, and semiconductor innovation is the key to delivering (sustainably) the AI future. BIWIN views storage as the enabler of the coming AI era.
About BIWIN Storage Technology
BIWIN Storage Technology Company Limited produces high quality flash storage and is now known in consumer, corporate and industrial segments for its independent development capabilities in hardware, software, firmware and storage algorithms.
BIWIN's experience in production (along with its complete packaging, testing, and production lines) ensures BIWIN products are superior in performance, earning BIWIN many awards and a reputation for providing global customers with high-quality storage products.
At the end of 2021, the company opened its latest 110,000 m2 facility, BIWIN Huizhou Science and Technology Zone, with a state-of-the-art R&D lab and production.
Our founders started in the flash storage business in Shenzhen, China in 1995, embracing the "WIN-WIN" business philosophy that would later become the hallmark for BIWIN. In 2009 they made a key decision for the business: to add IC encapsulation (or IC packaging) process into the factory. A remarkable milestone that vast majority of competing companies still don't have (they outsource the process or buy the packaged IC packaged). This successful step led to the 2010 creation of the company we know today, BIWIN Storage Technology Company.
BIWIN STORAGE TECHNOLOGY CO., LTD.
Building #4, South Zone #2,
Zhongguan Honghualing Industrial Zone,
Nanshan District, Shenzhen 518055, China
Tel: +86-755-2671 5701
BIWIN TECHNOLOGY LLC
8725 NW 18th Terrace, Suite #400
Miami, FL 33172, USA
TEL: 1-305-456-3288
Press contact: marketing@biwin.com.cn