About Us
---
BIWIN Storage Technology Co., Ltd. (hereinafter referred to as "BIWIN") which specializes in the research, development, manufacturing and sales of memory chip application products, belongs to the high-tech industry specially supported and developed by China. Founded in 2010, the company boasts independent software, hardware, and firmware development capability and storage algorithm and process development capability, and is one of the few domestic storage enterprises which are capable of both chip design and chip packaging and testing.
BIWIN focuses on providing customers with high-quality storage products, and is committed to becoming a first-class storage solution provider in the industry. Centering on the storage technology, BIWIN boasts storage software, hardware and firmware development capability, and actively responds to the market demand, providing customers with more competitive and high-quality hardware and software storage solutions. BIWIN products and services are as follows: SSD, embedded storage chips, memory cards, memory modules, and customization services.
In order to ensure the stability of product quality, BIWIN has built complete packaging, testing, and production lines by itself, making sure that the products are of excellent and stable performance and in line with each international certification. BIWIN is committed to providing high quality storage products and services for complete machine manufacturers, brand owners, the industrial control market and the consumer market, and provides customers with a full series of storage application solutions covering game entertainment, rail transit, network security, industrial automation, mobile phones and tablets, and netcom products.
Our Advantage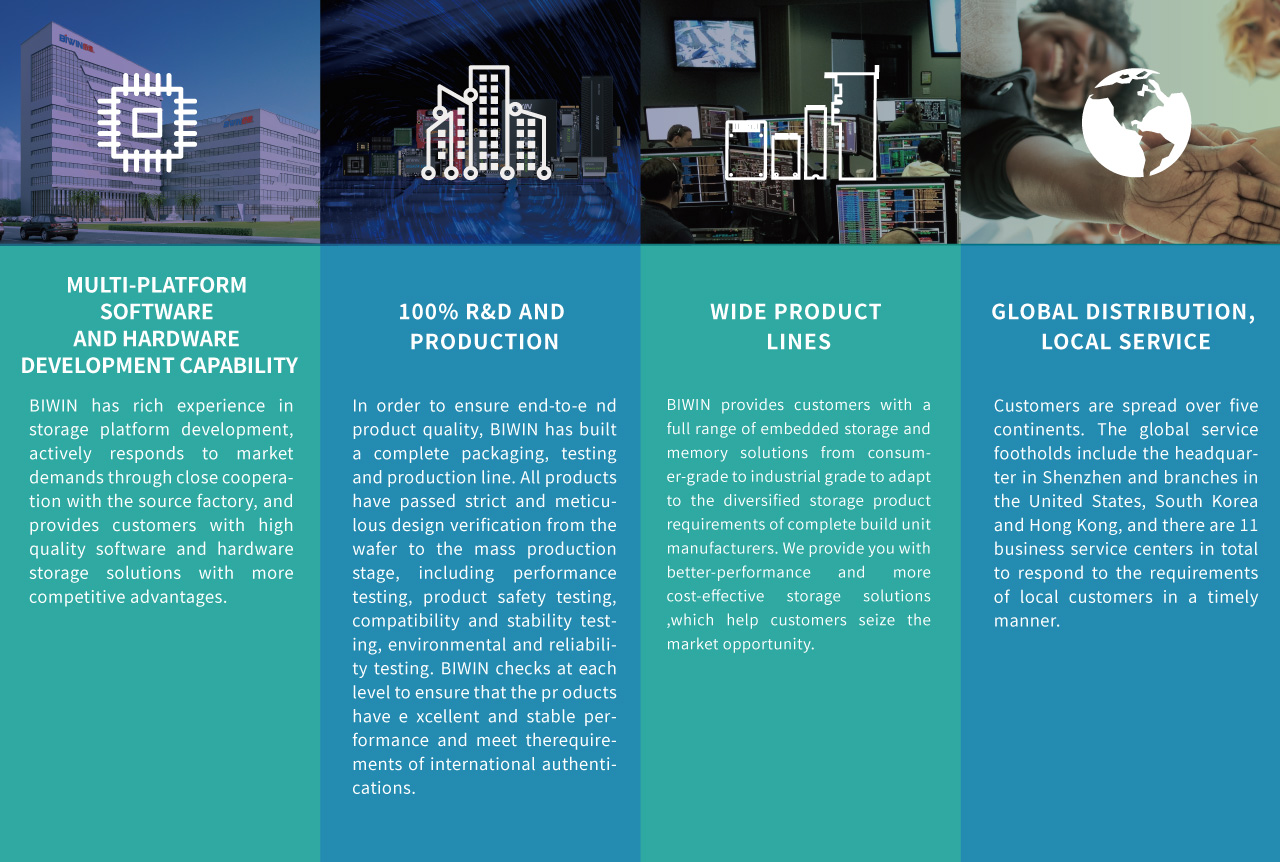 History

2018 ~ until now

Huawei NM Card Patent Licensed
The construction of BIWIN Science and Technology Park in Huizhou Zhongkai District has officially started, and after its completion, the monthly production capacity will reach 70KK
Won the honor of being one of the"Top 10 Domestic Storage Chip Manufacturers"
The Korea IC Design Center was established, to focus on NAND Flash IC design
Customer service quality continues to improve, and high-end products began to gain advantage
Became the president unit of the storage branch of the Shenzhen Semiconductor Industry Association
Won the honor of being one of the"Most Valuable Enterprises to Invest in"

2016 ~ 2017

Won the leading enterprise award of the Nanshan District
Became the vice president unit of the Shenzhen Semiconductor Association
Obtained SSD product brand authorization from HP, quickly stormed the global SSD market, and topped the list of the industry in terms of reputation and sales volume
Recognized by China Mobile as the core enterprise in its supply chain (in the field of Nand Flash: The only domestic enterprise, and the only one besides the five original factories)

2014 ~ 2015

Passed ISO9001: 2000 quality system certification
Selected as an AA Enterprise by the Customs Bureau
Set up a special storage technology R&D center together with partners
The Taiwan Research and Development Center was officially established
2012 ~ 2013

Passed the ISO4001 environmental management system certification and the QC80000 hazardous material management system standard certification
Selected as an AAA enterprise by the Shenzhen Integrity Alliance Association
Selected as a national high-tech enterprise

2010 ~ 2011

Started to officially use the BIWIN Chinese brand name
The advanced, fully-automatic SSD production workshop was put into production