EMMC and UFS are mainly used in intelligent mobile terminals. They call for proper capacity and performance and are stringent on power consumption and volume. SSDs are principally utilized in PCs and servers, requiring large capacity (100 GB to TB level), extremely high concurrency to improve performance. They are compatible with existing interface technologies (SATA, PCIe, etc.). The emergence of PCIe BGA SSD has pushed out the boundary between these two types of products. Its size is comparable to eMMC and UFS, boasting exceptional performance and cross-platform function of PCIe. BIWIN will officially roll out the PCIe 4.0 BGA SSD EP400 series soon to help customers become trendsetters in flagship intelligent terminal applications.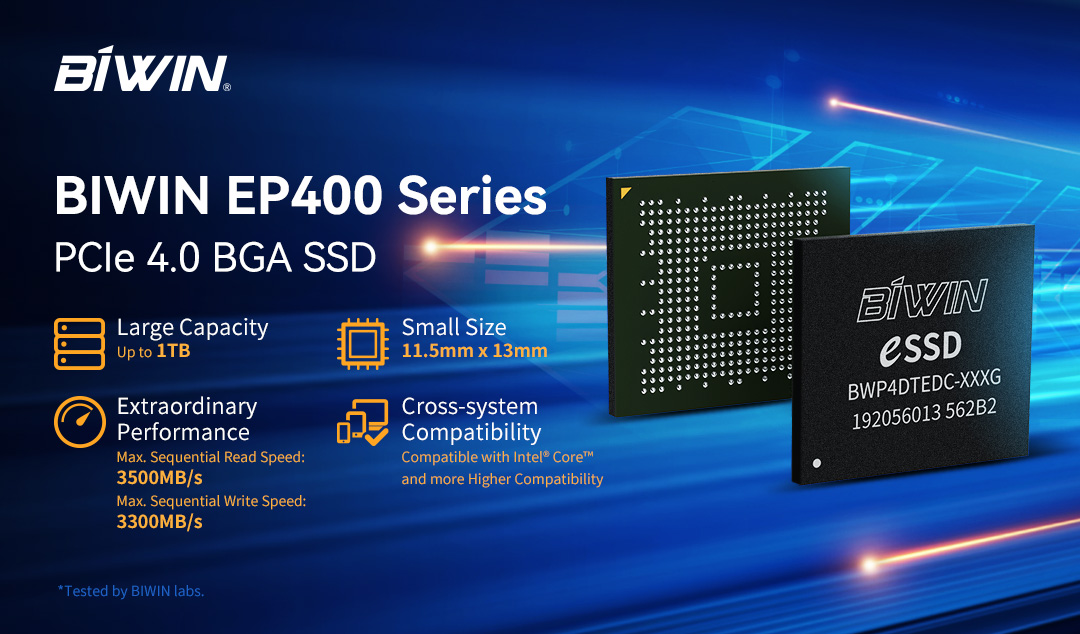 This series is coupled with PCIe Gen 4 x 2 interface and NVMe 1.4 protocol. The maximum capacity of a single chip is 1 TB, and its size is only 11.5 mm x 13 mm. Its maximum sequential read and write speeds are 3500 MB/s and 3300 MB/s.
Key Features:
PCIe Gen 4 x 2 interface, NVMe 1.4 protocol
The smallest package-- Type 1113(11.5 mm x 13 mm) to achieve the storage capacity of 256 GB – 1 TB
Low-power consumption management (L1.2)
HMB (Host Memory Buffer) is adopted to enhance the read and write speeds under the DRAM-Less architecture
Use the 4KB LPDC error correction to improve the service life of NAND Flash
The whole-area wear technology effectively improvesthe service life of SSDs
The product package design and firmware are self-developedandflexibly adapted to customized needs
BIWIN Product Parameter Comparison Table
(PCIe BGA SSD, UFS, eMMc)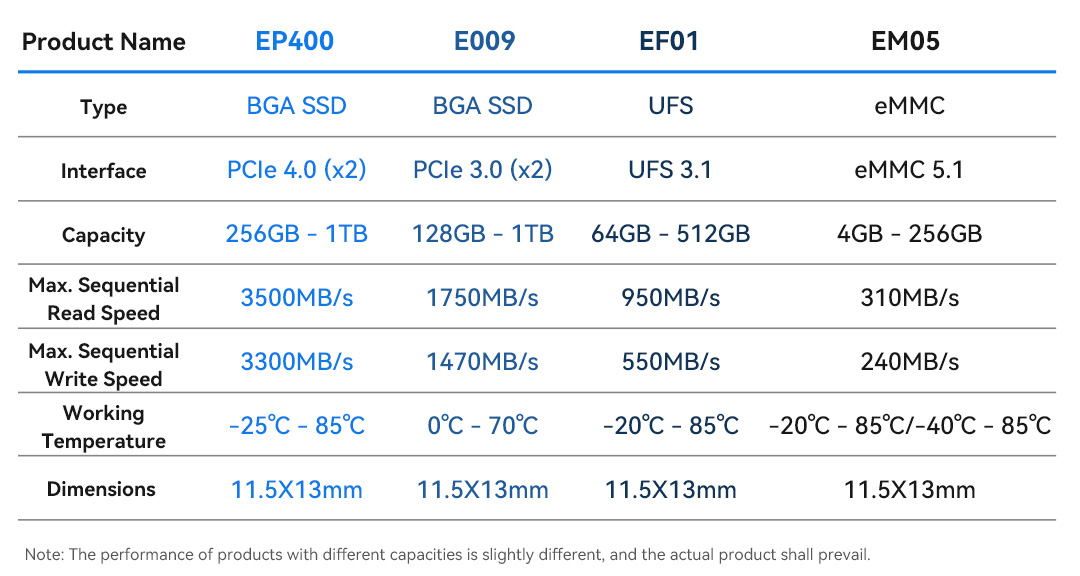 Tested by BIWIN labs. With the same size as eMMC and UFS, the read and write speeds of EP400 are twice that of PCIe 3.0 BGA SSD E009 series and much higher than UFS 3.0/3.1 products. It boasts comprehensive edges in flagship mobile smart terminals and is an excellent choice for 2-in-1 laptops, flagship smartphones, autonomous driving, drones, and other applications.
BIWIN fulfills the client storage needs for applications. We have formed a complete BGA SSD product system with core technologies such as storage medium characteristic research, core firmware algorithm, memory design, simulation, memory chip packaging technology, self-developed memory chip testing equipment, algorithms, etc. For example, our E009 series has successfully passed the Google Chromebook certification and won "The Best Memory of the Year" for the 2021 China IC Design Achievement Award.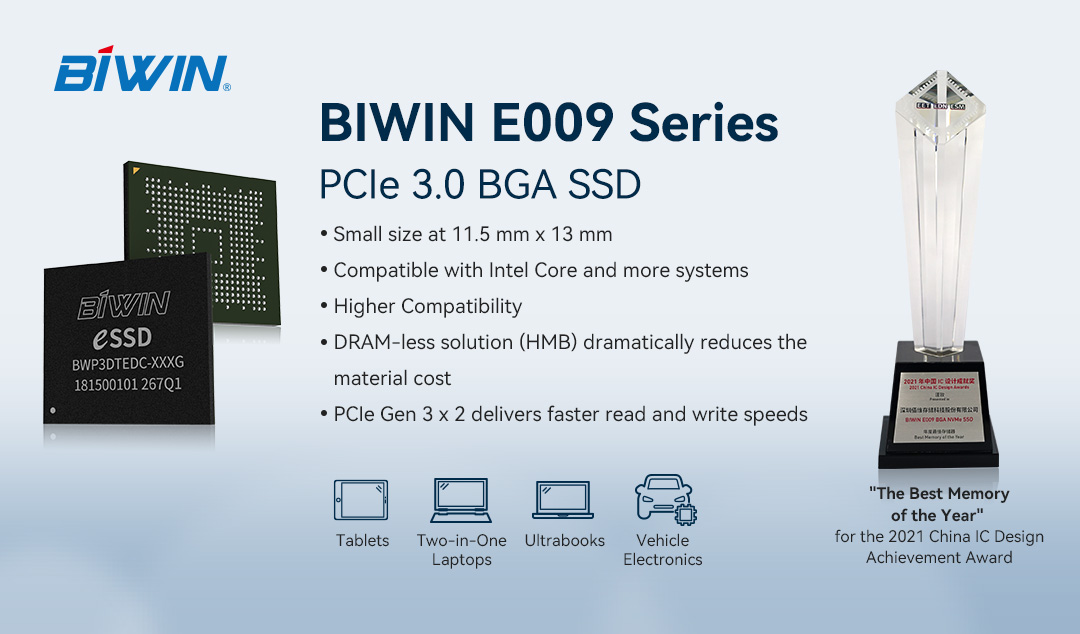 Since Intel's 11th-generation Core desktop processors release, both Intel and AMD have supported the native PCIe 4.0 in the application field. BIWIN EP400 series PCIe 4.0 BGA SSDs will expedite the expansion of PCIe 4.0 to a broader range of applications. For example, they can be applied to productivity-oriented two-in-one laptops, high-end performance-oriented smartphones, and vehicle electronics with growing data demands. In this way, we are expected to usher in a wave of storage performance upgrades to intelligent terminals.

INNOVATIVE SOLUTIONS FOR STORAGE
BIWIN Storage Technology Company Limited ("BIWIN") produces high-quality flash storage and memory-- and is known in consumer, corporate and industrial segments for its independent development capabilities in hardware, software, firmware, and storage algorithms.
BIWIN's experience in production (also along with its complete in-house IC packaging, testing, and SMT production lines) ensures BIWIN products are superior in performance, earning BIWIN many awards and a reputation for providing global customers with high-quality storage and memory products. The company's latest facility, the BIWIN Huizhou Science and Technology Campus, features a state-of-the-art R&D lab and 110,000 m2 of production.
Email: marketing@biwin.com.cn
Product line: embedded memory chip, USB storage module, memory card, solid-state drive, package testing