Recently, BIWIN launched the new 3.84TB C1008 series for write-intensive applications such as mobile digital video recorders and railway transportation monitoring systems. This SSD is an upgraded version of the BIWIN C1004 series released in 2019. Featuring the SATA 6Gb/s interface, this new c1008 is crafted with 3D TLC flash, providing 500GB, 960GB, 1.92TB, and 3.84TB capacities. Delivering sequential read speeds up to 560MB/s, it offers stable writing, more than 3000 P/E cycles, "firmware algorithm + tantalum capacitor" dual power failure protection, and the flip-chip underfilling technology and more.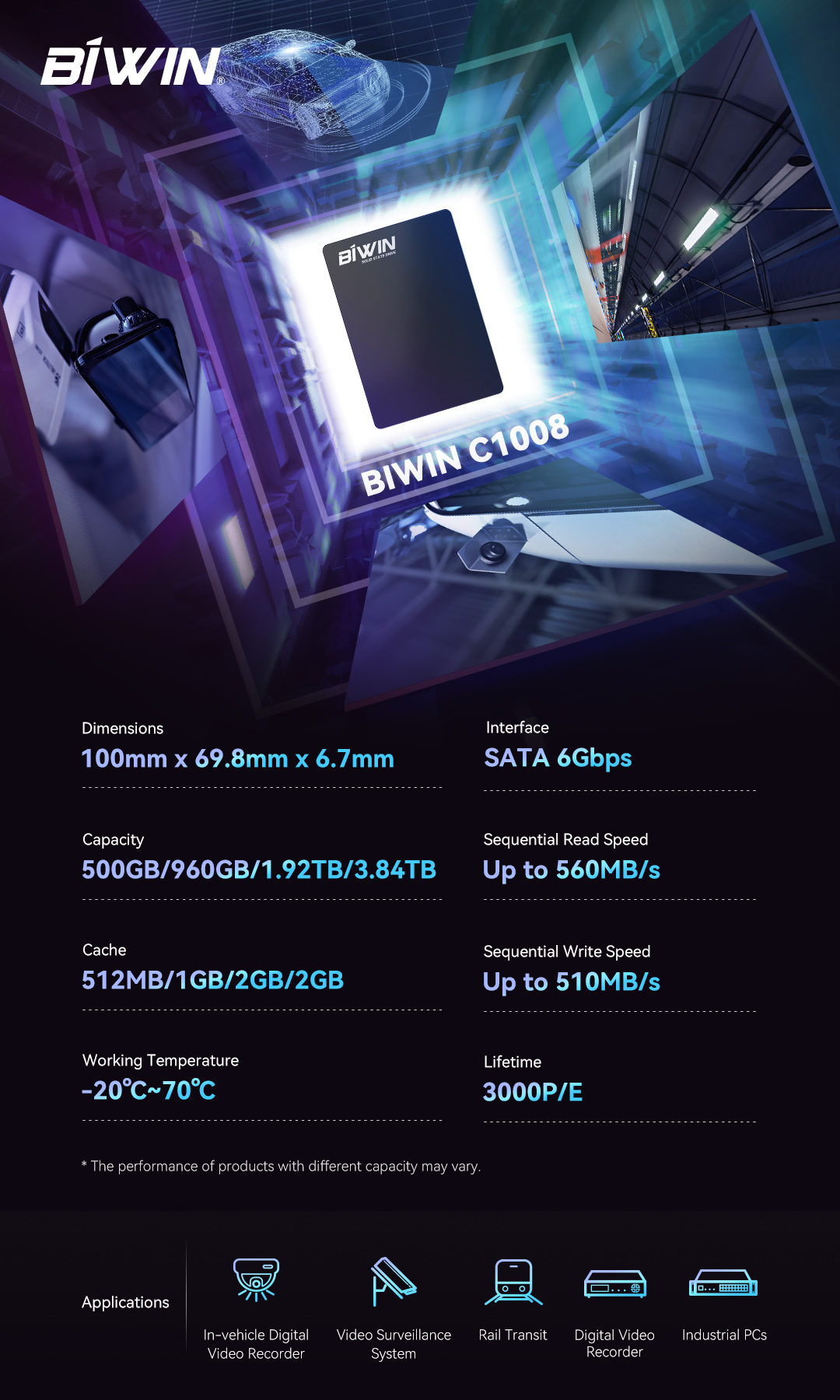 Features:
1. A rock-solid performerin 50 hard drive tests
MDVR field puts forward higher requirements for storage devices in multi-channel, long-term, high-definition continuous writing. How to ensure the data integrity and reliability remains a big challenge for storage product manufacturers. BIWIN attaches great importance to optimizing firmwares including Garbage Collection, effectively reducing latency and adding data stability and integrity. In 50 hard drive tests of a 24-channel camera, the C1008 delivers stable continuous writing without frame loss. In addition, it hits 470MB/s write in the FIO test, showing great performance.
2. More than 3000 P/E cycles
Built with 3D TLC NAND Flash, this BIWIN C1009 achieves more than 3000 P/E cycles. Embedded with the LDPC ECC(Low-Density Parity-Check Error Correction Code) technology, the controller sports an intelligent protection mechanism for NAND. It supports VPR(Virtual Parity Recovery) to automatically back up updated data and restore lost data. Also, the RAID(Redundant Array of Independent Disks) achieves end to end data protection, enhancing the disk's reliability and endurance. The BIWIN C1008 is a proven solution even in extreme conditions for its hand-screened NANDs, rigorous tests, high-performance controller, and self-developed customized firmwares.
3. "Firmware Algorithm + Tantalum Capacitor" DualPower Failure Protection
BIWIN C1008 adopts "firmware algorithm + tantalum capacitor" dual power failure protection mechanism: Equipped with a built-in power detection chip, the C1008 is able to monitor the power supply in real time. Once abnormalities are found, the module will be immediately activated, and the tantalum capacitor is used to hold up the power rail when system power is lost, providing sufficient time to flush its caches and ensuring firmware and data security. Rigorously tested for power compatibility, dynamic response of power conversion, and voltage stability, this C1008 is available over a wider range of supply voltage changes that higher than a traditional 5V(±10%).
4. Flip-chip underfilling
BIWIN C1008 uses flip-chip underfilling technology, passed shock resistance test rated 1500G, and the vibration test with a frequency of up to 2000Hz to prevent the chip from loosening or pseudo soldering under high vibration and strong shock.
Also, the new product works well in working temperature ranging from -20℃ to 70℃. It can withstand thermal expansion and contraction caused by extreme temperatures, electrical changes, and physical changes, showing its great stability and high performance.
BIWIN C1008 series SSD provides stable reading and writing, long lifetime, large capacity, power loss protection, rugged design, enabling smooth and stable input-intensive workflow. This C1008 is widely validated in video surveillance system, rail transportation, DVR(Digital Video Recorder), industrial PCs and other fields. BIWIN will be committed to its partial integrated manufacturing from R&D to packaging and testing, providing customers with customized storage solutions.