While DRAM module is widely used in PCs, LPDDR(Low Power Double Data Rate) provides a power-efficient and high-performance solution for mobile devices such as tablets, ultrabooks, smartphones, and automobiles. Since it was introduced in 2009, numerous groundbreaking innovation have been seen in LPDDR to bring more advanced and faster storage solutions for mobile terminals.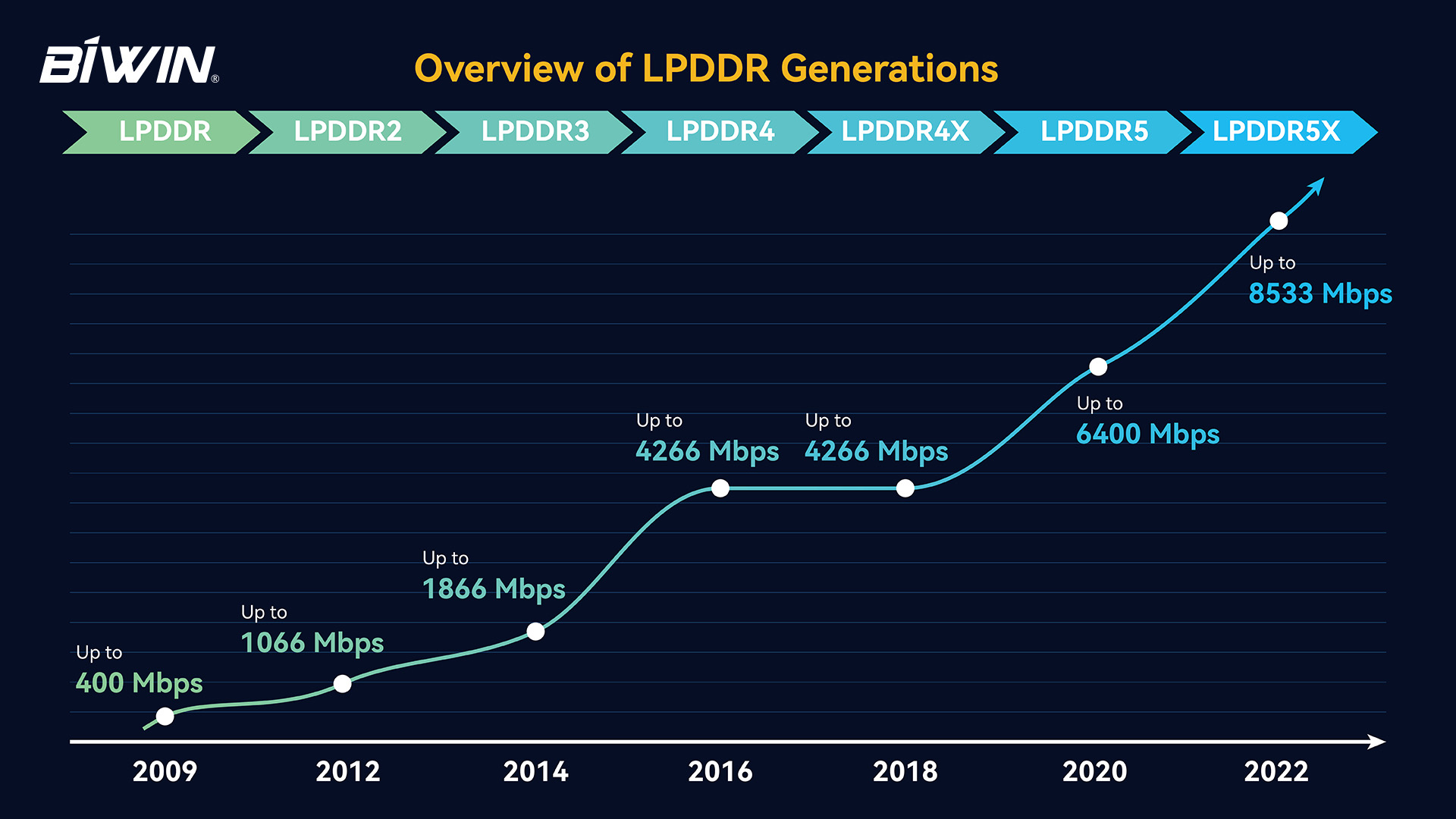 BIWIN, a leading industry player with years of experience, has been bringing forth new LPDDR products since the LPDDR2 was released. The LPDDR4 released in 2016 delivered awe-inspiring results in mobile terminal markets such as smartphones and tablets, which earns BIWIN a good reputation from its customers. Recently, BIWIN has introduced LPDDR5 products providing ever great performance, lower power consumption, and more capacity options than LPDDR4 / LPDDR4X.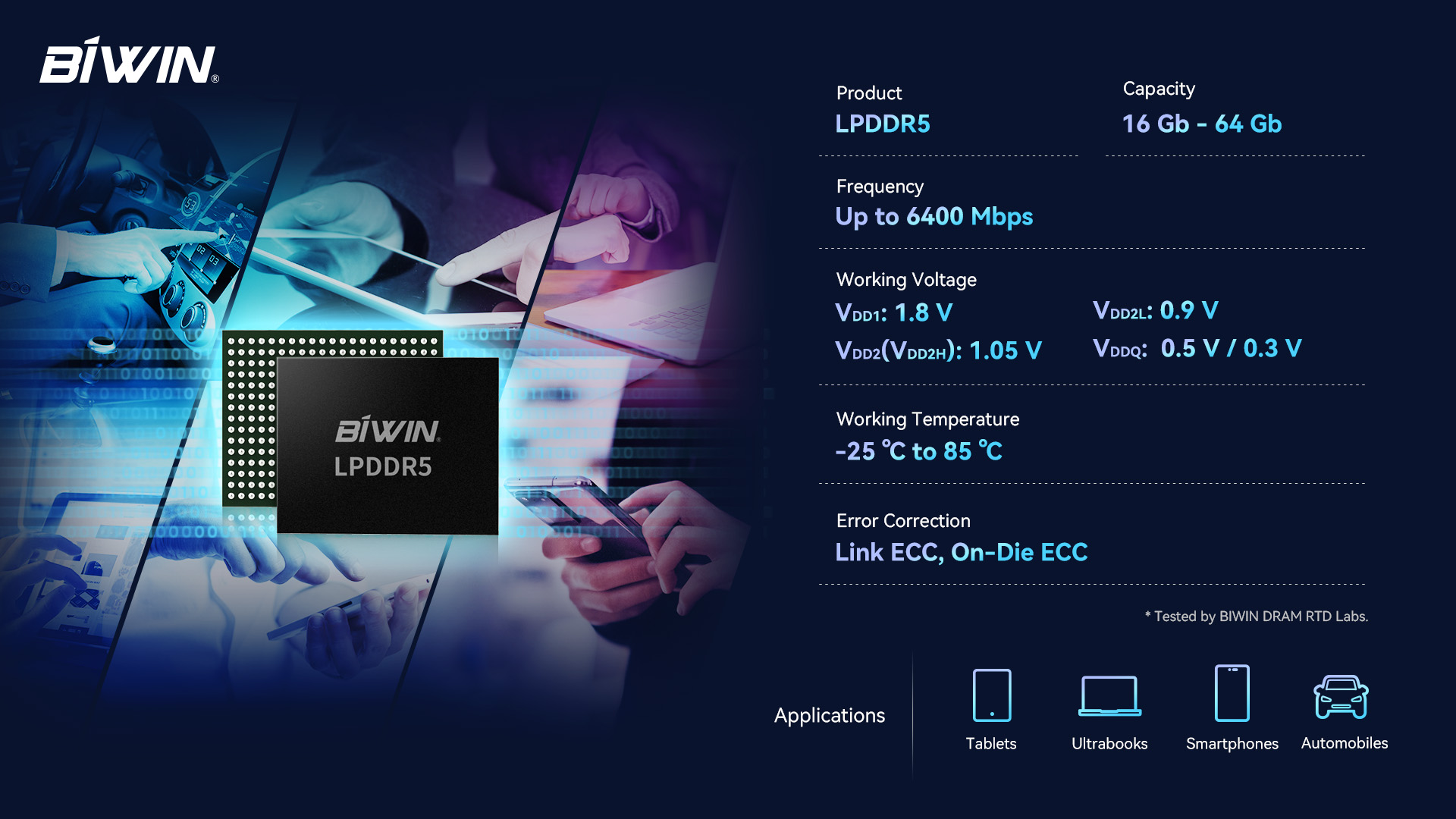 A leap forward in transmission, performance up by 50%
Compared with LPDDR4 / LPDDR4X, LPDDR5 supports multi-bank architecture to enable multi-channel data transmission, further increasing the data rates from 4266 Mbps to 6400 Mbps, and boosting the bandwidth from 34 GB/s to 51 GB/s.
LPDDR5 adopts two uni-directional data-strobes: Write clock(WCK) for Writes and an optional Read clock(RDQS) for Reads. WCK signals are adopted for the write and the read operation in LPDDR5. In order to minimize clock to DQ delay, WCK signals are transmitted to each byte, meanwhile since WCK signals can be only transmitted during DQ operation to reduce power consumption.
To ensure Read SI(Signal Integrity) and reduce integrity interference, LPDDR5 adopts NT-ODT(Non-target On-Die Termination) to support the higher data rate.
Dynamic voltage scaling reduces 30% power consumption
There are three power supply options provided by LPDDR5: VDD1, VDD2, and VDDQ. Compared with LPDDR4X, the VDD2 power supply of LPDDR5 is divided into VDD2H and VDD2L, where VDD2H is reduced from 1.1 V to 1.05 V, and VDDQ is reduced from 0.6 V to 0.5 V. The DVFS function, dynamically adjust the working voltage according to the operating frequency to further reduce power consumption. And the Deep-sleep Mode is used in idle state to reach minimum power consumption.
In addition, LPDDR5 adds Data Copy and Write-X technologies. Data-Copy can directly copy the data of a single pin to other pins to speed up the data transmission. High-speed performance allows it to process data at a faster rate so as to trigger the Deep-sleep mode early. Write-X is a power-saving function allows the system to transfer a specific bit pattern (such as an all-zero pattern) to contiguous memory locations without having to toggle the DQ bits on the channel, reducing power consumption of data transmission on SoC and RAM.
Data copy is a low power function to reduce LPDDR5 IO and core power (IDD4W, IDD4R) consumption by utilizing data pattern repeatability per 8Byte data copy granularity.
Advanced testing technology, proven solution for all capacities.
Testing is key to DRAM chips manufacturing. BIWIN integrates in-depth industry knowledge, industry-leading machine, the Advantest T5503HS2 and BIWIN self-developed automated equipment, self-developed test software, and core test algorithm to ensure the mass production of LPPDR5.
BIWIN LPDDR5 featuring strong performance, lower power consumption, great reliability, and larger capacity, is ideal for smartphones, tablets, and automobiles. Moving forward, BIWIN will stay true to its partial integration, make new edges in product competitivity, customized service, productivity, and quality assurance, contributing to the evolution of smart storage through its technological strengthen.