BIWIN to Launch Wide-temperature SSDs for Industrial Storage
Recently, BIWIN introduced a series of wide-temperature SSDs for extreme environments, including GP303, GP304, GS301, GS302, GS303, and GS304. Crafted with high quality 3D NAND and controller, BIWIN wide-temperature SSDs have the advantages of performance, stability, reliability and security. This series is a strong choice for electric power, Internet of Things, 5G, intelligent manufacturing, rail transit, industrial control and more.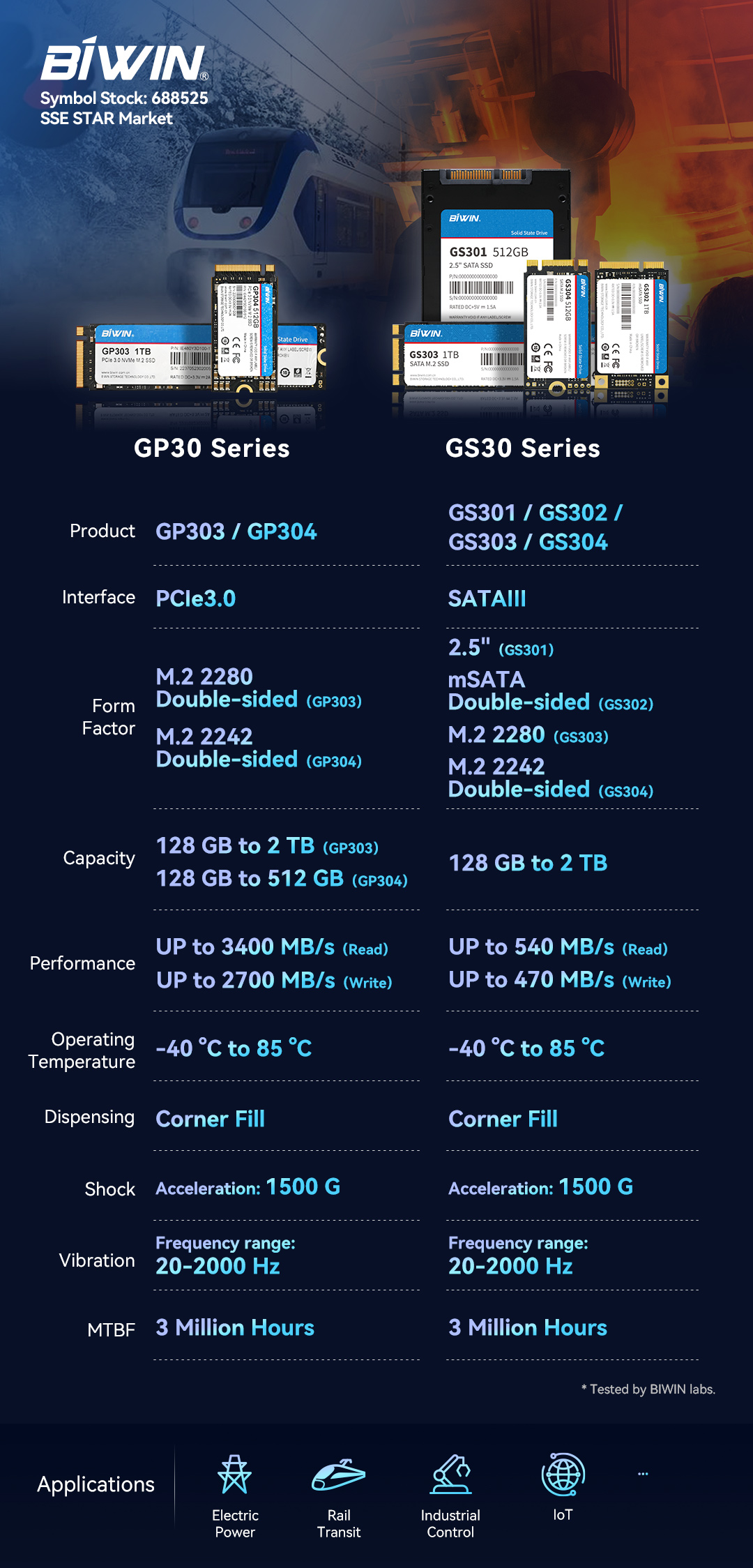 Supported by self-developed firmware, sequential read / write speeds up to 3400 MB/s / 2700 MB/s and full-drive write speed remains at 1000 MB/s
With BIWIN self-developed firmware, BIWIN products release their excellent performance. BIWIN GP30 Series SSDs adopt PCIe Gen3x4 and NVMe 1.4 to deliver sequential read / write speeds up to 3400 MB/s / 2700 MB/s and is armed with capacity of up to 2 TB. The GP30 / GS30 Series SSDs have optimized the firmware to provide stable performance. The speed of GP30 and GS30 reaches 1000 MB/s / 450 MB/s on FIO.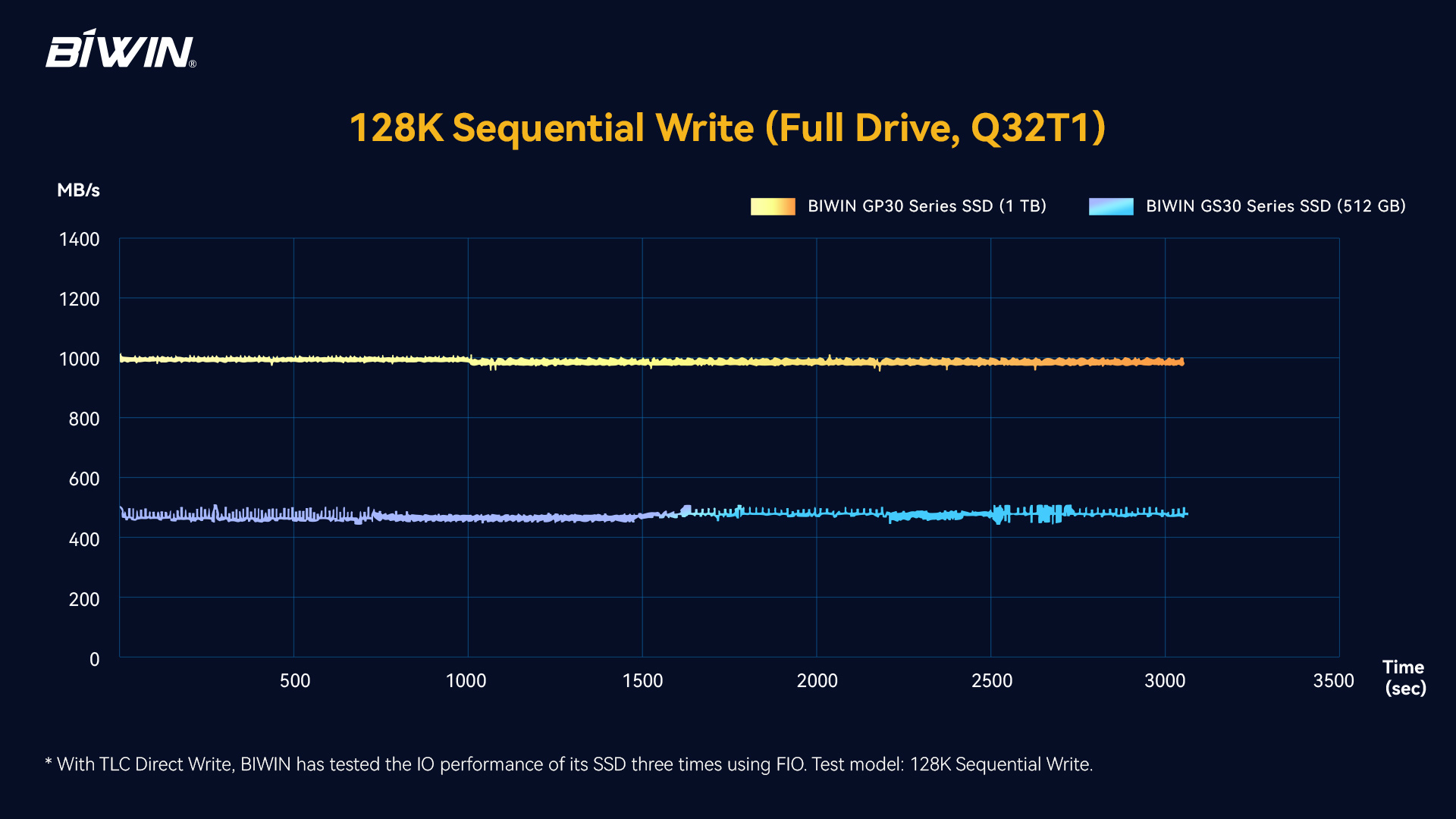 Work faultlessly in -40℃ to 85℃, 3 million hour MTBF
To ensure great reliability, wide-temperature SSDs adopt quality NAND and have undergone strict tests to bring excellent performance in extreme temperatures. They are rigorously tested to perform well in temperature ranging from -40℃ to 85℃ with a more than 3 million hours MTBF. In addition, this series adopts Corner Fill and Anti-sulfuration for better data integrity in extreme environments.
Secure your data with power loss protection and end-to-end data protection
BIWIN wide-temperature SSDs have made great optimization of firmware and hardware in terms of power-down data protection, data patrol, end-to-end data protection, and soft data destruction in terms of security, the series products have multiple optimizations of firmware and hardware in terms of PLP, data patrol, end-to-end data protection, and data erase, effectively guaranteeing data integrity and stability.
Local service team offers quick response
Other than its headquarters in Shenzhen, BIWIN has established its overseas headquarters in Miami, USA and local sales teams in Los Angeles, Mexico City, Bogotá, Buenos Aires, Amsterdam, Frankfurt, Istanbul, New Delhi, Taiwan and more territories. We have a strong local support team to make quick response to our clients' needs, providing customized service, real-time FAE technical support, and full supply. Also, we have a globally distributed network that connecting customers across the globe.
BIWIN GP30 / GS30 SSDs provide wide temperature technology, stable performance, and high reliability, meeting the demanding requirement of industrial applications. BIWIN will make greater efforts to maintain its advantages in R&D, advanced manufacturing, and product quality, bringing our customers quality products and worry-free services.