BIWIN LPDDR4X 144-ball ePOP with Qualcomm 5100 SoC Platform Certification

Trends in smart wearables head towards multi-functional integration, longer battery life, and smoother user experience, placing higher requirements on chips to deliver smaller size, better power consumption, improved performance, better application tuning, and more. ePOP storage chips are ideal for smart wearable devices for their small size, low power consumption, high performance, and high reliability. Now BIWIN brings the LPDDR4X 144-Ball ePOP for high-end smart watches, offering 128.6% higher frequency and 32% less chip size compared with LPDDR3.
Having passed the Qualcomm 5100 SOC platform certification, BIWIN LPDDR4X ePOP integrates eMMC 5.1 and LPDDR4X in a compact dimension of 8 mm x 9.5 mm x 0.8 mm, delivering ROM sequential read and write speeds of up to 310 MB/s and 240 MB/s respectively. With RAM frequency up to 4266 Mpbs and capacity up to 32 GB + 16 Gb (with a 64 GB+16 Gb version coming soon), BIWIN ePOP is a flagship storage solution for high-end smart watches.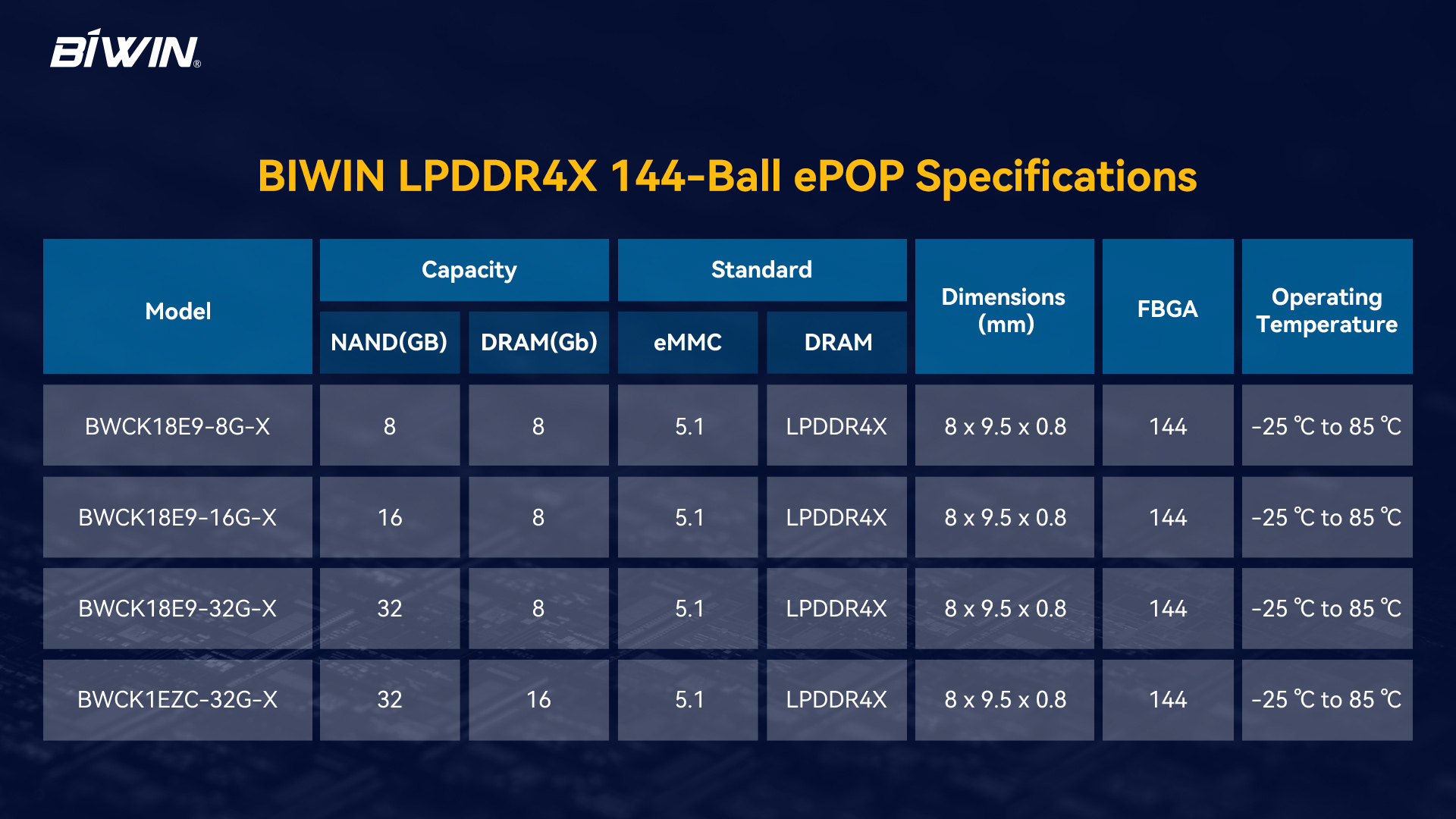 BIWIN LPDDR4X 144-Ball ePOP Advantages:
1. Complies with JEDEC standards, integrates eMMC 5.1 and LPDDR4X, and allows smart watches to have a more compact design (by mounting directly on the SoC chip).
2. Low power consumption and high performance (with frequency up by 128.6%), powered by low-power LPDRAM and optimized firmware.
3. Works faultlessly in extended temperature from -20 ℃ ~ 85 ℃, featuring Wear Leveling, LDPC (Low-Density Parity Check) codes, and FFU (Field Firmware Update).
4. Simplifies system design and speed up your product's time-to-market with Qualcomm 5100 SoC platform certification.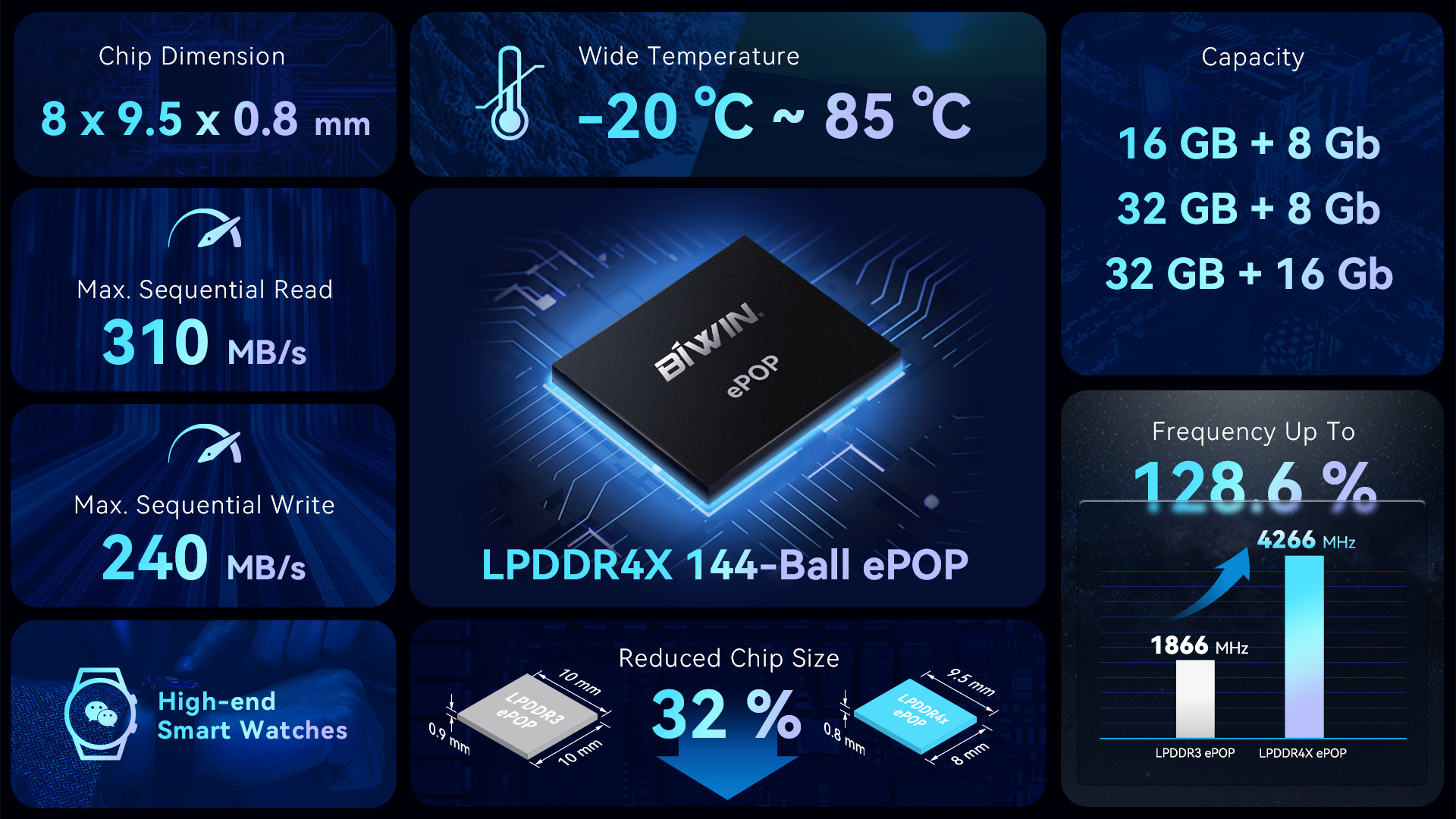 With high performance, low power consumption and high reliability, BIWIN LPDDR4X 144-Ball ePOP significantly improves user experience for smart wearables. BIWIN ePOP provides high data storage efficiency, smooth switching on/off, APP start/shutdown, screen-off and lock. It efficiently deals with different loads of sensors and the demand for multi-threaded storage to ensure fast response to the user's operations and commands. Featuring low power consumption, BIWIN ePOP reduces heat dissipation in multi-threaded, high-load, and long-work time scenarios, preventing the overheating which can cause system collapse and bad user experience. In addition, BIWIN ePOP is highly reliable in dealing with abnormalities such as blue screen error, cold start, and reset.
Compared with memory chips in cell phones, storage solutions for smart wearables require higher responsiveness and more customized service. BIWIN ePOP features high performance, low power consumption, small size, and high reliability, showing the advantages in BIWIN R&D, packaging and testing. BIWIN storage solutions for smart wearables already serve the supply chain system of world-class customers, capturing a dominant share of the market. BIWIN offers proven storage solutions that bring compatibility with their existing SOC platform, system, and application. Moving forward, BIWIN will continue to optimize user experience for different user scenarios, helping customers increase the competitiveness of their terminal products.