BIWIN Factory Tour 2023 is Coming Soon!
Memory chips are the heart of electronic device.
Every heartbeat has its own rate and pace.
You never know where it stops.


Memory chips carry your cherished memory to move forward
and take on a new mission as the digital era is approaching.


BIWIN is taking action to empower the semiconductor industry.
Following the great success of first Factory Tour in 2022,
BIWIN continues to invite teenagers aged 10-18 to join the Factory Tour 2023!


We also welcome parents to join in us to explore the world of memory chips together!
Summer is not all about watermelon and cold drinks.
Come and join in us to get a closer look at the manufacturing of memory chips!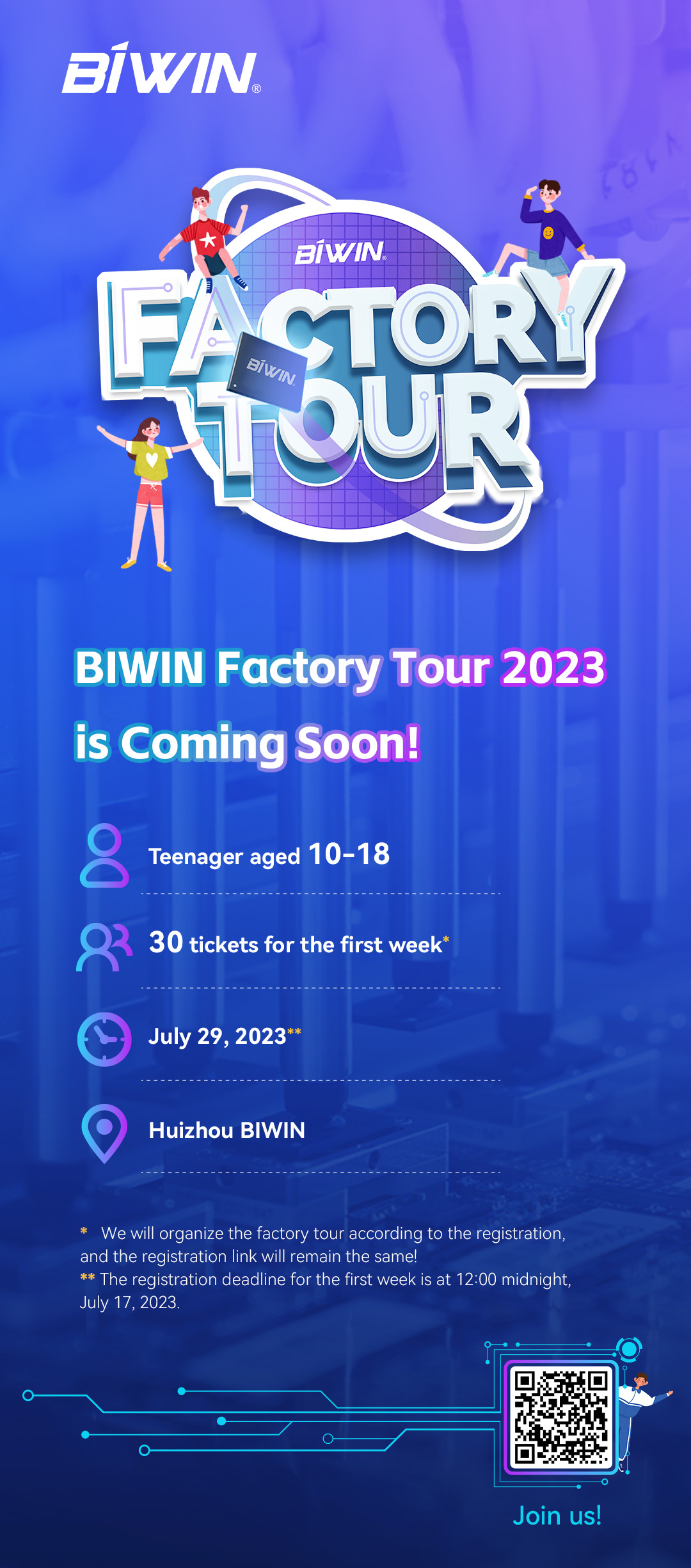 2. Schedule
9:30-10:05 Sign-in

Gathering Time: 10:00 am, July 29, 2023
Gathering Place: No. 8-1, Yuanhui Road, Chenjiang Street, Zhongkai High-Tech Zone, Huizhou
Handprint sign-in
10:05-10:50 Training

Icebreaker Games
Training+Q&A, introducing the manufacturing process of memory chips, Huizhou BIWIN, the key processes of packaging/testing, visit notes and more.


11:00-12:30 Workshop Tour

The narrator leads visitor to visit the the production equipment and assembly line of each workshop, to to get a closer look at the manufacturing of memory chips.
12:30-12:50 Group Photo

Communication and feedback, group photo taking
12:50-13:30 Lunch
Go to the staff cafeteria to enjoy a working meal. After lunch, visitors can gather at the gate and take the bus back to Shenzhen or drive themselves home.
Focusing on memory chip R&D and packaging and testing, BIWIN strives to be a world-leading memory chip manufacturer and advanced packaging and testing service provider. We hope this year's Factory Tour can provide children a lens through which to view the world of technology, helping people to know more about the semiconductor industry.
Summer comes only once a year. To have an unforgettable summer this year, join in us on July 29, 2023!