BIWIN eMMC and LPDDR Enable Smooth Experience of TV Terminals
With the development of 5G, AI, VR, AR and other technologies, TV terminals such as smart TVs and set-top boxes have further become important devices that cannot be ignored in the field of smart homes. With the popularization of 4K ultra-high-definition(UHD) technology, virtual reality(VR) and augmented reality(AR), and the continuous penetration of 8K ultra-high-definition technology, TV terminals will be able to provide consumers with clearer visual experience and more immersive viewing and gaming experience. At the same time, TV terminals will continue to innovate product functions to achieve access to more smart devices. For example, TV terminals can be integrated with smart home systems and smart home technologies to realize smart home appliance control and remote control, promoting the integrated development of smart homes.
According to data from Global Market Monitor, the global smart TV market reached CNY 1,281.147 billion in 2022, and it is predicted that the global smart TV market will reach CNY 2,401.16 billion by 2028, with a compound annual growth rate(CAGR) of 11.04%. With the upgrading of TV terminal functions and the connection of more smart home devices, memory, as the data center of TV terminals, requires higher speed and more stable data storage and processing capabilities. BIWIN eMMC and LPDDR4/4X are based on screened high-quality ICs, self-developed firmware algorithms, and rigorous testing. They have the characteristics of high performance, low power consumption, high reliability, and high durability, helping TV terminals to run efficiently and stably for a long time.

1. Optimize the processing for maximum IO latency and ensure long-term smooth operation

The command response of the built-in operating system of the TV terminal, the continuous update of the system and software, the smooth operation of various applications, the decoding and playback of ultra-high-definition videos such as 4K and even 8K, the fast loading of games, the efficient sorting of fragmented files, and the access of smart home systems. All require TV terminals to be equipped with memory chips with higher performance to provide high-performance reading and writing, preventing TV from freezing due to low storage performance.
Based on the self-developed firmware algorithm, BIWIN eMMC adopts dynamic SLC cache mode and unique direct-write scheme. The sequential read and write speeds are as high as 300 MB/s and 250 MB/s respectively, and the random read speed is as high as 17K IOPS. The product has optimized the maximum IO latency in a targeted manner (max latency ≤ 100 msec) to meet the requirements for fast startup (< 40 s).
The frequency of BIWIN LPDDR4/4X is as high as 4266 Mbps, which is 128% higher than BIWIN LPDDR3. With excellent performance, BIWIN eMMC and LPDDR4/4X can quickly respond to system commands, accelerate TV booting, application launching, high-definition video playback and game loading, and help smart TVs to run smoothly for a long time without freezing.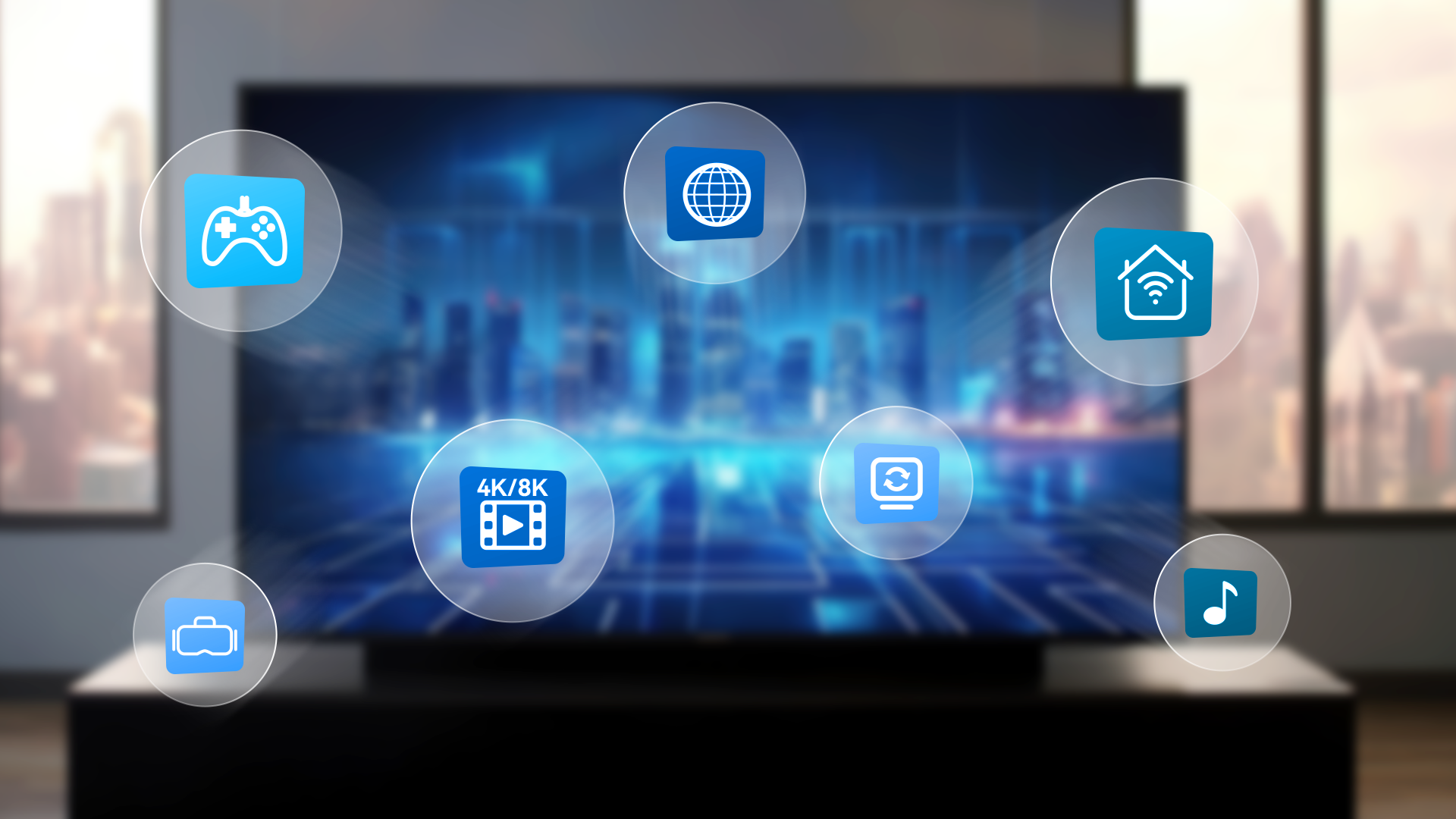 2. Equipped with high-quality flash memory and self-developed garbage collection algorithm, the product life will be extended more than 10 years

The TV terminals will face the problems of abnormal power failure, cold start, and reset. These problems are caused by continuous work, unscheduled power on/off, uninterrupted decoding and playback of audio/video content. Therefore, memory chips are required to have high reliability to quickly respond to abnormal phenomena and ensure the stable operation of TV terminals. In addition, the current replacement cycle of household smart TVs is generally more than 5 years, and the life expectancy of its own devices is relatively high.
Based on a comprehensive and in-depth understanding of semiconductor memory, BIWIN cooperates with industry-leading semiconductor testing equipment and self-developed automated testing equipment to independently develop testing software platforms and testing algorithms to effectively ensure product quality.
BIWIN eMMC has passed multiply rigorous tests that can deal with abnormal power failure, long-term video playback, and device restart with ease, ensuring data integrity while maintaining the safe and reliable operation of equipment. At the same time, BIWIN eMMC adopts high-quality NAND flash and has developed a unique garbage collection algorithm for smart TVs to extend the product life for more than 10 years.



3. Low power consumption design to reduce heat generation

A large number of components are integrated in the small space of the TV terminal. The heat generated by high-power consumption devices can easily lead to excessive ambient temperature, causing damage to components and equipment downtime. Thus it requires memory chips with lower power consumption to reduce heat generation. Relying on self-developed firmware optimization, the power consumption of BIWIN eMMC is as low as 350 mW. Compared with LPDDR3, the VDD2 of BIWIN LPDDR4X, which is based on the dynamic voltage and frequency scaling (DVFS) function, drops from 1.2 V to 1.1 V, and VDDQ drops from 1.2 V to 0.6 V, showing that the power consumption is reduced by 50%.




4. Various capacities for LPDDR4/4X (1 GB ~ 8 GB) and eMMC (4 GB~256 GB) are available to meet the larger capacity requirements of TV terminals

With the upgrading of the built-in operating system of TV terminals, the installment, updating, and a large amount of cache generated after long-term use, the memory chips with larger capacity are required. With the support of advanced packaging technologies, such as multi-layer die and ultra-thin die, BIWIN eMMC can provide a range of capacities from 4 GB to 256 GB for eMMC and 1 GB to 8 GB for LPDDR4/4X, effectively meeting the growing demand for large capacity of TV terminals.
BIWIN's eMMC and LPDDR4/4X boast high performance, high reliability, long life, and large capacity, enabling TV terminals to operate efficiently for a long time and improving user experience. The excellent performance of BIWIN's storage products for TV terminals is attributed to BIWIN's advantages in the integrated layout of R&D and packaging & testing.
On the one hand, BIWIN's firmware algorithm development and other storage solution research and development capabilities enable the memory chips to be with high performance and low power consumption. On the other hand, with BIWIN's advanced packaging and testing capabilities, the memory chips with high reliability, large capacity, and small size are guaranteed. And BIWIN also realizes the high-quality end-to-end delivery of from demand assessment, solution design, development and verification to stable supply.
Currently, BIWIN's eMMC, LPDDR4 and other storage products for TV terminals have entered the supply chain system of world-renowned customers. In the field of smart home, BIWIN has also launched a series of embedded storage products for smart home devices such as speakers, projectors, and sweepers. It is committed to keeping the smooth operation of terminal devices and enhancing the competitiveness of terminal products.