On September 22nd, the Global Memory Innovation Forum (GMIF2023) concluded successfully in Shenzhen. The conference, themed "Exploration · Advance · Symbiosis · Win-Win," gathered representatives from renowned enterprises along the memory industry supply chain to discuss the path of innovation and development in the storage industry. Mr. Sun Chengsi, Chairman of BIWIN Storage Technology Co., Ltd., was invited to attend the innovation forum and delivered a speech titled Deepening Research and Development and Packaging-Testing Integration Layout to Strengthen Product Competitiveness.
Sun Chengsi, Chairman of BIWIN Storage Technology Co., Ltd.

In the era of digitization, storage device manufacturers are being put to the test due to the diversified demands across different scenarios
Data requires storage, and storage demands chips. Mr. Sun Chengsi shared his insights: "In the competitive semiconductor storage market, original manufacturers hold a dominant position thanks to their Integrated Device Manufacturing (IDM) model, which encompasses competitive factors such as storage technology, solutions, and supply guarantees. On the other hand, storage module manufacturers focus on the transformation of standardized storage wafers into storage products that cater to the specific needs of end-user markets, thus expanding the application boundaries of storage. BIWIN Storage has constructed an integrated research and development and testing model that encompasses research into storage medium characteristics, firmware algorithm development, storage chip packaging and testing, and testing research and development. This has allowed the company to occupy a critical position in the application of storage scenarios, and it has launched a diverse range of storage products tailored to the needs of various niche markets."
In the embedded storage sector, the company is a leading domestic brand with comprehensive product specifications. It has accumulated over 1070 product AVL verifications through SoC platforms such as Qualcomm, MediaTek, Unisoc, and others. It has significantly reduced material selection and product time-to-market for end-user brand manufacturers.
The company has introduced products such as industrial-grade SSDs /memory modules, automotive-grade SSDs /eMMC, and LPDDR in the industrial and automotive-grade storage sectors. These products are designed to meet the demands of various industrial niche applications, including 5G base stations, smart automobiles, smart cities, industrial IoT, high-end medical equipment, and smart finance.
In the consumer-grade pre-installed market, the company has successfully entered the supply chains of renowned PC manufacturers both domestically and internationally, including Lenovo, Acer, Tongfang, and others. In the consumer-grade aftermarket, BIWIN Storage has established a strong presence by exclusively operating the storage product lines of globally recognized brands such as HP, Acer, and Predator. This strategic positioning targets the mid to high-end market segment. During various e-commerce promotional events, the company consistently ranks at the forefront and has garnered unanimous praise from a wide customer base and authoritative review organizations.
Focusing on the Core Storage Business, Deepening the R&D, and Testing the Integration 2.0 Strategy
Mr. Sun Chengsi mentioned that, based on this strategy, the company is further expanding its product strategy to cater to diverse market needs. It is also actively building a global and localized sales and production delivery network, aiming to provide customers with timely, localized, and tailored services. This effort is aimed at continuously enhancing the company's global market presence.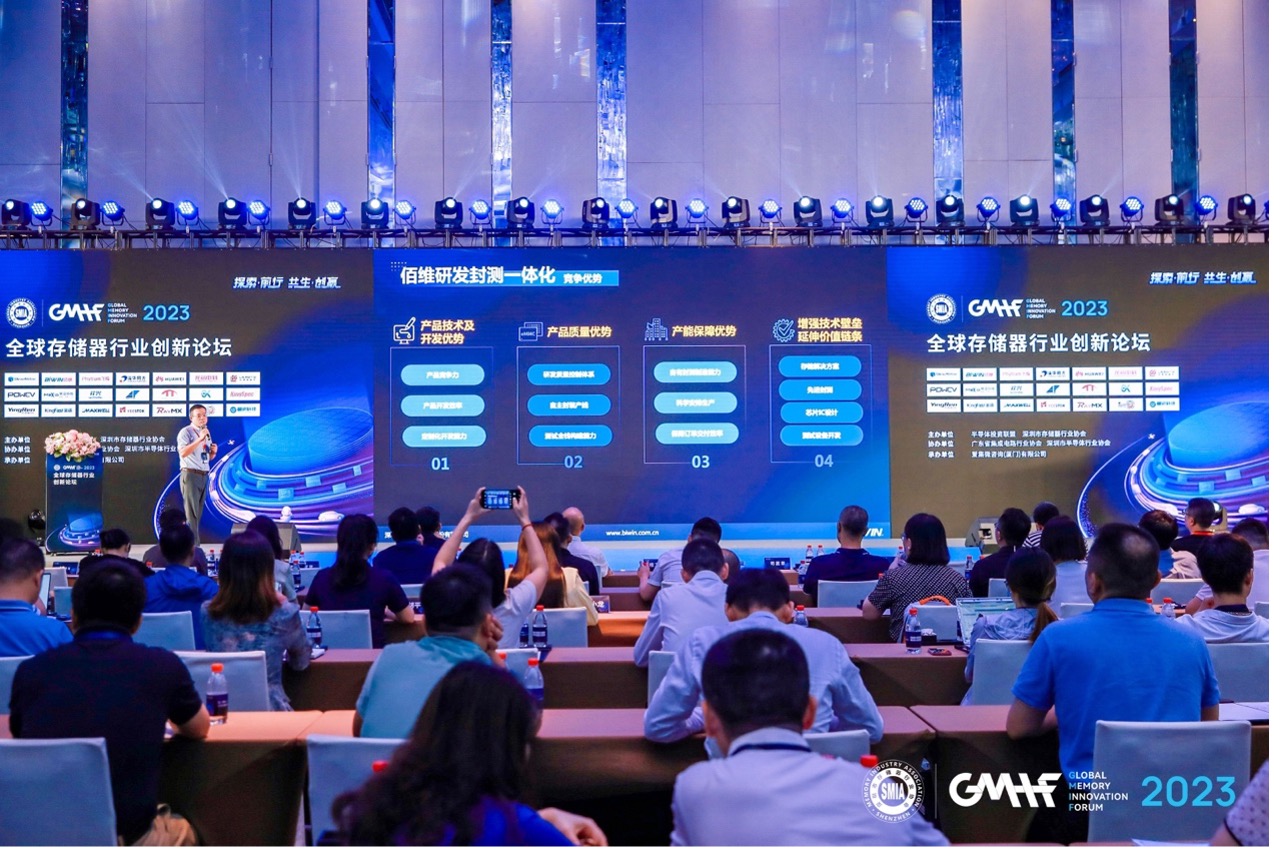 Thanks to the company's technical expertise and competitive advantage in storage solution development and advanced testing, BIWIN Storage actively implements and operationalizes the R&D and testing integration 2.0 strategy. This involves expanding its focus on IC design in research and development, while also deepening its presence in the testing equipment development and advanced wafer-level testing in the testing field, better aligning with the needs of the industry and end customers.
IC design and medium analysis, as well as firmware algorithm capabilities, collectively determine storage devices' reliability, performance, and power consumption. Mr. Sun Chengsi pointed out, "Strengthening IC design is crucial in enhancing the company's core technological advantages. It will further improve the company's customized development capabilities and efficiency, allowing us to precisely develop storage device characteristics according to customer requirements. This will expand both the breadth and depth of applications covered by our products and help us explore and serve more niche markets."
The development in advanced DRAM storage, advanced NAND storage, and the integration of storage and computing relies on the support of advanced wafer-level packaging technology. The company has established a comprehensive and international professional team specializing in wafer-level advanced packaging technology. Additionally, strategic partnerships have been formed with national key laboratories at universities to jointly promote the development of the wafer-level advanced packaging industry in the Greater Bay Area.
Upholding the "WIN-WIN" Initial Aspiration, Jointly Promoting the Prosperity of the Storage Industry
The semiconductor storage industry features a long supply chain that consists of semiconductor wafer manufacturers, controller manufacturers, chip/module manufacturers, packaging and testing companies, equipment, and materials suppliers, SoC platform manufacturers, as well as end-user brand manufacturers, all intricately interconnected.
By focusing on its core storage business and continuously deepening its research and development in packaging and testing, BIWIN Storage has successfully transformed standardized storage wafers into a wide range of storage products. It has steadily grown into a leading brand in China's semiconductor storage and advanced packaging and testing sectors. The company has fostered "WIN-WIN" collaborations with storage OEMs, SoC platform manufacturers, and end customers, actively promoting communication and cooperation among upstream and downstream enterprises. BIWIN Storage is committed to working hand in hand with its industry partners to contribute to China's storage solution ecosystem.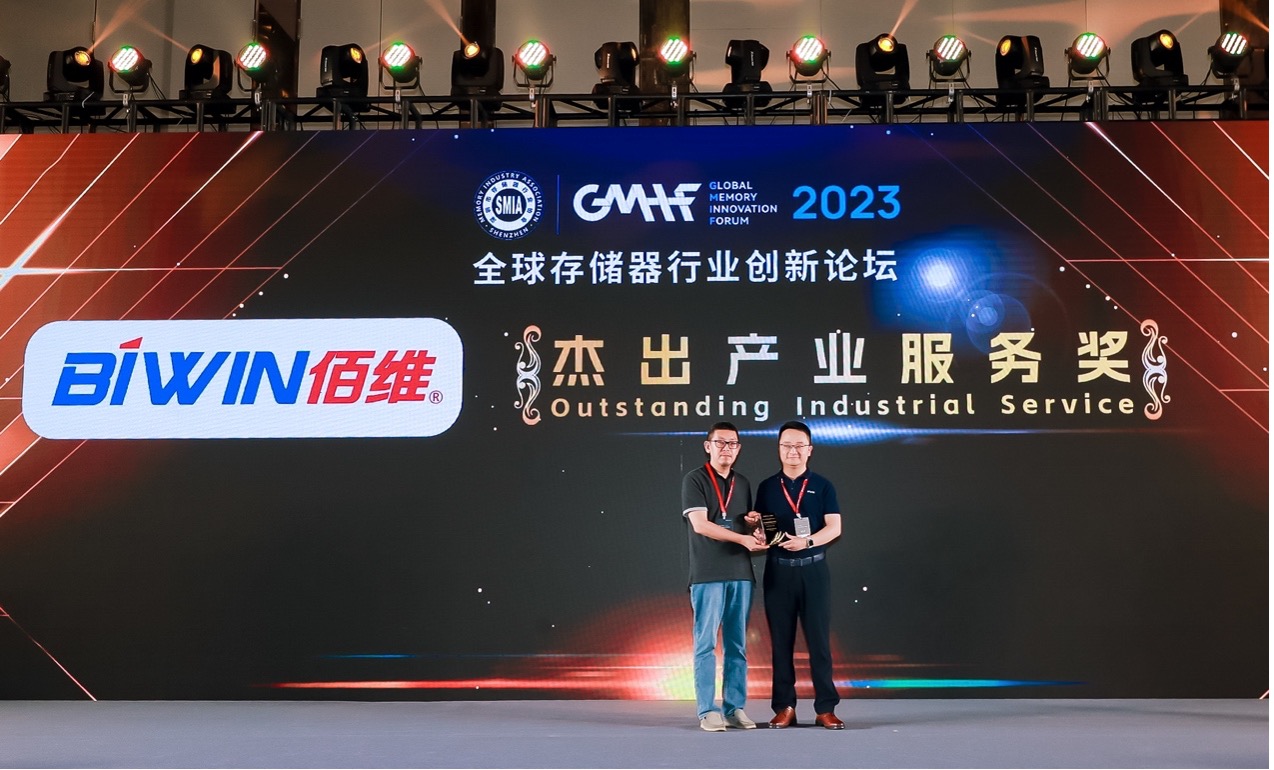 Mr. He Han, the CEO of BIWIN Storage, accepted the "Outstanding Industrial Service" award on behalf of the company at GMIF2023.
In the future, BIWIN Storage will continue to enhance its research and innovation capabilities, providing customers with high-quality and high-value storage solutions. Additionally, BIWIN Storage will actively collaborate with industry partners to promote the integration of the industry's upstream and downstream sectors, build a collaborative storage ecosystem, and drive the prosperous development of the domestic storage industry. In the name of storage, it will establish a solid foundation for the development of the digital information industry.