BIWIN Storage to Make a Debut at GMIF 2023: Deepening R&D and Packaging-Testing Integration Layout
According to Yole, the memory chip market is expected to reach $263 billion by 2027, with a Compound Annual Growth Rate (CAGR) of 8% from 2021 to 2027, surpassing the compound growth rate of the global semiconductor market during the same period. In the long term, the demand for memory chips will continue to be driven by applications such as the Internet of Things (IoT), smart cars, industrial robots, AI computing power enhancement, and intelligent applications like ChatGPT.
In the semiconductor memory market, original equipment manufacturers maintain a leading position in competitive factors such as storage technology, solutions, and supply assurance, thanks to the IDM model. Memory chip/module manufacturers enhance their competitiveness in the back-end stages of the industry chain, such as strengthening research on storage media, developing firmware algorithms, and product software and hardware development, as well as advanced storage testing, to transform standardized storage wafers into a wide range of storage products, thus expanding the boundaries of storage applications.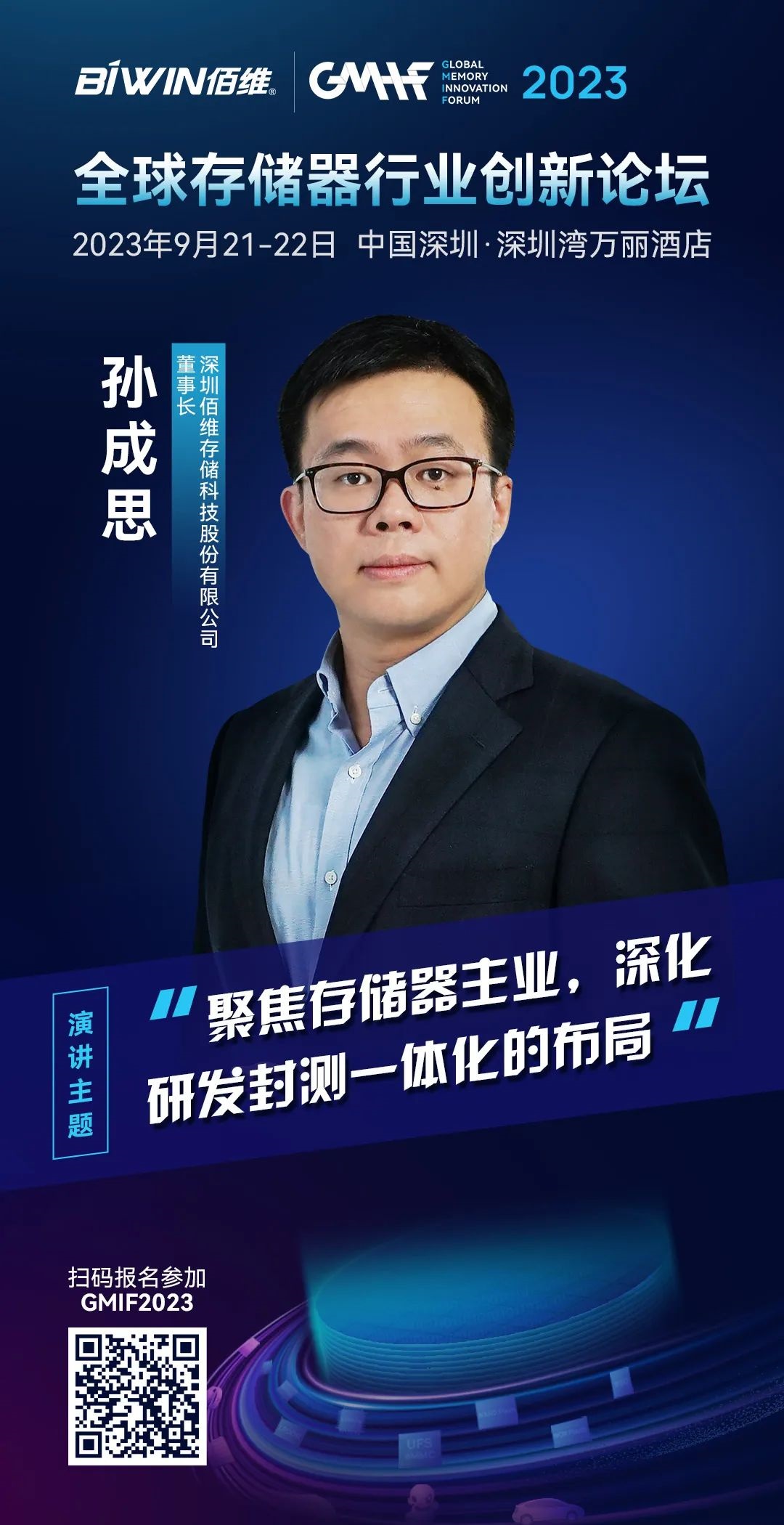 As a representative of integrated research and testing in the storage industry and a national-level high-tech enterprise listed on the Science and Technology Innovation Board, BIWIN Storage faces the challenge of riding the digital wave and meeting increasingly complex data storage scenarios. How can it stand out in the fierce market competition? Stay tuned for the keynote speech by Mr. Sun Chengsi, Chairman of BIWIN Storage, on the theme of "Deepening R&D and Packaging-Testing Integration Layout" at GMIF 2023 Innovation Forum on September 22nd, where BIWIN Storage will reveal the answers!
Guest Introduction:
Mr. Sun Chengsi, Chairman of BIWIN Storage Technology Co., Ltd. With over ten years of experience in the semiconductor field, Mr. Sun Chengsi has led BIWIN Storage to become a leading brand in the domestic semiconductor storage and testing manufacturing industry. The company is a national-level high-tech enterprise and successfully went public on the Science and Technology Innovation Board in 2022. In semiconductor memory, BIWIN was the first domestic memory manufacturer to enter the supply chain of top global brands, offering high-quality storage products to consumers worldwide under brands such as HP, Acer, and Predator. In advanced storage testing and manufacturing, BIWIN's core testing capabilities, including multi-layer stacked Die, ultra-thin Die, multi-chip heterogeneous integration, and product yield, are at the forefront of the industry, reaching international standards.