According to Market. Us, the global wearable technology market is poised to reach an impressive $231 billion by 2032, exhibiting a robust Compound Annual Growth Rate (CAGR) of 14.60% from 2023 to 2032. Smart wearables are rapidly emerging as a focal point for growth within the consumer electronics sector. Consumers' demands and expectations regarding smart wearables are on a relentless upward trajectory, with a keen focus on the devices' intelligence, storage capacity, performance, stability, and battery longevity.

BIWIN Storage, in a proactive stance, meticulously evaluates the comprehensive performance of customer products. By harnessing its core competencies in R&D and integrated testing, it provides potent empowerment to smart wearables. Through high-performance storage technology and product offerings, BIWIN Storage equips these smart wearables with the metaphorical wings of storage, markedly elevating their competitiveness in the consumer market.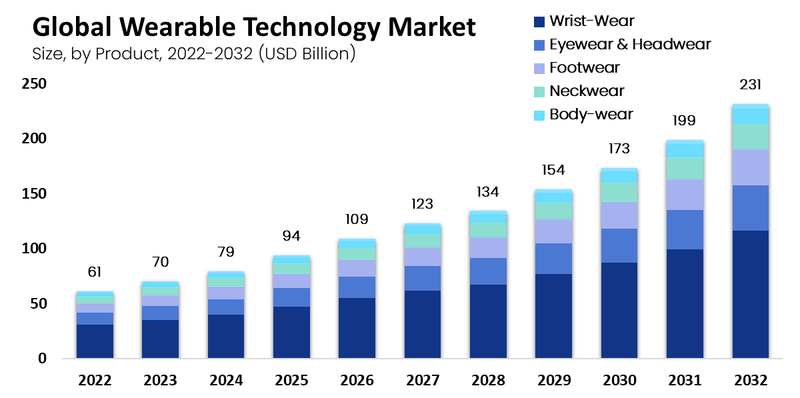 01 Smart Wearables's Accelerated Upgrades Allow Diverse Applications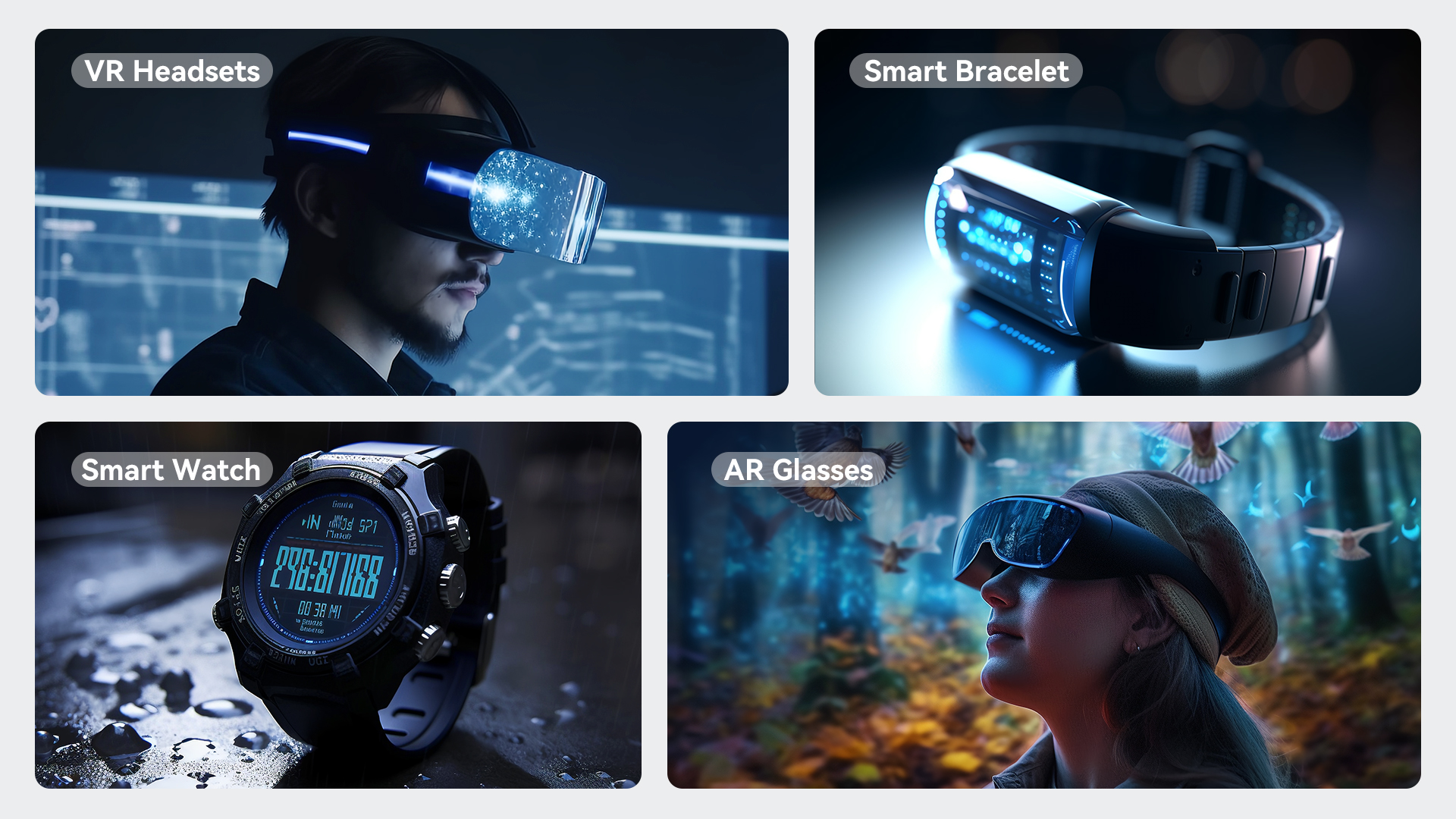 From a product perspective, smart wearables encompass well-known devices like smartwatches, fitness trackers, VR headsets, and AR glasses. In terms of functionality, they cover a wide range of features, including health monitoring, interactive entertainment, augmented reality navigation, assistance in recording sports data, and seamless data processing and application coordination with PC and mobile devices. In the future, smart wearables will extend their reach into critical domains such as transportation and healthcare, becoming technology products deeply intertwined with daily life.
The increasing significance and iterative nature of smart wearables, coupled with the expanding scope of applications and a growing user base, have led product development in the direction of high performance, compact size, and low power consumption. These trends impose greater demands on embedded storage design. Storage performance plays a pivotal role in aspects like data storage, data read/ write operations, and data management, as seamless and smooth operation of smart wearables hinges on the robust performance, diminutive size, power efficiency, and outstanding reliability of the embedded storage products.
02 Smart Storage Solutions for Smart Wearables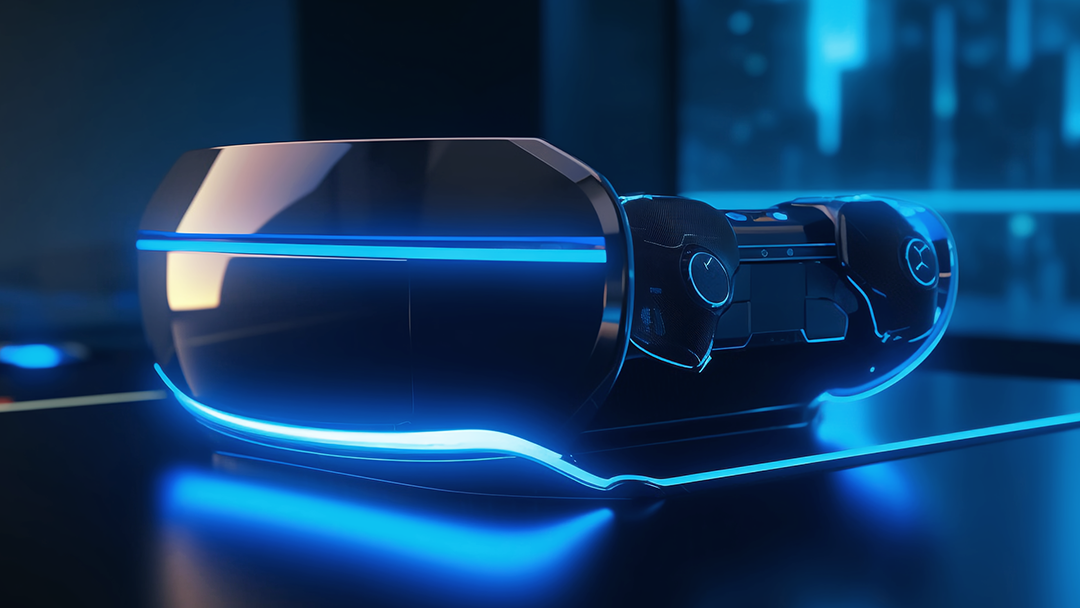 Trend One: Miniaturization, Low Power Consumption, and High Reliability

The demand for portability and comfort in smart wearable devices naturally drives a relentless pursuit of miniaturization and integration. However, the size and packaging of components integrated within these devices – main control chips, various sensors, storage, batteries, and power management systems – present challenges in achieving compact form factors. Integrating numerous components within the device, if not managed efficiently, can lead to issues related to power consumption and heat management, potentially causing component damage, device shutdown, financial losses, and even posing risks of user discomfort. Everyday activities, such as powering on and off, waking up, accidental impacts, and extended operation, can result in power loss, screen malfunctions, and system reboots, increasing the risk of device failures and data loss. Consequently, ensuring the safe and reliable operation of smart wearable devices hinges on the implementation of high-reliability embedded storage solutions.

To meet the demands of compact smart wearable devices, BIWIN Storage leverages its leading expertise in storage design and packaging testing to provide ultra-compact eMMC (7.5 x 8.0 x 0.6 mm) and ePOP (8.0 x 9.5 x 0.8 mm). These ultra-compact storage solutions not only fulfill the requirements for miniaturized designs but also create room for other components, optimizing circuit design and internal structure. This optimization allows for enhanced power efficiency and improves the device's battery life. To address concerns related to power consumption and reliability, we conduct firmware optimizations and model user scenarios for our storage solutions. This approach effectively reduces device heat generation and minimizes the risk of crashes during multi-threaded, high-load, and extended usage scenarios. Furthermore, it ensures data integrity during operation, safeguarding device stability and preventing data loss.

Trend Two: Large Capacity and Enhanced Performance

The explosive growth of applications is leading to an ever-increasing amount of data, which will drive strong consumer demand for high-capacity storage in smart wearable devices. Smart wearables require robust data storage and processing capabilities to support their operations.

Memory serves a pivotal role in acting as the "data infrastructure". On one hand, it provides smart wearables with data warehousing capabilities to store vast datasets. On the other hand, memory must actively collaborate with the instructions issued by the CPU chip, enabling faster data management, read/ write, scheduling, and data allocation to support the device's multitasking and multithreading processing capabilities.

BIWIN Storage's dedicated storage products for smart wearables combine high-performance controllers with NAND FLASH. These are compatible with high-end CPUs and, coupled with medium research, core firmware algorithm optimization, and advanced packaging techniques, push the application performance and capacity of smart wearable storage chips to new heights. As an example, consider BIWIN's ePOP based on LPDDR4X 144-ball. This product utilizes a combined eMMC 5.1 and LPDDR4X, boasting sequential read and write speeds of up to 310 MB/s and 240 MB/s, respectively, a frequency of up to 4266 Mbps, and a maximum capacity of 32 GB +16 GB (with a future capacity of 64 GB +16 GB). This product represents BIWIN's new flagship storage solution for high-end smartwatches.

BIWIN's smart wearables storage solutions, known for their large capacity and robust performance, ensure quick data read and write speeds, the storage of vast data volumes, and prevention of data loss or corruption. This swift and responsive handling of user operations guarantees the efficient operation of smart devices.

Form Uniformity, Experience Divergence: Integration of Hardware, Software, and System Prowess for Empowering Products

In the future, smart wearable devices will spawn new categories and forms to encompass the lives of the masses, satisfying our imagination of "comprehensive intelligence". Ever-evolving product categories and scene functionalities place higher demands on storage performance and the adaptability of specific applications.

Compared to generic memory chips for mobile phones, the realm of wearable storage imposes higher demands on manufacturers when it comes to rapid response and customization within the domain of universal storage solutions.

In practical collaborative instances, BIWIN has worked hand in hand with end-users, delving into the intricacies of SoC platforms, storage, systems, applications, and more. This multifaceted synchronization and empowerment have enabled them to grasp user scenarios and continually optimize their approach. The ultimate goal is to deliver a smoother and more seamless end-user experience and craft a powerful competitive edge for their terminal products. The company's ePOP and other smart wearable storage products have now made their way into the supply chains of global top-tier clients, commanding a significant market share.

03 BIWIN Memory Chips Fuels the Advancement of Smart Wearables
Addressing the prevailing pain points and developmental trends in smart wearables, BIWIN Storage has been diligently shaping its technical and product matrix. Leveraging core technological strengths encompassing storage media characteristics research, design simulations, proprietary firmware algorithms, multi-chip heterogeneous integration packaging techniques, and self-developed chip testing equipment, along with testing algorithms, they have carved out a range of high-performance, compact, and highly reliable products and solutions. BIWIN stands ready to offer robust storage technology support to its customers.

BIWIN eMMC
Storage Capacity: 4 GB / 8 GB / 16 GB / 32 GB / 64 GB / 128 GB / 256 GB
Sequential Read Speed (up to): 320 MB/s
Sequential Write Speed (up to): 260 MB/s
Operating Temperature: -40 °C to 85 °C / -20 °C to 85 °C
Package Type: FBGA153 / FBGA169
BIWIN ePOP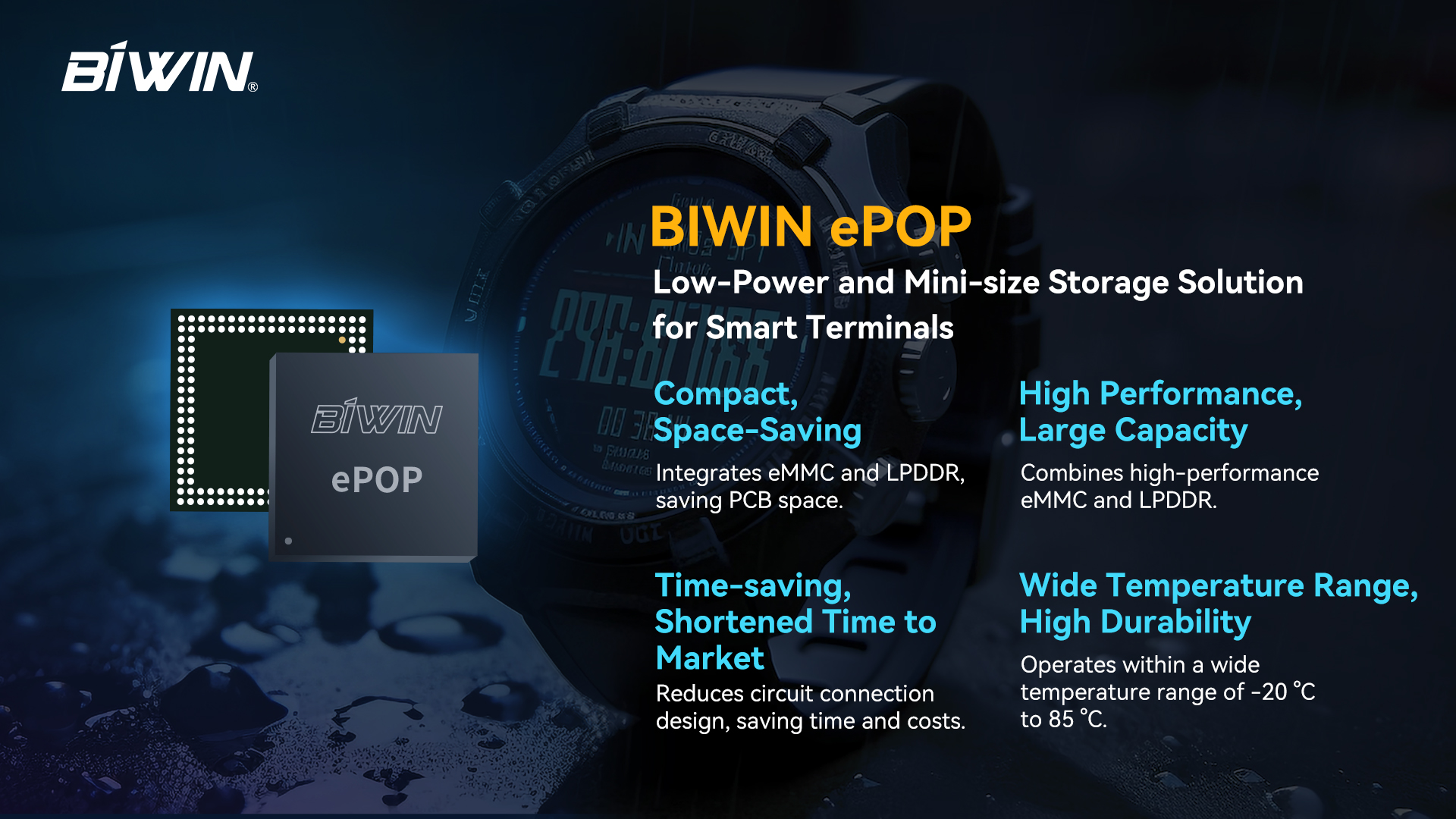 Storage Capacity: 4 GB + 512 MB / 4 GB + 1 GB / 8 GB + 512 MB / 8 GB + 1 GB / 16 GB + 1 GB / 32 GB + 1 GB / 16 GB + 2 GB / 32 GB + 2 GB / 64 GB + 2 GB
Sequential Read Speed(up to): 320 MB/s
Sequential Write Speed(up to): 260 MB/s
Operating Temperature: -20 °C to 85 °C
Package Type: FBGA136 / FBGA168 / FBGA320 / FBGA144
BIWIN LPDDR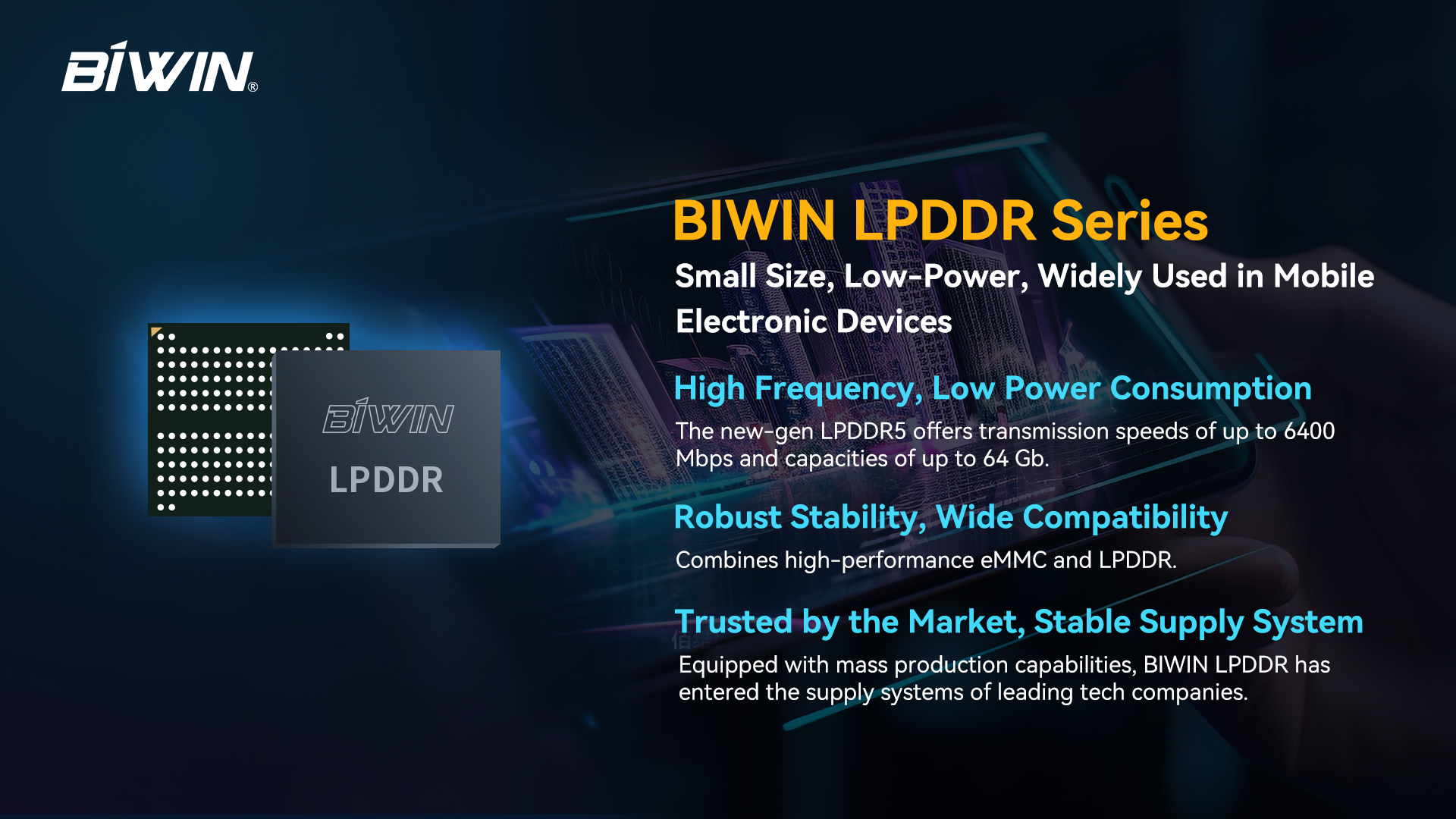 Storage Capacity: 2 GB to 64 GB
Frequency: 1600 MHz / 3200 MHz / 6400 MHz
Operating Temperature: -20 °C to 85 °C
Package Type: FBGA168 / FBGA178 / FBGA200

With the continuous development and upgrading of smart wearables, storage solutions, serving as the "digital infrastructure" for these devices, play a pivotal role in the overall design, stability, security, and more of smart wearables. BIWIN Storage, operating around a research and testing-integrated business model, remains committed to market-driven innovation and product upgrades in the smart wearables sector. The company's focus on storage technology innovations and product improvements spans various dimensions, including performance, power efficiency, stability, and more. This approach aims to create superior storage technology products, providing customers and the market with diverse, customized smart wearables storage solutions. BIWIN Storage is dedicated to propelling the smart wearables market toward high-quality development.