2019 Flash Memory Summit (" FMS "), the world's largest event for Flash Memory, ended successfully at about 6 a.m. Beijing Time, August 9. Samsung, Toshiba, Hynix and other storage giants joined the stage, together with the representative of Chinese storage industry BIWIN. Under the theme of "Conversation about limitless future of storage industry ", BIWIN demonstrated its comprehensive storage solutions and advanced SiP-based packaging and testing services to the experts and global customers participating the Summit.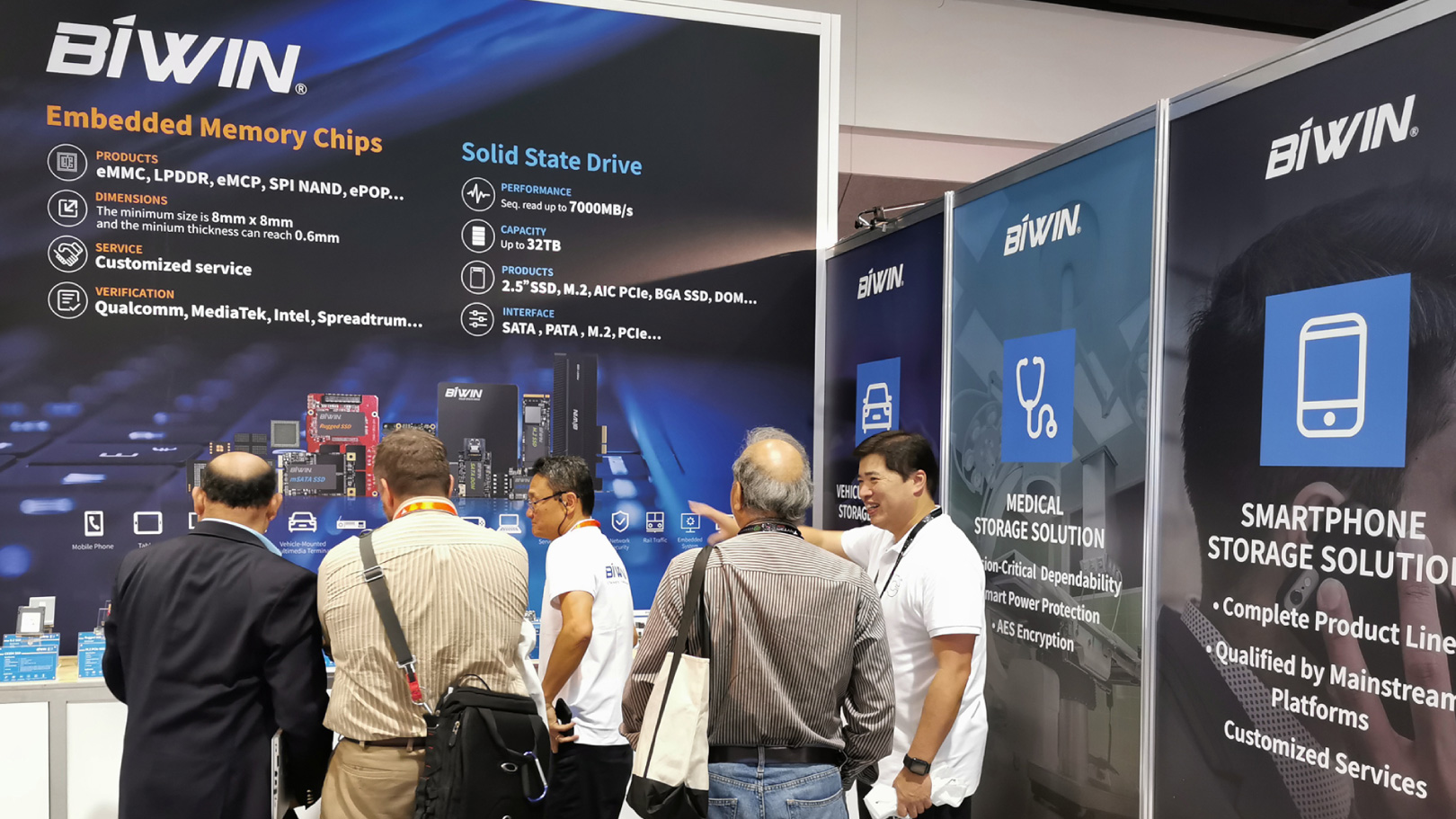 BIWIN's booth attracted many internationally-renowned first-line manufacturers that discussed the cooperation. In the exhibition, BIWIN's unique entire line of storage products and SiP packaging and testing service showcased BIWIN's leading storage algorithm and firmware development capability, excellent hardware design capability and leading packaging and testing technology, which keeps the international customers well informed about Chinese storage companies.
The whole line memory chip providers boasts of powerful new products
PH001 AIC SSD, the flagship new product launched at the FMS, is targeted at high-end consumer users and data center customers, to support read-intensive workloads that require higher random write performance and durability.

With capacity up to 32 TB, BIWIN PH001 adopts PCIe Gen 4x4 interfaces and NVMe 1.4 protocol. It has 16 NAND channels and is optimized in view of the low latency storage class memory (SCM), achieving 7GB/s highest sequential read speed and 6.1 GB/s sequential write speed with its random read performance being as high as 1.5 million IOPS. Meanwhile, it is also integrated into multiple technologies such as AES 256 encryption engine, TCG Opal support, and SRAM ECC. BIWIN PH001 supports end-to-end data protection. When writing data, check codes are generated and written into the flash memory together with user data. When reading data, check codes are used to check whether user data is complete and whether there is any error in the transmission and storage process between various parts in SSD, to improve data reliability.
Going beyond storage: SiP technology leaders
Since the establishment of its first complete 12-inch wafer packaging and testing plant in 2009, BIWIN has obtained dozens of core patents, and the quality rate of packaging and testing products has been consistently higher than 99.7%, placing BIWIN among the world's best. Taking memory chip as an example, over 1 billion pieces tested have been shipped in the past 10 years, winning industry's trust and recognition.

BIWIN broke through the technical problems of multi-device and multi-dimensional packaging and testing, and took the lead in proposing SiP solutions in many fields of the industry and assisted customers in the final mass production. The integration mode of BIWIN SiP technology has greater design freedom, which can effectively shorten the chip development cycle, and greatly reduce the development cost compared with SOC. BIWIN SiP will exert more advantages especially for the market with intelligentization and miniaturization demand, such as smart wearable modules and IoT chips.
Empowering IoT
Data needs storage, and storage needs chips. Looking into the future world of 5G-supported IoT, building a larger infrastructure to store and manage data is inevitable. Smart terminals also put forward more stringent requirements on traditional storage enterprises for high performance, low latency and diversification of data storage.
In face of the diversified demand for storage in the era of IoT, BIWIN maintains the most comprehensive storage product lines to meet the demands of terminal customers for standardized and large-scale storage products; Moreover, by making deeply customized storage solutions for each segment market, we provide customized storage solutions for "end" customers in different industries according to the principle of "thousands of solutions for thousands of customers", aiming to be the cornerstone of the era of IoT.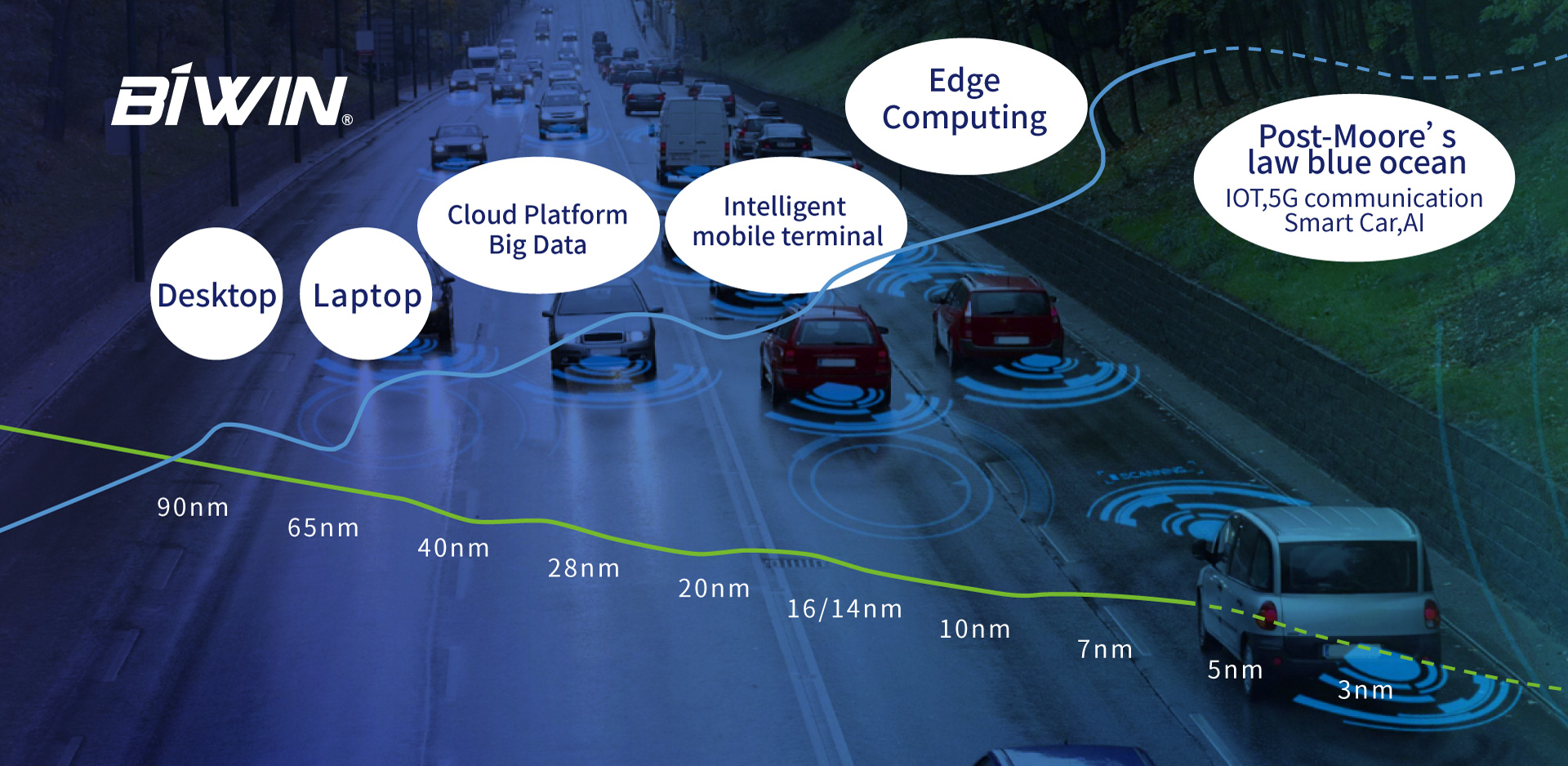 In terms of storage algorithm and self-developed firmware, BIWIN has rich experience in mass production, and has supported tens of millions of memory chip products, which are widely used in smart terminal, OTT, industrial control market, etc., making BIWIN the industry leader. At the same time, KK-level shipment verification will fully ensure the stability of product quality. Relying on leading algorithms and experience in firmware development, BIWIN can better meet the diversified storage requirements of customers for performance and reliability of storage products in the ear of IoT.
On Chip level, Moore's Law promotes the performance to move forward continuously, and SoC (System On a Chip) is a product resulted from continuous development inspired by Moore's Law, while SiP (System In a Package) is an important path to go beyond Moore's Law, both of which are products that originated from miniaturized and microminiaturized SoC. In the post-Moore's law era, related diversification technologies joined to promote continuous growth of market scale. The industry has moved from "one branch" to "all branches blooming together", and one of the key things for that is SiP. Especially in the era of IoT, SiP could realize "more appropriate" high level of silicon integration on a single chip, which is why BIWIN is committed to enabling the era of IoT through SiP packaging and testing.