In pursuit of the extremely slim feature, traditional mobile intelligent terminals generally adopt eMMC/UFS embedded memory. Two-in-one computers, Ultrabooks and more are defined to production tools. Given that, eMMC is blamed for performance bottleneck, UFS is blamed for limited application platforms, and ordinary SSDs are blamed for large size and high power consumption. Meanwhile, these headaches have engendered the BGA SSD equipped with the PCIe standard interface.
Based on the technical experiences in the field of embedded memory chips and a profound understanding towards the market, in 2019, BIWIN rolled its E009 series PCIe Gen3 version of BGA SSD. This series features small size, large capacity, high performance, low power consumption and more. It has passed the Google Chromebook certification, compatible with the Chrome OS system of laptops, Intel Core, etc.
Annual Best Storage Product——BIWIN E009 PCIe BGA SSD
Small size with large capacity:
Engineered with the 16-layer chip stack and more advanced sealing technology, the dimensions of BIWIN E009 can be confined to 11.5mm x 13mm, which is the same as eMMC/UFS. Besides its maximum capacity reaches 1TB.
Exceptional performance with low power consumption:
Equipped with PCIe Gen3 interface and NVMe protocol, BIWIN E009 boasts the cross-platform compatibility. Its maximum read and write speeds reach 1750 MB/s and 1470 MB/s respectively. Designed with DRAM-less and ASPM dynamic power control module, the power consumption of its data read-write, and its idle status are 1.34 W, 1.44 W, and 0.32 W respectively.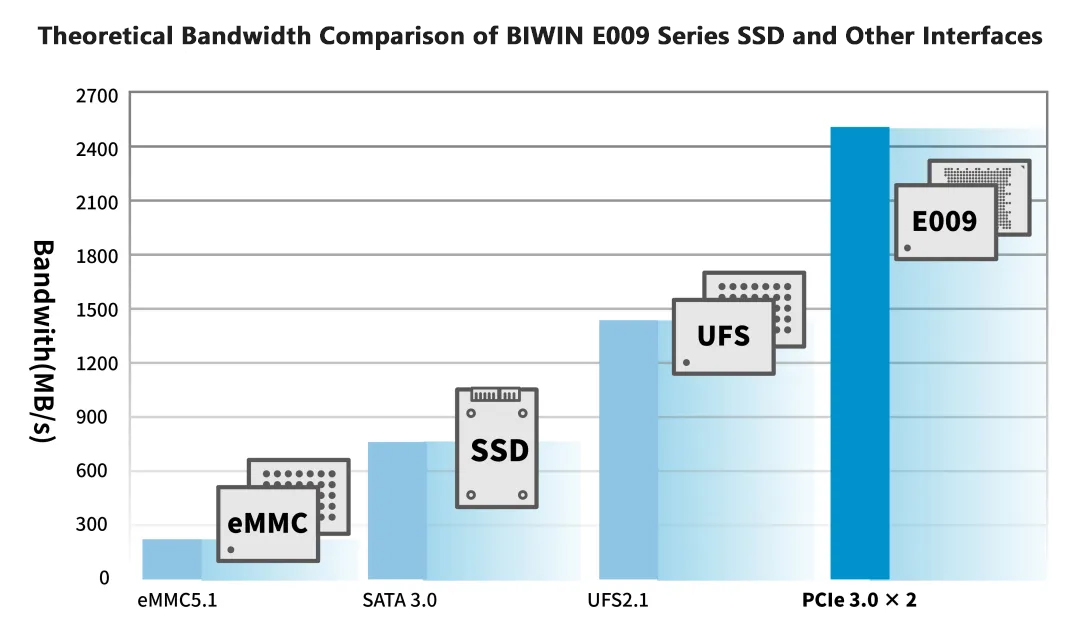 Decreased TCO:
It is incorporated with the core technologies, such as the study of storage medium property, the self-research firmware algorithm, the emulator memory, the multiple-chip stack packaging, the self-research chip test, and the testing algorithm. Relying on its own packaging and testing factory, it realizes the product life-cycle management, which ensures the high yield and the high reliability of its mass production, helping customers cut back on TCO.
Partaking of outstanding performance, BIWIN E009 won the Award of 2021 IC Design Achievement: Best Memory of the Year. It has already become the flagship product that paves the way for the PCIe BGA SSD, popularizing the ultra-slim intelligent terminal.
Keeps Abreast of Industry Development
Continuous Iteration of BIWIN PCIe BGA SSD
Driven by the Moore's Law, the semiconductor industry has undergone rapid iterations in its technology-cycle. As one of the leading independent brand semiconductor memory manufacturers, BIWIN has laid out a complete BGA SSD product line. From SATA III to PCIe Gen3 and PCIe Gen4, BIWIN BGA SSD series have witnessed upgrades and iterations according to the market demand and technology tendency.
Specifications of BIWIN BGA SSD Series
Series

EP400

E009

EP300

NR50

NR300

Launch Date

2022 / 4 (EST)

2019/3

2018 / 10

2018 / 2

2017 / 7

Type

TLC

TLC

TLC

MLC

MLC

Capacity

256 GB - 1TB

128 GB - 1TB

128 GB - 256 GB

1 TB

1 TB

Interface

PCIe 4.0

PCIe 3.0

PCIe 3.0

SATA III

SATA III

Max. Sequential

Read Speed (MB/s)

3500 MB/s

1750 MB/s

1700 MB/s

563 MB/s

561 MB/s

Max. Sequential

Write Speed (MB/s)

3300 MB/s

1470 MB/s

1100MB/s

476 MB/s

425 MB/s

Working Temperature

-25 ℃ - 85 ℃

0 ℃ - 70 ℃

0 ℃ - 70 ℃

-40 ℃ - 85 ℃

-40 ℃ - 85 ℃

Dimensions

11.5 x 13 mm

11.5 x 13 mm

11.5 x 13 mm

30 x 35.8 mm

30 x 35.8 mm

Remark: The performance of products with different capacity are slightly different, and the actual product shall govern.
BIWIN plans to roll out the EP400 series Gen4 version of BGA SSD in April 2022. The maximum capacity of this single chip reaches 1 TB with the dimensions only being 11.5 x 13 x 1.25 mm. Its maximum sequential read and write speeds are up to 3500 MB/s and 3300 MB/s respectively. More importantly, it will provide better storage support for high-end smart phones, industrial computers, high-performance ultra-thin notebooks, drones, smart cars and other intelligent terminals.

INNOVATIVE SOLUTIONS IN STORAGE
BIWIN Storage Technology Company Limited ("BIWIN") produces high-quality flash storage and memory-- and is known in consumer, corporate and industrial segments for its independent development capabilities in hardware, software, firmware, and storage algorithms.
BIWIN's experience in production (also along with its complete in-house IC packaging, testing, and SMT production lines) ensures BIWIN products are superior in performance, earning BIWIN many awards and a reputation for providing global customers with high-quality storage and memory products. The company's latest facility, the BIWIN Huizhou Science and Technology Campus, features a state-of-the-art R&D lab and 110,000 ㎡ of production.
Email: marketing@biwin.com.cn
Product line: embedded memory chip, USB storage module, memory card, solid-state drive, package testing